6 Up-And-Coming Female WWE Wrestlers To Watch Out For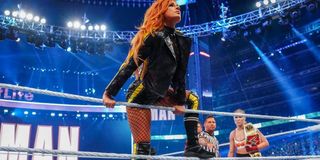 The WWE Women's Division has come a long way in last few years as the wrestling promotion has done away with a lot of the antiquated practices that did nothing more than objectify the female wrestlers on the roster. Long gone are things like bra and panty matches, the annual Diva's Search, and the term "Diva" in general.
It will be four years next month that WWE simultaneously retired the Diva's Championship and debuted the new WWE Women's Championship in a stellar triple threat match involving Charlotte Flair, Becky Lynch, and Sasha Banks at WrestleMania 32 that resulted in Flair being crowned the inaugural WWE Women's Champion. The title has been split into two different championships since then (Raw Women's Champion and SmackDown Women's Champion), but both championships were on the line three years later at WrestleMania 35 when Lynch defeated Flair and former UFC fighter Ronda Rousey to claim victory in the first women's main event at "The Showcase Of The Immortals."
The match, the finish, and "The Man" as Becky Lynch calls herself, helped prove that female wrestlers in WWE were no longer seen as filler matches and instead seen as the main attraction and the reason why fans were coming to the shows in the first place. And with that success comes a whole roster of talented female wrestlers all looking to make a name for themselves. Here are six of the top up-and-coming female WWE wrestlers to watch out for.
Rhea Ripley
Anyone familiar with NXT Women's Champion Rhea Ripley is well aware what this young and talented Australian wrestler is capable of doing in the ring. Since debuting in the inaugural Mae Young Classic in 2017, Ripley has gone on to have a 139-day reign as the inaugural NXT UK Women's Champion, appear in the 2019 Women's Royal Rumble, win the 5-on-5-on-5 women's Survivor Series match, and capture the NXT Women's Championship. It's safe to say that Ripley has had one hell of a run these past three years, but nothing compares to what's coming next.
Charlotte Flair won the 2020 Women's Royal Rumble match in late January, giving her the opportunity to challenge the champion of her choosing at WrestleMania 36. Many fans expected Flair to challenge long-time frenemy Becky Lynch, but instead, the former Women's Champion was interrupted by Ripley, who suggested she challenge her for the belt Flair held many years ago. Much like how Flair, Lynch, and Banks elevated the Women's Championship back at WrestleMania 32, Ripley looks to do the same for the NXT Women's Championship when she defends it against Flair in Tampa, Florida this April.
Bianca Belair
Bianca Belair may not have the multiple championships that Ripley has under her belt, and she may not be going up against one of the most highly decorated wrestlers in the WWE Women's Division, but the silver-tongued and high energy wrestler from Knoxville, Tennessee is a star in the making. Just watch one of Belair's iconic entrances from her multiple NXT TakeOver matches, and pay attention to her in-ring work, and you'll ask yourself why she isn't on the main roster yet.
Those not as familiar with the "Gold And Black" brand that is NXT were given a glimpse at Belair's potential when she appeared at Survivor Series in 2019 and then again during the 2020 Women's Royal Rumble match. Belair entered the match at the number two spot (of 30), eliminated eight other wrestlers (a record), and lasted for 33 minutes before being eliminated by eventual winner Charlotte Flair. Don't be surprised if Belair shows up on the Raw after WrestleMania later this year.
Kacy Catanzaro
There's no one way of getting signed by WWE, and Kacy Catanzaro knows that all too well. Long before she signed a developmental deal with the company and debuted on the NXT brand, Catanzaro became a national sensation with her multiple appearances on American Ninja Warrior, where she became the first woman to complete the qualifying obstacle course.
Upon her retirement from American Ninja Warrior, Catanzaro received a tryout with WWE in January 2017. She was eventually offered a contract and went on to appear in the Mae Young Classic in 2018, and then ended up in the 2019 Women's Royal Rumble. Her initial run with the company was short-lived after Catanzaro was forced to retire from action to focus on an ongoing back injury in August 2019. But like all good wrestling stories, the former Ninja Warrior made her return to wrestling in January 2020, when she made a surprise entrance in a battle royal. Hopefully Catanzaro sticks with it because her pure athleticism is unmatched.
Shayna Baszler
Prior to her debut on Raw this year, Shayna Baszler made quite a name for herself both in the UFC and in NXT where she captured the NXT Women's Championship just months after she debuted. During her reign, Baszler would have numerous high-profile matches on NXT as well as the 2019 Survivor Series event where she won the triple threat match against Raw Women's Champion Becky Lynch and Smackdown Women's Champion Bayley to win Survivor Series for NXT. Baszler eventually lost her title to Rhea Ripley after a 416-day reign before debuting in the 2020 Women's Royal Rumble match where she appeared as the 30th competitor, eliminated eight in the process (tied with Bianca Belair).
Baszler hasn't been on WWE television for all that long, but she has made the most of her time since attacking Raw Women's Champion Becky Lynch on Raw in early February. She has since been added to the Women's Elimination Chamber match with the winner going on to face Lynch in a championship match at WrestleMania 36.
Kairi Sane
This not familiar with Kairi Sane are about to meet their new favorite wrestler. One of the great Japanese female wrestlers to sign with WWE in recent years, Sane is probably the most decorated competitor from the country when not talking about her tag team partner Asuka. With her high flying yet hard hitting style, an elbow drop that would make Macho Man Randy Savage scream "Oh Yeah," and her amazing sense of style, Sane is a force to be reckoned with. And did we mention that she dresses like a pirate?
Since debuting in NXT back in 2017, Kairi Sane has gone on to win the NXT Women's Championship, the Mae Young Classic, be named the female and overall NXT Competitor Of The Year in 2018, the WWE Women's Tag Team Championship (with Asuka), and WWE year-end award for Women's Tag Team Of The Year alongside Asuka in 2019. That doesn't even touch the list of accolades Sane received during her eight-year run in Japanese women's wrestling promotion Stardom. The only other thing that can be said about Sane is that we better see her incorporating the pirate ship at Raymond James Stadium into her WrestleMania entrance.
Candice LeRae
And then there's Candice LeRae, or as I like to call her, the only wrestler on this list to win a tag team championship after getting super-kicked with a thumbtack-embedded boot. Long before she showed up on WWE television or even on NXT, LeRae was making a name for herself in Pro Wrestling Guerrilla in Reseda, California, where she became the first and only female wrestler to win the PWG Tag Team Championship before joining husband and former NXT champion Joey Gargano in Orlando.
After leaving the cramped and sweaty confines of American Legion Hall Post #308 for the WWE Performance Center in 2018, LeRae has continued to show that she's one of the toughest competitors in all of WWE. Since her debut, LeRae has participated in the Mae Young Classic, the 2019 Women's Royal Rumble match, the second annual WrestleMania Women's Battle Royal, and the 2019 Women's Survivor Series match where she was on the winning NXT team. With some of the biggest NXT names moving on to bigger and better things in the near future, let's hope that LeRae can help fill that void in the Women's NXT Championship picture.
There you have it - six female WWE wrestlers to watch out for. Do you agree with our list or did we forget someone? Let us know in the comments.
Philip grew up in Louisiana (not New Orleans) before moving to St. Louis after graduating from Louisiana State University-Shreveport. When he's not writing about movies or television, Philip can be found being chased by his three kids, telling his dogs to stop yelling at the mailman, or yelling about professional wrestling to his wife. If the stars properly align, he will talk about For Love Of The Game being the best baseball movie of all time.
Your Daily Blend of Entertainment News
Thank you for signing up to CinemaBlend. You will receive a verification email shortly.
There was a problem. Please refresh the page and try again.