Charlie's Angels End Credits: Which Celebrities Make Cameo Appearances?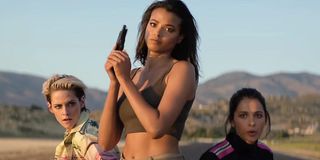 This weekend, Kristen Stewart, Naomi Scott and Ella Balinska unite onscreen as the brand new team of Angels, bringing back a franchise that hasn't seen a movie hit the big screen since 2003 and a TV show since 2011. The new iteration of Charlie's Angels comes with some good camaraderie between the three leads, but it also comes with a slew of cameos during its end credits.
Per usual, this is opening weekend, so if you haven't caught the film yet, there will be some specific spoilers in this piece. However, it should be noted that some of these cameos were spoiled by the celebrities themselves before release. Thus, if you already saw the movie and are trying to place some of the end-credits faces, we have you covered. It should be noted the end credits aren't the only time director Elizabeth Banks threw some fun cameos into Charlie's Angels. A quick scene at the beginning features Michael Strahan as a Bosley, for example. However, the closing credits are where the real "Who's Who" fun starts, and I highly suggest sticking to your seat in the theater to watch them. If you are ready to take a look, let's get started...
Former Charlie's Angel Jaclyn Smith
Jaclyn Smith was a lead in the 1976 Charlie's Angels series, playing Kelly Garrett on the small screen through the show's five-season run. These days, it seems her Angels character trains some of the young women joining Townsend and she's there to greet Elena when she shows up to earn her wings. Smith doesn't act all that much anymore, so this cameo is a real treat.
Laverne Cox As A Bomb Instructor
Orange Is The New Black's Laverne Cox is also an instructor at the Townsend recruit school, and teaches the new potential Angels about bombs. As Orange is the New Black ended its run earlier this year, the Charlie's Angels cameo is a nice way to keep Cox in the conversation as she heads into her next series Inventing Anna.
Danica Patrick As A Driving Instructor
Danica Patrick's mostly known as an IndyCar racer, but she has acted before, and her inclusion as one of Charlie's Angels, or at least Charlie's Instructors, is pretty fitting. If a gal's gotta learn how to drive, why not learn from one of the most prominent female races of the last 15 years? Patrick retired a short while back, so she should have plenty of time for gigs such as this one.
At least Danica Patrick really looks as if she had fun on set!
Ronda Rousey As A Fighting Instructor
Girl power is in no short supply in Charlie's Angels. Given Ronda Rousey is both a. a fighter and b. an actress, her inclusion in this cameo list of female badasses willing and able to train others makes all the sense in the world.
In real life Ronda Rousey is trained in mixed martial arts, judo and other types of fighting, so she should be a good fit as a fighting instructor in the world of the Angels.
Hailee Steinfeld As An Angel Recruit
There are several young ladies who pop up in cameos as additional Angel Recruits. I have no idea if this was simply as a fun inclusion for the fans or if this is to set up other potential cameos in Charlie's Angels 2 or future sequels. Regardless, Hailee Steinfeld is definitely noticeable and notable when she jumps out of a plane during an exercise with Bosley. This is also a Pitch Perfect 2 reunion for Elizabeth Banks and Steinfeld for fans of the director's work, to boot.
Gymnast Aly Raisman As An Angel Recruit
Why yes, U.S. Olympic Gymnast Aly Raisman is also an Angel recruit. Given the fact she's able to be in insane shape when needed, I assume she could be trained quite adequately in the fighting arts. Her other acting credit is in Maroon 5's "Girls Like You" video, which doesn't qualify her to save the day, but this training should.
Aly Raisman spoiled her cameo just a few days ago with a quick look at what she did on the set, which includes an angels tattoo and a flight suit with pink shoes. On Wednesdays, they wear pink.
Riverdale's Lili Reinhart As An Angel Recruit
You may know her as Riverdale's resident Betty Cooper, but the actress (who is also known for Hustlers and Surviving Jack) makes an appearance as a recruit at the end of Charlie's Angels as one of the movie's new recruits alongside Naomi Scott's Elena.
Lili Reinhart was another actress not interested in keeping her big Charlie's Angels end-credits cameo a secret, calling herself "an angel for a day" in a recent post.
Snowboarder Chloe Kim As An Angel Recruit
As another athlete who kicks ass, Chloe Kim makes an appearance at the end of Charlie's Angels. Previously, the Olympic snowboarder (and medalist) appeared in the popular video for Maroon 5's "Girls Like You" marking her acting debut. That video also features Aly Raisman and Elizabeth Banks. So, there are definitely some cameo connections here. This time around, like some of the other ladies, she's training to be an Angel.
Ultimately, the Charlie's Angels end credits scenes are pretty fun and worth sticking around for. In fact some of the montage moments were cool enough they would have been suitable in another version of a Charlie's Angels movie focusing more on the recruiting process than saving the world. The scenes remind me a little of Kingsman in that way and I almost wish they had been a regular plot in the movie, although that wouldn't have made total sense, given the way the three angels meet each other and the way Elena is introduced into the story.
You can find out more as Charlie's Angels is in theaters this weekend, or see what else is coming with our full schedule. Did you have a favorite cameo or did we miss one? Let us know!
Reality TV fan with a pinch of Disney fairy dust thrown in. Theme park junkie. If you've created a rom-com I've probably watched it.