More Incredible Hulk? Mark Ruffalo Gives Fans Update About Potential She-Hulk Appearance On Disney+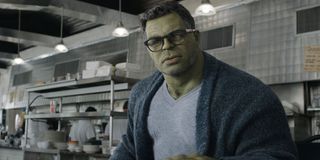 Mark Ruffalo is a busy man, but he seems to have enjoyed playing both the Hulk and Bruce Banner in the Marvel Cinematic Universe. With the announcement that a She-Hulk series was headed to Disney+ at some point in the future, the possibility for Ruffalo to continue playing the character grew exponentially. Recently, the actor gave fans an update about his potential appearance in She-Hulk and there's some positive news.
Over the weekend, Mark Ruffalo made an appearance at the Chicago Comic and Entertainment Expo (C2E2). The actor answered multiple fan questions during a panel where he talked about the topics he's most passionate about, Marvel, and more. When a fan asked whether Hulk would make an appearance in She-Hulk, Ruffalo was open about his potential involvement with the Disney+ series. While the possibility was definitely there, nothing was confirmed yet. Here's his full response:
The fan (via YouTube) went on to conclude that he would probably have to show up, especially considering that Bruce Banner is She-Hulk's cousin and the one who gave her her powers by way of a blood transfusion in the comics. Right? "I would think so," said Mark Ruffalo.
Obviously, the actor couldn't reveal any more information beyond that. This isn't the first time Mark Ruffalo has been asked about the subject. Back in November, he stated that he didn't know whether Hulk would be involved in the Disney+ series, but that he was due to speak with Marvel's Kevin Feige "to see if there's some place" for the character on the show. The fact that there has been "some talk" since then about the Hulk's involvement in She-Hulk is a big step forward.
Personally, it would be a missed opportunity if She-Hulk didn't include Bruce Banner at all. He is the cousin of the titular character, much like the fan already mentioned. While I don't think he should be in every episode for fear of overshadowing She-Hulk on her own show, Banner could absolutely help show her the ropes after she gains her powers.
As for who he thinks should play She-Hulk, Mark Ruffalo revealed his surprising choice last year, admitting that his Thor: Ragnarok co-star Tessa Thompson would "be a great" She-Hulk. More recently, GLOW star Alison Brie responded to rumors that Marvel was looking for an "Alison Brie-type" to play the character and a fan artist went a step further to envision her in the role.
She-Hulk doesn't have a scheduled premiere date yet, but stay tuned to CinemaBlend for updates. For more on what to watch in the meantime, be sure to check out our 2020 midseason schedule for options.
Your Daily Blend of Entertainment News