Marvel's She-Hulk: 12 Actors Who Are Perfect For The Role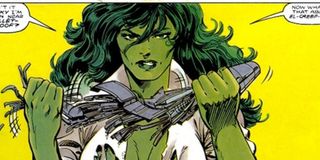 While there are many Marvel properties who have basked in the limelight through various different blockbusters, network shows and streaming series, there is one lingering character will soon finally get her time to shine: She-Hulk. The comic book heroine, created by John Buscema and Stan Lee in early 1980, has been around for nearly four decades, but despite an infectious fanbase, She-Hulk has yet to break into live-action. That changed drastically when Marvel announced at this year's D23 Expo that She-Hulk (alongside Moon Knight and Ms. Marvel) would finally get her long-awaited debut within the MCU with her own all-new Disney+ streaming series.
Among the chief reasons why She-Hulk's introduction into the Marvel Cinematic Universe is so enticing is because she can provide a variety of different assets for the expansive superhero universe. Sure, She-Hulk could be played fairly straight, but Marvel's track record implies the chances are high for She-Hulk's introduction to showcase a fun, outlandish and very funny character; one that might open the doors to more Deadpool-esque meta comedy.
She-Hulk isn't quite as raunchy as Deadpool, though she is very witty and headstrong, and far more so than her fellow green contemporary, Bruce Banner's Hulk. She knows how to stand out as way more than simply "the lady version of Hulk," and the character could quickly become an MCU standout if the right actress lands the role. The casting process is always important, especially where Marvel's long-winded, multi-project contracts are concerned, and it's pivotal that Marvel nails this pick.
Eliza Dushku has portrayed She-Hulk in some animated projects, but this series will be She-Hulk's live-action debut. Of course, it almost definitely needs to be someone who hasn't already been utilized inside the MCU; as much as I'd love to see, say, Tessa Thompson in this heroic role, she's obviously Valkyrie now. Plus, it needs to be a performer who has action skills mixed with the comedy chops, so it won't be an easy choice. With that said, let's take a look at 12 women who could do wonders as She-Hulk, if given a chance to go green for the Disney+ series.
Gabrielle Union
Carrying the captivating confidence and conviction necessary to stand out in this rough and tough role, Gabrielle Union is an actress who continues to stand out with each new role, no matter what genre or tone. Union has been great in comedies in the past, including Bring It On, Top Five, Deliver Us From Eva and several others.
But she has also proven her action skills as well, most recently in movies like Breaking In and in the Bad Boys spinoff series L.A.'s Finest. Like fine wine, Gabrielle Union only seems gets better over time. She-Hulk would, no doubt, be a great showcase for her star talents.
Mary Elizabeth Winstead
A tremendous versatile actress who can play roles with both great strength and delicate vulnerability, Mary Elizabeth Winstead has an extraordinary amount of range. That's why it's so easy to see the actress playing the part of She-Hulk. No matter which direction they take the character, be it more dramatic, action-orientated or (hopefully) comedy-friendly, it's easy to see Winstead excelling with any aspect.
Mary Elizabeth Winstead has shown her dramatic and action chops in 10 Cloverfield Lane and Death Proof, her comedy action skills in Scott Pilgrim vs. The World, her dramatic skills in Smashed, The Spectacular Now, and Faults, and her dramedy range in All About Nina, Swiss Army Man and Fargo Season 3. She is also entering the comic book sphere with next year's Birds of Prey, which will reportedly get big, bold and "very '90s," according to Ms. Winstead herself. It makes so much sense that Mary Elizabeth Winstead would crush it in the role of She-Hulk. If anything, it's simply a matter of whether she can fit it in.
Rosario Dawson
Bold, brash and beautiful, Rosario Dawson is a great fit for She-Hulk. The actress carries herself with fierce conviction, and is never afraid to seek her mind or hold her own. Dawson can also carry great vulnerability and inner-depth, convincingly building layers through which her well-versed characters both live and thrive. Her tremendous action work in Death Proof and Sin City give us a glimpse at how much she could excel in She-Hulk. And her strong comedic work in movies like Clerks II and Top Five, to name a mere few, show us that she would fit into the character's comedic side quite easily and readily.
It's not hard to see how Dawson could fit in the roles of both She-Hulk and her alter ego, Jennifer Walters. Clearly, there are many fans who agree with this sentiment. There is already some fan art floating out there showcasing how well she would fit into this role, and she responded to this casting possibility in kind, saying she would love to play the part. While Dawson was in Daredevil, that character was not wholly affiliated with the MCU at large, so she could pull it off.
Ronda Rousey
There's no denying that former UFC mixed martial arts fighter Ronda Rousey, now a talent within the WWE, has proven herself before. The athlete has had her ups-and-downs, but she has held steadfast and proven herself in some major moments in her life. Though her fighting career isn't what it once was, and her acting career has generally been cast aside in favor of her professional wrestling, the role of She-Hulk would be a great opportunity for Ronda Rousey to come back to the public spotlight in a major way.
Ronda Rousey is, at least in my view, a better actress than people often give her credit for being, and she showed in movies like Entourage and Furious 7 that she has a good sense of humor, even when she's throwing kicks and punches. Rousey also has the muscles to stand out in the role of She-Hulk, which would guarantee that anytime there is action involved, Rousey could be depended on to kick some ass. She-Hulk is a part that could work for her, and it would provide the one-time martial arts superstar with the major comeback that she deserves at this time.
Aubrey Plaza
If Marvel really wants to lean into the funny and the absurd with She-Hulk, look no further than Aubrey Plaza. The Parks and Recreation actress is often known for her deadpan delivery and witticisms, but she has really shown her range as an actress in a number of stand-out roles, most notably including Ingrid Goes West, An Evening With Beverly Luff Linn, The Little Hours and her supporting turn in FX's Legion, a Marvel show that also sits relatively distant from the MCU. Plaza was also good in the not-so-good comedies Dirty Grandpa and Mike And Dave Need Wedding Dates, proving that she knows how to elevate the material and make even her lesser movies shine.
Aubrey Plaza has grown more comfortable with her weird, out-there energy, and she has channeled it into some of her best work to date for a number of recent projects. She has expressed interest in playing a comic book character, and she has been open to playing She-Hulk, too. It would be a great fit for her oddball talents, and there's no denying that, if Plaza was given the part, she'd really turn it into something kooky and memorable.
Kaley Cuoco
With the recent conclusion of The Big Bang Theory, Kaley Cuoco has a lot more free-time on her hands, at least in theory. The actress, best known for playing Penny on the uber-popular CBS sitcom, often shined even in the show's most mediocre moments, and there was a lot of interest in what the actress was planning to do with her next big project. While she is attached to the HBO Max series The Flight Attendant next, there's good reason to believe that Cuoco could make a great impression in the MCU.
And in the role of She-Hulk, Cuoco could once again showcase her comedy chops in a major league role. She already has the star power, which would instantly bring in viewers for this series, and while she doesn't have a ton of action experience, she is certainly seasoned in the comedy department, and the comic book department. (She voices the titular role in DC Universe Harley Quinn.) If given the chance, Cuoco could earn a hell of a lot of goodwill and laughter in this big role.
Jessica Biel
Having developed a steadfast career in both film and television, Jessica Biel has proven herself in a variety of different projects, and she seems comfortable working on projects both big and small, in a number of varying genres. She has done a number of comedic films, including Summer's Catch, Playing For Keeps and I Now Pronounce You Chuck And Larry — not to mention an excellent recurring role in BoJack Horseman as a more outlandish variation of herself. She has also done a number of action films, including Stealth, Total Recall and Blade: Trinity.
When it comes to the dramas, Jessica Biel earned some of the best notices of her career for her season-long work in TNT's The Sinner. She has the experience and flexibility to play the part, and it doesn't hurt that she certainly has the look and build to pull it off too. This major role could be a good MCU introduction for Biel.
Angie Harmon
While TNT's Rizzoli & Isles never became a huge hit, it was certainly more than a modest cable success. The detective series earned a loyal fanbase through its fine mix of comedy and action, standing out even among the other procedurals thanks in part to Angie Harmon. The TV actress, playing one half of the title duo, was smart and determined, open to doing what needed to be done to solve the case and rarely showing resistance. Through the show's fine mix of comedy and action, it was clear that Harmon could excel in another leading role.
One potential project that would really play to her strengths and skills was a potential She-Hulk live-action adaptation, which is one that she openly championed. A few years back, Harmon was clearly enthusiastic about the possibility of playing this part, claiming on Conan that it was a part that Angie Harmon would very much love to play for... several reasons. Nevertheless, it's apparent that she would not only be honored to be the part, but she'd make a great fit too.
Michelle Rodriguez
Undoubtedly one of the toughest women in Hollywood, there's no need to prove Michelle Rodriguez's action chops. The famous actress has already proven them time-and-time again in the Fast & Furious movies, Avatar, Machete and several others. But she is also an undervalued dramatic actress as well, having proven herself in movies like Girlfight and, most recently, Widows to be a strong dramatic presence in addition to being a solid action star.
While she has only made a few comedies in her career, many of which were not especially great, it's clear from her work that she has a good sense of humor, and she translates it into her badass women. Therefore, it's clear that she would most certainly have the chops to pull of the part of She-Hulk.
Paula Patton
Paula Patton is an actress who often gets overlooked for how often she jumps into different genres. She has done dramas, action flicks, thrillers and comedies, and she could incorporate her skills in all of those fields for the role of She-Hulk. With experience in projects both big and small, it is clear that Paula Patton is a hardworking woman who can find herself playing to her strengths if given the right role.
While she hasn't had the best run of movies, Patton's work in films like Mission: Impossible – Ghost Protocol, Deja Vu, 2 Guns and Warcraft suggest she has what it takes. After all, Patton already played a green-skinned orc in Warcraft. That fantasy role is likely not so huge a departure from what is required to play She-Hulk, at least in certain ways.
Melanie Scrofano
While she isn't necessarily a household name yet (unfortunately), Melanie Scrofano is an exceptionally dynamic actress who has proven herself in a bunch of projects on the big and small screen. Most notably, she boasts the lead role in Syfy's Wynonna Earp, in which Scrofano shows her knack for comedy, drama and action, notably in the horror vein. Similarly, Scrofano played a very memorable part in the highly enjoyable film, Ready Or Not, where she put her horror-comedy talents on tremendous display.
Even in supporting roles in otherwise unremarkable movies like Saw VI, The Conspiracy and Nurse 3D, as well as the RoboCop remake, Scrofano knows how to make herself stand out immensely. She has great presence and tremendous range, and she deserves a platform that will really propel her into superstar status. Thankfully, in the role of She-Hulk, Melanie Scrofano could do wonders.
Gina Carano
Having built her career as an MMA fighter, Gina Carano has transitioned rather nicely into movies. She made a big impression in Steven Soderbergh's unjustly overlooked action-thriller Haywire, and she's also had a solid supporting role in Deadpool. What's more, Carano will soon appear in the Disney+ much-anticipated Star Wars series, The Mandalorian.
Since she has already established a working relationship with the forthcoming streaming service, it wouldn't be out of the realm of possibility to see the actress appear in a lead role in the new Marvel series, She-Hulk. The athlete-turned-actress doesn't have the most dramatic range of her acting peers, but she has proven herself in the action and comedy departments. Carano also clearly has the muscles and build to be a convincing ass-kicker, which is certainly be beneficial in making the action pop on-screen. Carano could certainly find a big acting break as She-Hulk.
There are no shortage of talented women who could take on the role of She-Hulk. We're certain that Marvel is looking to hundreds, if not thousands, of actresses who could play this muscle-bound part. Is there anyone in our list that you'd like to see become She-Hulk? Let us know in the comments, and stay tuned for the show's debut, which is coming in the near-to-distant future.
Your Daily Blend of Entertainment News
Will is an entertainment writer based in Pittsburgh, PA. His writing can also be found in The Playlist, Cut Print Film, We Got This Covered, The Young Folks, Slate and other outlets. He also co-hosts the weekly film/TV podcast Cinemaholics with Jon Negroni and he likes to think he's a professional Garfield enthusiast.