Alison Brie Had A Perfect Response To The Rumor Marvel Wants An 'Alison Brie-Type' For She-Hulk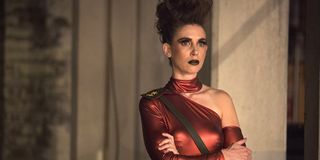 Alison Brie has proven herself to be an actress with a lot of range. She got to stretch her comedic chops on the beloved sitcom Community, voiced Diane in the Netflix animation BoJack Horseman, and played a professional wrestler on GLOW. Could Brie's next major role be She-Hulk? Fans seem to think so. In fact, a recent rumor suggested that Marvel was looking for an "Alison Brie-type" to play the character in the Disney+ series. Brie was asked about the rumor and she had the perfect response prepared.
Earlier this week, a rumor began making the rounds, claiming that Marvel Studios was looking for an "Alison Brie-type" to play She-Hulk. As of yet, no one has officially been cast in the role, but there are plenty of actresses to choose from. The rumor picked up enough steam that it began trending. During an appearance on The Late Late Show with James Corden, the host wondered how Alison Brie felt about the rumor. Here's what she said:
That is pretty exciting. It seems Alison Brie is finally famous enough that rumored casting calls would reference her. She's really, truly made it! Personally, I think Alison Brie would make a great She-Hulk. The actress had previously auditioned for various Marvel roles over the years, so I'm sure Brie would be more than willing to join the Marvel family for a role like this one. She'd be perfect, quite frankly. Why look for an Alison Brie-type when you can have the real thing, right?
In the comics, Jennifer Walters is a renowned lawyer and Bruce Banner's cousin who is transformed into the green version of herself after an accident leaves her in desperate need of a blood transfusion. Banner is the one who offers his blood for the transfusion, effectively turning her into the incredibly strong She-Hulk. Unlike her cousin, however, Jennifer can maintain much better control of herself and her actions in both forms.
The She-Hulk Disney+ series was announced last year, but there has been little news about it since. However, that hasn't stopped fans from envisioning a number of actresses in the titular role, including Luke Cage's Rosario Dawson and The Mandalorian's Gina Carano. We can add Alison Brie to the list now.
She-Hulk doesn't have a scheduled release date yet, but stay tuned to CinemaBlend for updates. In the meantime, be sure to check out our 2020 midseason schedule for more on what to watch.
Your Daily Blend of Entertainment News
Thank you for signing up to CinemaBlend. You will receive a verification email shortly.
There was a problem. Please refresh the page and try again.