Hilary Duff Is All Smiles As Lizzie McGuire Stalls On Disney+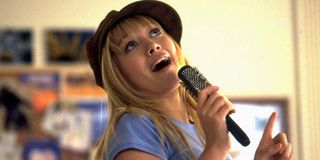 Last week, Hilary Duff took to Instagram with a plea for Disney to move the upcoming Lizzie McGuire revival from Disney+ to Hulu. Duff seemed to be frustrated with what has been going on with the revival and fans of the show have concerned about the future of the project.
In a stark contrast, Hilary Duff's next post was her smiling and hugging The Walking Dead star Alanna Masterson. It's a fascinating example of the power of social media and how things can look drastically different in someone's life within the span of a few days or even a few hours.
While one post presents a serious concern of Hilary Duff's and has caused a huge amount of consternation from fans, the next is lighthearted and fun. Of course, in life, that's how most things are. It's not often we are only one way or another, yet the power of social media can be such that one post defines much more than a moment in time.
Days later, Hilary Duff was still all smiles, this time posing with her children on the cover of Parents Magazine. While the photo shoot was likely well before Duff's Lizzie McGuire post, it still presents that harsh contrast, seemingly upset professionally, to absolute bliss at home. The reality, of course, is almost certainly somewhere in between for Duff.
Indeed, the serious post about how Hilary Duff sees the future of her most iconic character is unlike most of her feed. Duff's feed is a mix of professional promotion and private moments with friends and family. Photos of her recent wedding to musician Matthew Koma, her kids visiting Santa at Christmas, shots of her dog, etc… It's all very wholesome, sort of how you might expect the Lizzie McGuire reboot would have been on Disney+. There are also very "real," more adult moments as well, like a touching tribute to Kobe Bryant and his daughter, changing diapers, and a harsh takedown of a paparazzi photographer.
Peering into the different moods of Hilary Duff, or anyone for that matter, is actually an excellent analog for how Duff thinks the difference between a Disney+ version of Lizzie McGuire and a Hulu version would be, as she and the original show runner Terri Minksy planned. Minsky was fired from the production in January and production has been on hiatus after Disney was unhappy with the direction of the first two episodes. Minksky, like Duff, wanted the character to face some harsher realities of getting older and doesn't think sanitizing the show to ensure a PG rating, as Disney+ requires, is the right move.
It remains to be seen if the two sides can break the impasse, but we'll be sure to keep you updated if any more related information breaks.
Your Daily Blend of Entertainment News
Hugh Scott doesn't believe aliens are hidden at Area 51 or that Elvis is alive, but he does believe birds are real and Meghan Markle isn't treated fairly by the tabloids. He's been writing about music, movies, and celebrities for most of his adult life after realizing stocking shelves in a paper warehouse in college wasn't all it was cracked up to be.