Why I Am Really Worried About Disney+'s Lizzie McGuire Revival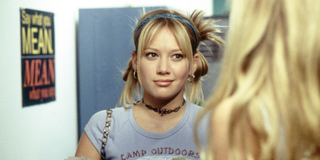 (Image credit: Walt Disney Company)
Lizzie McGuire fans the world over collectively rejoiced with the 2019 news that Disney+ would be home to a revival. If it seemed too good to be true at the time, your heart might not have entirely sunk with the updates that have followed. It has all led me to be really worried about the future of the Lizzie McGuire revival.
After years of wishing and Hilary Duff providing hope for a revival to happen, confirmation that one was actually coming to fruition was welcome. Following the news of Lizzie McGuire coming back to life, Duff even posted a picture of herself in-character as Lizzie in the fall of 2019. Progress! As of early 2020, things have taken a dark and concerning turn.
For fans clamoring to catch up with one of their favorite heroines from the 2000s, the road just got a bit more complicated. There is a lot for fans to be worried about when it comes to the Lizzie McGuire revival, from whether or not it will actually happen to what it will be like if it does. Time to get into it!
Where The Lizzie McGuire Revival Currently Stands
Despite it seeming like the Lizzie McGuire revival would premiere in 2020 amid smooth sailing, there has been a significant twist. It all started in January when Variety reported that Disney+ had split with Lizzie McGuire's creator/original showrunner, Terri Minksy. The search for Minsky's replacement has been ongoing and publicly yielded no results.
Production on the Lizzie McGuire revival has been on hiatus ever since. It reportedly only had two episodes filmed when the creative re-shuffling occurred. Now, Variety is reporting that Disney+'s search for Terri Minsky's replacement continues. However, their sources indicate the revival resuming is growing "increasingly unlikely."
In a statement, Disney+ said that its "goal" is to "resume production" on the Lizzie McGuire revival. Deadline reports Disney+ sources saying the show is still in the midst of "being redeveloped." Will it be to a more or less adult imagining? Responding to news that Disney+'s Love, Simon TV show (now named Love, Victor) would be moving to Hulu, Hilary Duff wrote "sounds familiar" on her Instagram stories.
It is unclear if the Lizzie McGuire revival could eventually move to Hulu or stay at Disney+ after it undergoes some changes. It makes sense for Disney+ to want the popular series to remain on the streaming platform, which launched late last year to tremendous fanfare.
Why I Am Really Worried About Lizzie McGuire
If you were worried when you started reading this feature, your anxiety has probably only increased. I had been concerned about the revival's future ever since learning of Terri Minsky's exit from the show. Now, this! I do not know about you, but I am troubled.
It seems fans may still get the revival. However, it may be quite different from the version that Hilary Duff and Terri Minsky originally had in mind. That is if it happens. Right now, it still seems like a much larger "if" than it did when it was initially announced.
Projects like the Lizzie McGuire revival rely on a great deal of momentum, and it has undoubtedly stalled. There is a reason to be hopeful, though. A show getting delayed is not uncommon, especially at Disney+. Following the incredible success of The Mandalorian, the streamer's Star Wars series about Obi-Wan Kenobi has been postponed.
Cancellation rumors had spread around the Obi-Wan Kenobi series, only to see it survive. Can the Lizzie McGuire revival manage to rise above similar turbulence? I hope so because I have missed this show ever since it went off the air in 2004. Sixteen years is a long time to wait and then get left empty-handed.
What Hilary Duff's Latest Update May Mean
Hilary Duff's Instagram comment referring to Love, Victor's move to Hulu ("sounds familiar") might mean that the Lizzie McGuire revival is heading there too. Why? The creative issues surrounding Disney+'s revival reportedly stem from Duff and Terri Minsky's desire to make a more adult version of Lizzie McGuire. A take that lines up with where original viewers are now in their lives.
Instead of a version for those who may be young and tuning in for the first time. In other words, the age fans were when they initially watched Lizzie McGuire. I can see where all sides are coming from. It gets back to why the Veronica Mars revival was left without any R-rated content when it bowed on Hulu.
The argument was wanting the younger audience, who checked out the series' original run on Hulu, to also be able to watch the controversial revival. Now in their thirties, Lizzie McGuire's initial audience may want to watch the original and the revival with their young kids. It makes sense. However, what appealed about watching the original was relating to Lizzie.
I kind of want to re-connect with Lizzie as a fellow 30-year-old, and all that entails. If the show moves to Hulu, fans could get a more adult Lizzie McGuire. What I would suggest is filming the revival in a way that it could be edited to create a family-friendly version and an adult one for Disney+. That way, both sides win.
Why Losing The Show's Creator Is Disastrous
Terri Minsky is the creative mind that brought viewers Lizzie McGuire. I am a big believer in keeping the behind-the-scenes magic from a show intact when it comes to revivals. Since Lizzie McGuire is keeping Hilary Duff as Lizzie, why not keep the show's creator?
She and Hilary Duff arguably have the best handle on who Lizzie would be today. As long as fans have waited for Lizzie McGuire to return in some form or fashion, it will be for nothing if the show does not sparkle like it used to. Terri Minsky is the creative factor in making that happen.
Disney+ is apparently still searching for her replacement. I hope it will reconsider and rehire Terri Minksy to do what they had faith in her to do from the beginning. Whatever these creative differences, there has to be a better way to sort them out than losing Minsky altogether.
Lizzie, her family (mom, dad, and brother Matt), and Gordo were all set to return for the revival. I am still hoping that Lalaine can return as Miranda. All of these nostalgic happenings will be for naught if the show's creator is not at the helm. Terri Minsky is an essential part of Lizzie McGuire, and she should be part of its sequel series.
At this point, the Lizzie McGuire revival is in an uncertain place. It is supposed to catch up with Lizzie, living it up in New York City in her Brooklyn apartment. On the verge of 30, Lizzie is working as an assistant to a decorator. Will that be the last update fans get on her life?
I am sure there is a lot of Lizzie McGuire fan fiction that could be cultivated from those confirmed bits of present-day canon. I want the chance to see it all play out on-screen with as much of the original cast as possible, and the series' creator.
Personally speaking, Lizzie McGuire was a special show. As a tween, I would say it was remarkably important. Full House is my forever show, Smallville was my coming-of-age show, and Game of Thrones was my adulting show. Lizzie McGuire was that show in between being a kid and a teen. It meant a lot to me and those I knew then.
Disney+ has a lot of great content. However, The Lizzie McGuire revival was what was going to make me finally get a subscription. Lizzie McGuire is currently slated to still arrive on Disney+. While you wait, the streaming platform has a lot of shows set to hit this winter and spring.
Your Daily Blend of Entertainment News
Like a contented Hallmark movie character, Britt happily lives in the same city she grew up in. Along with movies and television, she is passionate about competitive figure skating. She has been writing about entertainment for 5 years, and as you may suspect, still finds it as entertaining to do as when she began.