Craig Robinson: 10 Movies And TV Shows You Probably Forgot He Was In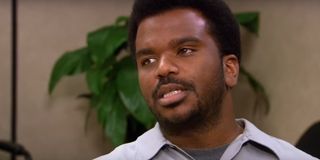 Craig Robinson has created a distinct persona for his roles in TV shows and movies. These characters are sometimes intimidating, oftentimes smooth-talkers, and always hilarious. Whether playing Darryl from The Office or Doug Judy on Brooklyn Nine-Nine, Craig Robinson has won the heart of viewers for his tough teddy bear characters.
Since his The Office debut in 2005, Craig Robinson has seen a boost in fame and is now an actor that people easily recognize. Over his nearly 20-year career, the comedian has built an impressive resume of movie and TV roles. However, you may be surprised to learn that Craig Robinson had some small roles in iconic shows and movies before hitting the big time.
The Bernie Mac Show
The Bernie Mac show follows the fictionalized life of comedian Bernie Mac as he and his wife take in their nieces and nephew. The series showcases Bernie Mac's old school way of parenting and how it conflicts with modern times. The Bernie Mac Show ran from 2001 to 2006 for five seasons.
Craig Robinson appears in one Season 3 episode called "Hair Jordan." It follows Bernie and his nephew, Jordan (Jeremy Suarez), as Bernie takes him to the barbershop for the first time. At first, Jordan stands out, but eventually he becomes popular there. Craig Robinson plays Wayne, one of the barbers at the shop. Robinson doesn't have many lines, but his persona helps create the whole barbershop culture in the episode. Craig Robinson's episode of The Bernie Mac Show is available to stream on Hulu.
Knocked Up
Knocked Up is Judd Apatow's romantic comedy that stars Katherine Heigl and Seth Rogen. After a one-night stand, Allison (Katherine Heigl) becomes pregnant by slacker, stoner Ben Stone (Seth Rogen). The cast also includes Paul Rudd, Leslie Mann, and Jason Segel.
Craig Robinson appears in a scene where Allison and Debbie (Leslie Mann) are attempting to get into a nightclub. Craig Robinson is a bouncer who refuses to let them into the club. The bouncer's rejection of them causes Debbie to become infuriated. Craig Robinson delivers a hilarious response to her: He tells Debbie that he hates judging people, but it's his job. He refused them because Allison is pregnant and Debbie is old. You know, not like Earth old, but club old.
Friends
Friends is a popular TV series that ran on NBC from 1994 to 2004 for 10 seasons. The series started with a group of 20-somethings living in New York and trying to navigate their lives as individuals and as a group. Matthew Perry, Jennifer Aniston, Courteney Cox, Matt LeBlanc, Lisa Kudrow, and David Schwimmer star in Friends.
Craig Robinson appears in Friends Season 10, Episode 14, "The One with Princess Consuela." Mike (Paul Rudd) and Phoebe (Lisa Kudrow) are married, and Phoebe decides to change her last name because of her marriage. Once she arrives at the DMV, a clerk there (Craig Robinson) lets her know that she has the option to change her name to anything that she wants. And thus, Princess Consuela Banana Hammock is born. Craig Robinson's appearance is very brief, but he expertly plays the annoyed employee to Lisa Kudrow's overly enthusiastic Phoebe. In their brief time on screen together, Lisa Kudrow and Robinson play off each other well.
Percy Jackson: Sea of Monsters
Percy Jackson: Sea of Monsters is the second installment of the Percy Jackson movie franchise, based on Rick Riordan's book series. Percy (Logan Lerman) and his friends find themselves on a new adventure, as they must try to protect Camp Half-Blood from mythical beasts threatening it.
In Percy Jackson: Sea of Monsters, Craig Robinson voices George, part of a snake-duo owned by Hermes (Nathan Fillion). Octavia Spencer voices the other snake, Martha. George and Martha appear in the scene when Percy and his friends are looking for Hermes' son, Luke (Jake Abel). Mainly, George and Martha bicker during their scene. The two have some funny lines, like George saying he can't use the computer mouse because he eats mice. George and Martha also throw in some snake puns or two, and they get to throw in those long hisses to their words.
Reno 911
Reno 911 is a comedy cop show that's shot mockumentary-style. It stars an ensemble cast of comedians, including Niecy Nash, Kerri Kenney-Silver, Joe Lo Truglio and Thomas Lennon. Each episode revolves around a series of arrests and criminals.
Craig Robinson appears in Reno 911 Season 6, Episode 11, "Deputy Dance." He plays a local celebrity, Levon French, who makes linoleum commercials. The Reno 911 officers hire him to help them make a recruitment video. Levon acts and speaks like a pimp, often sexualizing the officers. Levon is funny because he takes his job of creating a semi-pornographic, nonsensical recruitment video very seriously. The simpleminded Reno 911 cops add to the hilarity of the situation with their general clueless behavior.
Pineapple Express
Pineapple Express follows stoner Dale (Seth Rogen) and his dealer Saul (James Franco) as they accidentally get involved in a major drug crime ring. Danny McBride, Rosie Perez and Gary Cole also star.
Craig Robinson plays Matheson, one-half of a goon team with Budlofsky (Kevin Corrigan) that works for Ted (Gary Cole). Robinson's Matheson is both hilarious and intimidating. Matheson often displays high emotions even as he's attempting murder. He's hurt that Budlofsky is less about the crime life and more about domestic life with his wife. Some of Robinson's moments have famously joined the world of memes and gifs.
Arrested Development
Arrested Development follows the Bluth family, a formerly wealthy family that refuses to adjust to their new broke status. George Bluth Sr. (Jeffrey Tambor) gets arrested for corrupt business practices. This leaves his son Michael (Jason Bateman) in charge of the family's real estate company. Arrested Development originally aired on Fox from 2004 to 2006. Then Netflix brought it back in 2013. It currently has 5 seasons available on Netflix.
Craig Robinson appears in Arrest Development Season 2, Episode 7, "Switch Hitler." He has a very brief part as a studio security guard. Tobias (David Cross) is auditioning for a part as "Confident Man 2." He and daughter Maeby (Alia Shawkat) drive to the studio for his audition. Tobias then spends all day there building buzz. He has a two-second audition, that he loses and it goes to Craig Robinson's security guard character. Maeby uses her scamming ability to get her dad the job. Craig Robinson only utters a few lines, but he gets the angry security guard look perfect.
Daddy's Little Girls
Daddy's Little Girls is a Tyler Perry-helmed romantic comedy starring Gabrielle Union and Idris Elba as Julia and Monty, respectively. Julia is a lawyer who can't seem to find a decent man to date. Monty is a mechanic and single father raising three girls. Monty takes a driving job to make more money and ends up driving Julia. She later represents him in a custody case, and the two start to fall in love.
Craig Robinson plays a terrible blind date. At one point, he goes on a rant about wanting to eat Julia's lips. He then asks the waiter for shrimps, which he proceeds to drench in hot sauce. He also talks about being "between jobs" and wanting to be a rapper. He then precedes to loudly freestyle a rap. Craig Robinson effortlessly creates the terrible date character. You can't help but laugh and feel sorry for Julia.
Curb Your Enthusiasm
Curb Your Enthusiasm follows a fictionalized version of Larry David's life. The plot and subplots of each episodes are outlined, but the series relies mainly on the improvised lines from the actors. Curb Your Enthusiasm has a style similar to Seinfeld, which Larry David co-created. It deals with his daily events and his social interactions with other characters. Curb Your Enthusiasm aired every year from 2000 to 2007, then took a two-year hiatus between Seasons 7 and 8. The series' ninth season aired six years after the 8th one, and the 10th season aired three years later in 2020.
Craig Robinson appears in Curb Your Enthusiasm Season 5, Episode 10, "The End." The episode involves Larry finding out that he's adopted. His biological parents are very religious and their religion makes him try to be a better person. He decides to give Richard Lewis his kidney. Craig Robinson plays the attendant who takes Larry to surgery. The men start chatting about Richard not letting Larry borrow his golf putter. Robinson is shocked that this man can't even let his friend, who is giving him a kidney, borrow something so small. Robinson then creates tension between the two men as they are being taken to surgery by bringing up the incident.
Tragedy Girls
Tragedy Girls is a horror comedy film about two teen girls, McKayla (Alexandra Shipp) and Sadie (Brianna Hildebrand), who have been seral killers since childhood. They kidnap serial killer Lowell (Kevin Durand) and blame him for their crimes. Then continue a killing spree.
In Tragedy Girls, Craig Robinson plays Big Al, a local firefighter who tries to solve the case of all the murders himself. He has a very big confrontation between McKayla, Sadie and him. Tragedy Girls is a really fun horror comedy with a women empowerment tone to it. If guys can be serial killers, so can women. Tragedy Girls is available to stream on Hulu.
Craig Robinson is a comedian and actor who becomes better with each role. We're excited to see more guest appearances and movie and TV roles from him. You can hear Robinson voicing Kevin in the latest Dolittle movie, as well as see him as Mr. Jenkins in the Disney+ movie Timmy Failure: Mistakes Were Made.
Your Daily Blend of Entertainment News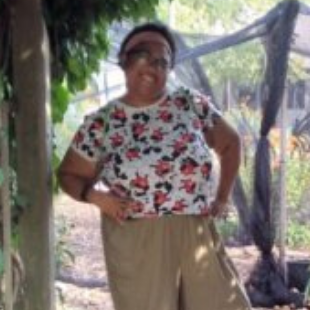 Spent most of my life in various parts of Illinois, including attending college in Evanston. I have been a life long lover of pop culture, especially television, turned that passion into writing about all things entertainment related. When I'm not writing about pop culture, I can be found channeling Gordon Ramsay by kicking people out the kitchen.