Grey's Anatomy Vet Eric Dane Hilariously Crushed A McSteamy Fan's Dreams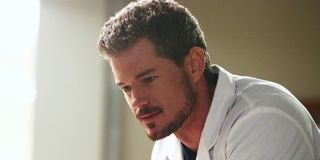 Grey's Anatomy is no stranger to doctors leaving Grey Sloan behind, whether through their own choice or death, which is to be expected after 16 seasons on the air. Though Eric Dane's Dr. Mark Sloan died back in Season 9, one fan still hasn't given up hope that he'll come back somehow. However, the Grey's Anatomy vet hilariously crushed the McSteamy fan's dream recently.
First introduced in Season 2 of Grey's Anatomy, Mark Sloan was quickly given the nickname "McSteamy" by the hospital's female interns, and the name stuck. However, he succumbed to his injuries following a plane crash in the Season 8 finale and died after being taken off of life support in the Season 9 premiere. Recently, Dane posted an old photo of himself to Twitter, to which a fan responded by saying they're still waiting for McSteamy's "miracle return." The actor was quick to answer in the negative. Read his response below!
The show definitely made sure that McSteamy was "super dead," giving him a nice send-off in Season 9 that wouldn't be easy to reverse. The show even renamed the hospital to Grey Sloan after him and Lexie Grey, McSteamy's ex who also died in the crash. So, in a way, McSteamy IS still around, even though Eric Dane presumably isn't coming back to reprise his role.
While it's a shame that Eric Dane will probably never return to Grey's Anatomy in any capacity, it isn't a stretch to imagine that the writers could somehow bring Mark Sloan back from the dead, so to speak. The medical drama did do an entire storyline involving Katherine Heigl's Izzie Stevens and the ghost of Jeffrey Dean Morgan's Denny in Season 5.
Personally, I like to think the writers have learned from the past and won't be exploring any afterlife romances on the show at any point in the future. There's also the fact that Mark Sloan has been gone for a very long time and his return would no longer make much sense. Now, if we're talking flashbacks or something, Eric Dane probably wouldn't need to spend much time in the makeup chair to make him look a decade younger.
Speaking of absent characters – SPOILERS for anyone not caught up – Grey's Anatomy fans were livid with the way Justin Chambers' Alex Karev was written off the show, opting to stay with ex-wife Izzie and his recently discovered children, rather than return to his wife Jo and his job at Grey Sloan. Some fans even wished that the writers would have simply killed him off instead.
However, it seems Grey's Anatomy has some amazing scripts for Jo after Alex's departure, so there's something to look forward to. While McSteamy is missed and won't return, I think he may have gotten the better end of the bargain by getting a permanent death.
New episodes of Grey's Anatomy air Thursday nights at 9 p.m. ET. For more on what to watch, be sure to check out our 2020 midseason schedule for updated premiere dates and times.
Your Daily Blend of Entertainment News
Thank you for signing up to CinemaBlend. You will receive a verification email shortly.
There was a problem. Please refresh the page and try again.