Legacies Is Paying Tribute To Vampire Diaries and The Originals In A Wild Way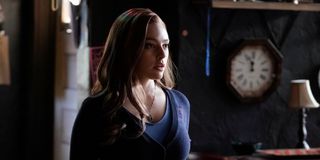 TV writers have long used standalone episodes to do something a bit more unique and creative to spice up the usual weekly fare. The CW's Legacies has utilized that creativity rather well in Season 2, with the series offering a bottle episode that was set in the confines of a supernatural video game. In Season 2's Episode 15, the show will go the film noir route and it's already looking really good if the preview images are anything to go by. Very soon, Legacies will also pay tribute to The Vampire Diaries and The Originals in a wild way.
Legacies most recently had to contend with the return of the villainous Kai Parker, but the characters will be brushing off their collective stress with a musical episode that is set to pay homage to its TV predecessors. While major plot points remain under wraps, Legacies executive producer Brett Matthews recently teased a bit of what fans can expect from the special episode. Here's what he told TV Guide:
Brett Matthews doesn't offer many details about what the musical episode will entail or exactly how it would "revisit" the legacies of The Vampire Diaries and The Originals so anything is game at this point. Matthews keeps it vague enough to pique interest without giving anything away, which is good since we'll have to wait a while longer before the episode premieres.
Legacies is no stranger to having characters breaking out into song. Back in Season 1's "We're Gonna Need a Spotlight," the Salvatore School for the Young and Gifted hosted a talent show and the students got to sing their hearts out. While there's no telling if Season 2's upcoming musical episode will follow in the same vein, it'll be exciting to see what the writers come up with. It's a bonus that the show will have a chance to honor The Vampire Diaries universe in a big way.
Personally, musical episodes are always a great way to get creative while also moving the plot forward. It's also fun to get to see the actors sing and dance, showing off their talents in other ways. The CW, in particular, seems to be a big fan of the genre as a network, with Dynasty having filmed a musical episode in Season 3 and Riverdale covering the musical Hedwig and the Angry Inch in an upcoming Season 4 episode. I'm definitely not complaining.
New episodes of Legacies air Thursdays at 9 p.m. ET on The CW. For more on what to watch, be sure to check out our handy 2020 midseason schedule for updated premiere dates and times.
Your Daily Blend of Entertainment News