Legacies' Chris Wood Reveals How Long He's Willing To Play Kai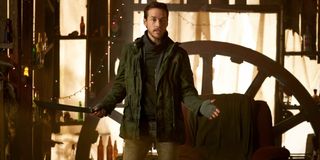 Warning! Spoilers ahead for the Legacies episode "You Can't Save Them All."
Legacies recently brought back The Vampire Diaries' Kai Parker, much to fans' combined delight. But after having been tethered to the prison world for so long, Matthew Davis' Alaric did what he needed to do and killed Kai after the prison connection is severed. Does this mean "You Can't Save Them All" is the last we'll ever see of Kai? Maybe not, as Legacies' Chris Wood revealed how long he's willing to play the character.
When it was announced that Chris Wood would return to play Kai Parker in Legacies, it was thought to be a one-off appearance. However, Kai continued wreaking havoc for an additional episode before being beheaded. All signs seemed to be pointing to Kai's run ending for good, but it's important to note that he's died and returned before, and also that Wood himself is not opposed to more Kai in the future. Here's what he told TVGuide:
Kai is definitely a wrecking ball, that's for certain. The character viciously murdered his twin sister Jo at her own wedding in The Vampire Diaries, after all, and in his two Legacies episodes, he managed to further stir the pot with his plan to get rid of the Saltzman family. His comeback was rather short-lived due to his "death," but if there's anyone who could return from the dead (again), it's Kai.
Not that his future return would likely be any more permanent. Chris Wood just booked a lead role in the ABC pilot thirtysomething(else) alongside former Supergirl co-star Odette Annable. That project is a follow-up to the '80s and '90s drama thirtysomething, and hasn't been picked up to series yet. If it does move forward, Wood might not have time in his busy schedule to make room for more Kai in Legacies Season 3 (or Season 4). There may also be contractual obligations which might prevent him from doing so.
However, never say never. It's too early to tell what the future will hold, but as long as Chris Wood is willing to continue playing Kai Parker and there's a good story for him on Legacies, then anything is possible. Besides, I'm not sure Kai could take being killed and not return to exact his revenge. He's nothing if not vindictive, after all.
Legacies airs on Thursdays at 9 p.m. ET on The CW. For more on what to watch, be sure to check out our 2020 midseason schedule for updated premiere dates and times.
Your Daily Blend of Entertainment News
Your Daily Blend of Entertainment News
Thank you for signing up to CinemaBlend. You will receive a verification email shortly.
There was a problem. Please refresh the page and try again.