The Walking Dead Spinoff Is Moving Its Premiere Date Already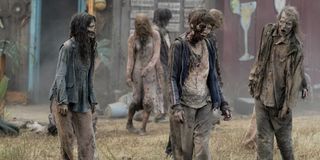 Amid the coronavirus pandemi, there have been a growing number of TV shows that have shutdown production, suspending filming temporarily or, in the cases of many others, ending their seasons prematurely. While AMC's The Walking Dead is still airing every Sunday as previously scheduled, its highly-anticipated spinoff, The Walking Dead: World Beyond, is moving its premiere date.
The Walking Dead: World Beyond's premiere date is being pushed back due to coronavirus fears. The series was scheduled to debut on Sunday, April 12 at 10 p.m. ET on AMC. The plan was for the premiere to air immediately following the Season 10 finale of The Walking Dead, but that's no longer the case. The announcement came via The Walking Dead's official Twitter account. However, there was no confirmation as to when the spinoff would premiere, only that it would be moved to "later this year."
World Beyond had already completed filming of its first season, so the coronavirus shutdowns didn't affect the series the way it did other TV productions in that sense. That said, the spinoff was in the post-production phase on its last few episodes and the company (via Deadline) was among those that closed due to coronavirus fears. As of this writing, there is no confirmation regarding when post-production might pick back up on the series.
World Beyond is the second The Walking Dead spinoff to launch on AMC, joining Fear the Walking Dead in the shared zombie universe. While the show's title was revealed last November, the series won't go on for multiple seasons like its predecessors. Rather, World Beyond was announced as being a two-season limited event back in January, and each season will consist of ten episodes.
The spinoff is set to follow the next generation of characters who grew up in the world already aware of the walkers, but who will venture outside from behind the walls for the first time. AMC's Chief Content Officer Scott M. Gimple revealed that living a sheltered life is part of what makes the show different from the previous two series. However, fans should still expect more The Walking Dead crossovers with World Beyond, just not big ones.
World Beyond isn't the first series that has had its premiere date moved recently. FX's Fargo was also set to premiere in April, but the production halt prevented the season from being completed as scheduled. This news is in addition to shows like NBC's Superstore and New Amsterdam, as well as CBS' MacGyver, whichwrapped their seasons early because of the shutdown.
While World Beyond has been delayed, fans can still catch new episodes of The Walking Dead when they air Sundays at 9 p.m. ET on AMC. For more on what to watch, be sure to check out our midseason schedule.
Your Daily Blend of Entertainment News