6 Super Bowl Games You Need To Rewatch On NFL Game Pass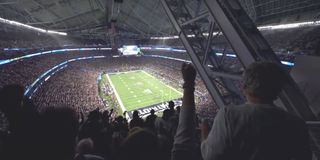 To the shock of millions of sports fanatics across the country looking for anything to fill the void left by the suspension of practically every sports league, the NFL announced in March 2020 that the league was making its all access streaming service (opens in new tab) — NFL Game Pass — free to everyone through May 31 for fans in the United States and Canada, and July 31 for everyone else. With this extended free trial, football fans can watch every game going back to the start of the 2009 season as well as some of the league's original programming.
If you are like me and want to relive your favorite team's championship season (Hello, New Orleans Saints 2009 Super Bowl Campaign), now would be the perfect time to get started. With all regular season, playoff, and Super Bowl games from the available seasons, there's more than enough gridiron content to get you by until the 2020 NFL season starts up in September (fingers crossed).
But what if you have too many bad memories from watching your team blow a massive lead to get eliminated from the playoffs, have the refs completely screw your team out of a league championship, or if your team just stinks? Well, you can always go back and watch every Super Bowl (and Pro Bowl) from the past 10 years. Speaking of which, I've compiled a list of 6 Super Bowl games you absolutely need to rewatch during your free trial. There are some really great games available on NFL Game Pass, so why don't you check out a few of these classics.
Super Bowl 44 - New Orleans Saints Vs. Indianapolis Colts
It's hard to believe that it has already been 10 years since the New Orleans Saints claimed their first and only Super Bowl victory over the Indianapolis Colts in Super Bowl 44. With a matchup that included future Hall Of Fame quarterbacks Drew Brees (Saints) and Peyton Manning (Colts) at Sun Life Stadium (now Hard Rock Stadium) in Miami, Florida, this battle of the top teams in the NFC and AFC was one for the ages.
Indianapolis had a 10-6 lead going into halftime, but no one — not the fans, not the announcers, and definitely not the Colts — knew what Saints coach Sean Payton had in store for the second half. When everyone thought the Saints would have a traditional kickoff, Payton decided to throw everyone off and went with a successful onside kick. The Colts never really recovered from the shift in momentum after that, and were done in when Peyton Manning threw a late-game interception to Tracy Porter who returned it for a 74-yard touchdown. This key play would make the score 31-17, which would end up being the final in the Saints' lone Super Bowl victory.
Stream It Here (opens in new tab).
Super Bowl 47 - Baltimore Ravens Vs. San Francisco 49ers
Super Bowl 47 is one of those games that sports trivia enthusiasts fawn over as it is the only game in Super Bowl history to feature two brothers coaching against one another. With John Harbaugh leading the AFC champions Baltimore Ravens against his younger brother Jim Harbaugh and the NFC champions San Francisco 49ers, this historic battle was fought under the roof of the Mercedes-Benz Superdome in New Orleans.
In addition to being a hard-fought nail-biter of a close game, Super Bowl 47 is also remembered due to the extended delay at the start of the second half after the Superdome temporarily lost power to a portion of the stadium. After the power came back on, the two teams picked up where they left off with the 49ers having one of the greatest second-half performances in Super Bowl history. Down 21-6 at the start of the third quarter, San Fransisco would go on to score 25 points before falling short by two points as time expired.
Stream It Here (opens in new tab).
Super Bowl 49 - New England Patriots Vs. Seattle Seahawks
As far as even matches go, it doesn't get much better than Super Bowl 49, which saw the New England Patriots take on the Seattle Seahawks at University of Phoenix Stadium in Glendale, Arizona in 2015. This matchup of two 12-4, number one seed teams is mostly remembered for the infamous left shark during Katy Perry's halftime performance, but the game is also remembered for one of the dumbest offensive decisions a coach has ever made.
With Seattle down 28-24 with less than 30 seconds left in regulation, the Seahawks found themselves on the Patriots' one-yard line. Instead of doing what everyone though they were going to do and what they should have done and hand the ball off to running back Marshawn Lynch, quarterback Russell Wilson passed the ball… right into the hands of Patriots cornerback Malcom Butler for a game-saving interception that all but ended the game. With 20 seconds left on the clock, the Patriots kneeled to end the game with a score of 28-24.
Stream It Here (opens in new tab).
Super Bowl 51 - New England Patriots Vs. Atlanta Falcons
The New England Patriots would return to the NFL championship game two years later to face the Atlanta Falcons at NRG Stadium in Houston for Super Bowl 51. Where to start with this one. At one point in the game, Atlanta had a 28-3 lead over the Patriots before New England went on the most impressive run in the history of the NFL.
All the Falcons had to do at one point was run the ball and run down the clock, but after a series of unfruitful drives with more than enough missed passes to stall the game, quarterback Matt Ryan and his offense couldn't seem to hold it together and their defense started to give up play after play from the Tom Brady led offense on New England's side. With one minute left in regulation, New England scored a touchdown and two-point conversion to tie the game and send it to overtime, where they scored the game-winning touchdown for a final score of 34-28.
Stream It Here (opens in new tab).
Super Bowl 52 - Philadelphia Eagles Vs. New England Patriots
In 2018, the defending Super Bowl champions New England Patriots looked to add another Vince Lombardi Trophy when they took on the Philadelphia Eagles at Super Bowl 52 at U.S. Bank Stadium in Minneapolis. While the Patriots were trying to take home their third Super Bowl victory in four years, the Eagles were trying to win their first in the franchise's 57-year history.
This game is great for people who enjoy great back and forth football as well as those who absolutely despise Tom Brady, Bill Belichick, and the New England Patriots in general. With an MVP performance from Eagles quarterback Nick Foles, Philadelphia were able to hold off New England in the fourth quarter to secure a 41-33 victory.
Stream It Here (opens in new tab).
Super Bowl 54 - Kansas City Chiefs Vs. San Francisco 49ers
In 2020, the Kansas City Chiefs looked to win their first Super Bowl in 50 years after first winning the big game at the conclusion of the 1969 season. Going up against the NFC number one seeded San Francisco 49ers in Super Bowl 54 at Hard Rock Stadium in Miami, the Chiefs, led by coach Andy Reid and quarterback Patrick Mahomes looked to bring the Lombardi trophy back to Kansas City after a half century.
The game was evenly matched for the first half, with a 10-10 tie going into the third quarter. The 49ers offense would put 10 unanswered points on the board before performing a vanishing act in the fourth quarter where Mahomes and the Kansas City offense scored 21 points in 15 minutes of play. With a final score of 31-20, the Chiefs were declared the victors, giving Reid and the city of Kansas City a much-needed celebration in the days to come. And plus, it's not every day that people want to sue the NFL over a halftime show.
Stream It Here (opens in new tab).
Do you agree with this list, or do you think I should have included some of the Super Bowl matchups that didn't quite make it? Let me know in the comments, and in the meantime, check out NFL Game Pass and watch some of the best games from the past 10 years.
Philip grew up in Louisiana (not New Orleans) before moving to St. Louis after graduating from Louisiana State University-Shreveport. When he's not writing about movies or television, Philip can be found being chased by his three kids, telling his dogs to stop yelling at the mailman, or yelling about professional wrestling to his wife. If the stars properly align, he will talk about For Love Of The Game being the best baseball movie of all time.
Your Daily Blend of Entertainment News
Thank you for signing up to CinemaBlend. You will receive a verification email shortly.
There was a problem. Please refresh the page and try again.