Katy Perry's Lawyers Are Going To War Over Left Shark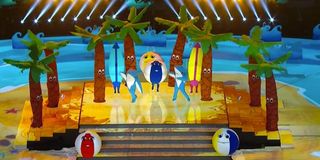 Viral sensation Left Shark is in hot water, or at least the people who are attempting to create Left Shark products are. This week, Katy Perry's lawyers started following various websites and other places to look for entrepreneurs who are attempting to make money off of Left Shark. That's right, Katy Perry's lawyers are claiming she owns the copyright to the Left Shark costume.
So far, Perry's legal team has managed to stop some pretty sweet Left Shark merchandise from heading into the hands of consumers. A Florida designer, Fernando Sosa, found himself up against Katy Perry's lawyers this week when he tried to sell a 3-D Left Shark on the website Shapeways. He took the cease and desist letter seriously, choosing not to profit from the Left Shark model, but you can download the file to create your own here. He also posted the intense cease and desist letter to his Instagram account.
If you haven't been keeping tabs on the Left Shark story, this year, Super Bowl XLIX nabbed incredibly high viewership. Part of this may have had to do with the actual football game, which was extremely close and had a pretty tough ending for Seattle Seahawks fans. However, part of this also probably had to do with the viral sensation "Left Shark," a dancer who appeared during Katy Perry's halftime show and was fairly uncoordinated compared to his "Right Shark" companion.
Immediately during the Super Bowl, Left Shark became an internet sensation, popping up on social media sites like Twitter and Facebook. There were blogs and memes dedicated to the delightful shark. One guy even got a related tattoo. Recently Left Shark and Right Shark both made an appearance on late night television, getting interviewed by guest host John Mayer on CBS' Late Late Show.
It's no surprise that with all of the notice Left Shark has been getting recently people might want to make a quick buck. It's also no surprise that Katy Perry's team would want to protect her brand and make as much money as possible off of any image related to that brand, whether that be a ridiculous cupcake costume or a (left) shark. Here's hoping all of these shenanigans get resolved so there can be as much Left Shark as possible in our future.
Reality TV fan with a pinch of Disney fairy dust thrown in. Theme park junkie. If you've created a rom-com I've probably watched it.
Your Daily Blend of Entertainment News
Thank you for signing up to CinemaBlend. You will receive a verification email shortly.
There was a problem. Please refresh the page and try again.