How Han Solo's Infamous Kessel Run Tied Into Star Wars: The Clone Wars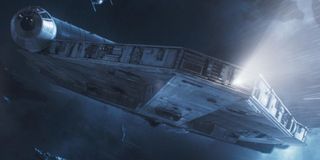 Spoilers for the newest episode of Star Wars: The Clone Wars are discussed below.
For years, Star Wars fans have heard Han Solo brag about his famous Kessel Run, which he completed in exactly twelve parsecs thanks to the Millennium Falcon. They also got their chance to finally witness the actual feat in 2018's Solo: A Star Wars Story. Kessel is definitely a location in the Star Wars universe that's almost exclusively linked to Han but, after the latest episode of The Clone Wars, that may not be the case moving forward.
For those who aren't caught up on what's been happening in the final season of Star Wars: The Clone Wars, the show's latest arc centers on Ahsoka Tano, who has left the Jedi Order. Since her departure, she's been living in the Coruscant underworld but recently found refuge with an aspiring pilot named Trace and her shady sister, Rafa.
Ahsoka and Trace quickly became firm friends, especially after Ahsoka saved her life on two separate occasions. However, their friendship was really put to the test this week after Rafa arranged for the group to complete a job using a freighter that Trace restored.
As it so happens, Rafa arranged for the three to fly to Kessel, where they were to pick up and deliver a large shipment of spice to a crime family. Knowing the stories that surround Kessel, Ahsoka wass apprehensive, but Trace naively went along with her sister's plan. In the end, the three found themselves captured by the Pyke crime syndicate.
Solo did an effective job of emphasizing how dangerous of a place Kessel can be, and Clone Wars does the same. Ahsoka makes repeated attempts to make Trace understand that making a spice run could have dangerous results, including losing one's ship. It's this specific point that causes Trace to make a rash decision.
Star Wars: The Clone Wars does an effective job of building on franchise lore and expanding on it in new ways. This can definitely be said of the "Bad Batch" story arc that kicked off the season. In terms of Kessel, its presence on the show never feels like fan service but more like a natural decision given Rafa's desire for big jobs from high-paying clients. Giving viewers a look at how spice is processed through the use of slave labor was also a clear way of expanding what we know about Kessel and sending a pretty poignant message as well. Also, the plan Ahsoka comes up with to outsmart the Pykes is so risky it would make Han Solo proud.
With Ahsoka, Trace and Rafa now caught in a deadly situation, we can only imagine that next week's episode will give us an even better idea of the dangers of Kessel. Star Wars: The Clone Wars is now streaming on Disney+.
Covering superheroes, sci-fi, comedy, and almost anything else in film and TV. I eat more pizza than the Teenage Mutant Ninja Turtles.
Your Daily Blend of Entertainment News
Thank you for signing up to CinemaBlend. You will receive a verification email shortly.
There was a problem. Please refresh the page and try again.