How Tiger King's Doc Antle Feels About His Netflix Portrayal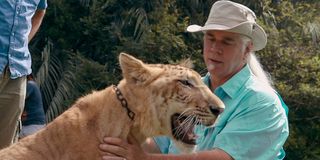 Tiger King: Murder, Mayhem and Madness shot to massive popularity in a short period of time. The Netflix docu-series is a wildly fascinating look inside the big cat industry, with its story primarily following the life of Joseph Maldonado-Passage, better known as Joe Exotic. Tiger King directors Eric Goode and Rebecca Chaiklin made plenty of room for fellow big-cat zookeeper Bhagavan "Doc" Antle, but as it turns out, Antle hasn't exactly been thrilled about his portrayal in the docu-series, and has a lot of feelings on the matter.
PETA's Katherine Sullivan recently denounced Tiger King for failing to expand upon the abuses facing the big cats included in the docu-series. In that same vein, Doc Antle also criticized the true crime documentary for the way it portrayed him and his zoo, the Myrtle Beach Safari in South Carolina. In an Instagram post that has since been deleted (via PopCulture), Antle shared a message on behalf of his Myrtle Beach Safari staff. Here's what he wrote:
Welp, not everyone was going to be happy with Tiger King. Per Doc Antle, the "sensationalized entertainment" clearly rubbed him and others in the wrong way. While the post has been removed, co-director Eric Goode confirmed to Rolling Stone that Antle was disappointed with the way he was portrayed in the docu-series. As was Carole Baskin, the animal rights activist that Joe Exotic allegedly planned to have killed.
Doc Antle had more to say in his now-deleted post, defending himself and his business against the alleged accusations that he and his staff mistreated the tigers. In his words:
Myrtle Beach Safari has indeed remained open during the coronavirus pandemic, and Doc Antle has continued his day-to-day duties despite the increased interest concerning his life and job. Meanwhile, Joe Exotic filed a $94 million lawsuit from prison, suing the U.S. Department of Interior and the U.S. Federal Wildlife Service for allegedly putting him out of business, among several other allegations.
Tiger King: Murder, Mayhem and Madness is currently available to stream on Netflix. For more on what to watch, be sure to check out our midseason guide.
Your Daily Blend of Entertainment News