'I Love Rock 'N' Roll' Songwriter Alan Merrill Is Dead From Coronavirus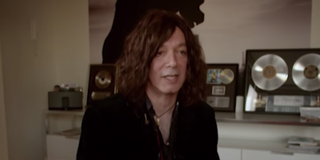 Alan Merrill, best known for penning and recording the original version of classic rock hit "I Love Rock 'n' Roll" with his band The Arrows, has died due to the coronavirus. He was 69-years-old at the time of his passing.
Singer/songwriter Alan Merril died on Sunday, March 29 in at Mount Sinai Hospital in New York following a coronavirus diagnosis, according to daughter Laura Merrill via CNN. He was reportedly put on a ventilator after developing a fever and having a difficulty breathing, following self-quarantine for a cold for ten days.
Alan Merrill penned "I Love Rock 'n' Roll' along with fellow Arrows band member Jake Hooker in 1975, and the song became famous the world over in 1982 thanks to the cover version by Joan Jett & the Blackhearts. Although The Arrows disbanded in 1977, he spent four years as a member of Meat Loaf's band.
A new solo album from Alan Merrill was scheduled for release in mid-April 2020, with the working title of "It's Always Rock N Roll," according to alanmerrill.com. Laura Merrill shared a tribute to her father via Facebook, including some pictures that were "just taken weeks ago." Take a look:
Laura Merrill's tribute to her father mentioning the "last 24 hours" echo her words to CNN, where she explained that Alan Merrill's death has "been a big shock to the entire family." She went on to state that the coronavirus is "something people joke about online and, and it's just, you know, it's real, it's real and it's affecting people and people are dying."
His daughter wasn't the only key figure in Alan Merrill's life to take to social media with a tribute to him and his legacy. Joan Jett, who of course made "I Love Rock 'n' Roll" the worldwide hit, posted this on Twitter:
Joan Jett was joined by another famous figure from Alan Merrill's career in remembering and honoring him on social media. Meat Loaf, who worked with Merrill for several years, chose Facebook as his outlet.
Meat Loaf shared his regret that he didn't keep in touch with Alan Merrill over the years, and much more:
While Meat Loaf had personal regrets to express as well as sympathies, he ended with advice that a lot of people may already be following: honor Alan Merrill by blasting "I Love Rock 'n' Roll."
Although the most famous version of the song comes from Joan Jett, the music video of Alan Merrill performing "I Love Rock 'n' Roll" with The Arrows is definitely worth the watch. Check it out:
Alan Merrill is sadly not the first figure in showbiz to lose his life to the coronavirus pandemic. A costumer for Law & Order: SVU died due to the coronavirus (prompting SVU stars Mariska Hargitay and Ice-T to share tributes to him), among others. Many stars were diagnosed with the disease, including Tom Hanks and Rita Wilson, Idris Elba (who experienced no symptoms when diagnosed), and Hawaii Five-0 alum Daniel Dae Kim (who shared the medications he was taking).
Our thoughts here at CinemaBlend are with the family, friends, and loved ones of Alan Merrill in this difficult time.
Resident of One Chicago, Bachelor Nation, and Cleveland. Has opinions about crossovers, Star Wars, and superheroes. Will not time travel.
Your Daily Blend of Entertainment News
Thank you for signing up to CinemaBlend. You will receive a verification email shortly.
There was a problem. Please refresh the page and try again.