Ozark Season 3 Ending Explained: What Happened And What's Next?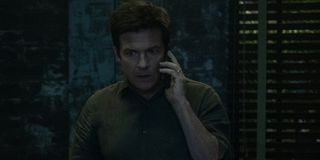 Warning! The following contains spoilers for the entirety of Ozark Season 3. Read at your own risk!
Ozark Season 3 is up on Netflix, and by now, many have undoubtedly witnessed the absolutely bonkers season finale. The Season 3 ending had a lot happen, so much so that taking it in felt like a full time job and audiences may not have had enough time to absorb all that happened in a very short amount of time.
Never fear, here's a breakdown of all the relevant parts of Ozark Season 3 worth holding onto after that final shot, and what it could mean for Season 3. Let's start with a brief recap of what all went down towards the end, and continue on with some thoughts on what could be happening next in Season 4.
Where The Byrdes Stand With The Navarro Cartel
If Wendy Byrde didn't learn throughout most of these recent episodes that you don't mess with the Navarro Cartel, she certainly learned at Ozark Season 3's ending. Wendy and Marty got on a flight with Helen to attend a baptism of Omar Navarro's family. Navarro greeted all three upon their arrival, but shortly after Helen was shot at point blank range in the head by one of his men. Without missing a beat, Navarro welcomed the blood-soaked Marty and Wendy to his home, and to their new beginning.
Wendy and Marty got their wish of getting rid of Helen, though it stands to reason they've now put themselves in a worse position than before. Navarro is happy because he believed the Byrdes have convinced the FBI to take down a rival cartel leader, and of course, because the Byrdes pulled off the casino laundering business. The latter is a feather in their cap, but as the Ozark Season 3 ending showed, Navarro doesn't tolerate even the smallest forms of failure. If they can't get the FBI on Navarro's rival, there will be consequences.
Marty and Wendy Byrde are pretty good at making the impossible happen, though they're working against the increasingly unforgiving and powerful Omar Navarro. He'll send men after the Byrdes at even the slightest hint of trouble, so it goes without saying this partnership they have is only as good as the Byrdes can continue to prove they're as efficient and as trustworthy as they've led him to believe. Anything less, and there's a good chance the Ozark family will end up just like Helen.
What Losing Ruth And Helen Means For Marty And Wendy
While Helen was more of a detriment to Marty and Wendy towards the end, she has been of great value to them in the past. The Ozark character was just as great at being a lawyer as she was at being evil, and now the Byrdes will need to find someone else as talented with the law who yet also corrupt enough to handle their illegal activities. That won't be easy, especially living in the Ozarks.
Of course, the bigger casualty will be losing Ruth Langmore to Darlene Snell. Ozark's Season 3 ending showed Darlene making a deal with Frank Cosgrove in exchange for Ruth's safety, and now it appears she and Wyatt will be helping Darlene get her heroin business back up in running in Season 4. Darlene getting back in the game is bad for everyone, but having Ruth and her knowledge of all Byrde operations on her side is especially bad for Marty and Wendy.
Plus, losing Ruth means one less person to run the casino, and with Marty and Wendy needing to get the ball rolling on turning the FBI against Navarro's rival, their attention will be elsewhere. Personally, I believe the Netflix series will see the family put Charlotte in charge of the casino, which is not ideal for Marty and Wendy. Their kids are already involved enough in the cartel activity, and Charlotte having such a big role will put a big target on her back.
The Biggest Problems The Byrdes Face In Ozark Season 4
As usual, The Byrdes are facing threats from multiple fronts, and are only just barely holding things together in the Season 3 ending. Ozark Season 4 should see the comeback of Darlene Snell, who is a dangerous wild card with the Ozark police force in her pocket. Now she's got Ruth and Frank Cosgrove's Kansas City mob working with her and it's hard not to believe they won't be gunning for the Byrdes in Season 4.
The Byrde family is still under pressure from the FBI, who is only willing to work with the Byrdes on exposing crime lords until they can figure out how Marty runs his laundering business. If anyone cracks the code or someone involved breaks, they'll be moving in, and prison is the best case scenario for Marty and Wendy. The worst case scenario is prison, and one of the many criminals they associate with paying someone on the inside to have them killed or unmercifully tortured the entirety of their prison sentences.
As previously mentioned, the Byrdes can't even trust their closest ally, Omar Navarro. He's routinely had Ozark characters he's in league with tortured on the mere suspicion they've betrayed him, and I can't imagine the Netflix series will suddenly show the character have a change of heart in potential future episodes. Additionally, Navarro feels like the most untouchable enemy the Byrdes face in the entire series, so it's almost fair to say they fear their allies most of all.
When Will Season 4 Of Ozark Premiere?
Netflix has yet to confirm Ozark will return for Season 4, though it's hard to imagine the platform will not bring back the drama. Showrunner Chris Mundy hasn't confirmed a new season just yet, but did tell EW he has ideas for what's next if Netflix does bring the drama back for another season.
The Season 3 ending of Ozark in no way felt like a conclusion to the series, so personally, I'm inclined to believe the show isn't worried about a Netflix renewal. Then again, nothing is certain until the platform makes it official, so we can only wait for the official word!
Ozark Season 3 and all prior seasons are currently available to stream on Netflix. Continue to stick with CinemaBlend for more updates on it, and for more on what's coming to Netflix in 2020 and beyond.
Your Daily Blend of Entertainment News
Mick likes good television, but also reality television. He grew up on Star Wars, DC, Marvel, and pro wrestling and loves to discuss and dissect most of it. He's been writing online for over a decade and never dreamed he'd be in the position he is today.
Your Daily Blend of Entertainment News
Thank you for signing up to CinemaBlend. You will receive a verification email shortly.
There was a problem. Please refresh the page and try again.