Grey's Anatomy Vets Patrick Dempsey And Sandra Oh Join Scrubs, ER Stars For Tribute Video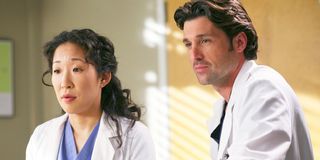 Following the novel coronavirus outbreak, the world looks a lot different now than it did a month ago. Many businesses have closed temporarily, hundreds of TV productions have shut down, and most people are likely hunkered down at home in quarantine. Meanwhile, doctors, nurses, and other medical personnel continue working on the frontlines to treat those who have been infected. To honor them and the work they're doing, Grey's Anatomy vets Patrick Dempsey and Sandra Oh joined Scrubs and ER stars for a special tribute video.
The separation between TV and reality has never been more important, and a number of fake doctors are publicly applauding the real-life heroes who are risking their own lives to serve their communities daily. Grey's Anatomy star Ellen Pompeo previously thanked medical personnel, while the staff of Fox's The Resident donated medical supplies to an Atlanta hospital. More recently, House alum Olivia Wilde posted a video message from a host of actors who have played doctors on TV thanking medical staff everywhere for their diligence, dedication, and life-saving work. Watch the video below:
The video brought together quite a group of familiar faces from across television, including Doogie Howser, M.D. alum Neil Patrick Harris, The Good Doctor's Freddie Highmore, Scrubs' Zach Braff and Donald Faison, and House vet Jennifer Morrison, who all chimed in to express their gratitude. Even Jennifer Garner, who didn't play a doctor on TV, but did in the movie Dallas Buyers Club, joined in with a message.
Some messages were funny, with a lot of jokes about TV doctors thrown in for good measure, while others were more heartfelt and touching. Grey's Anatomy alum Sandra Oh even took a moment to shout-out her brother-in-law, an emergency room doctor in Vancouver, for all that he continues doing in the wake of COVID-19. At the end of it all, the sentiment was clear.
The video ended with a note to donate to Thrive Global's First Responders First, a fundraiser dedicated to providing first responders with essential equipment like gloves, masks, and gowns so that all healthcare professionals can continue doing their jobs safely. The fundraiser is set up in partnership with the Entertainment Industry Foundation.
Over in the land of television, medical dramas like New Amsterdam and Grey's Anatomy were unable to finish out their episode orders this season due to production shutdowns, with certain storylines getting shortchanged and likely shelved for the next TV season. Meanwhile, The Good Doctor managed to get a proper season finale, but the show killed off one of its main characters, so it was a bit of a buzzkill.
Stay tuned to CinemaBlend for updates and be sure to check out our full list of TV series facing delays due to COVID-19.
Your Daily Blend of Entertainment News
Your Daily Blend of Entertainment News
Thank you for signing up to CinemaBlend. You will receive a verification email shortly.
There was a problem. Please refresh the page and try again.