Killing Eve Season 3: 7 Important Things To Remember Before The Premiere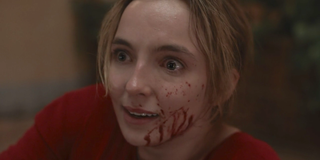 (Image credit: (AMC))
It's been a rough few weeks for television fans as we've seen a slew of production delays for television shows amidst lockdowns around the world, but thankfully Killing Eve has decided to swoop in and fill a void by premiering two weeks early on BBC America and AMC. The thrilling Emmy-winning series, which comes from creator Phoebe Waller-Bridge and stars Sandra Oh and Jodie Comer, left fans with a ton to think about over the ten months that it's been on hiatus.
Before diving back into the cat-and-mouse game of Killing Eve for Season 3's premiere, allow the following to refresh your memory. Here are the most important things to remember. SPOILERS ahead for Killing Eve Season 2. If you're not caught up on the series ahead of the premiere this Sunday April 12, catch up on Hulu here, AMC here or BBC America here.
Villanelle Shot Eve In Rome
The final cliffhanger that has us anxiously coming into Season 3 of Killing Eve cam in the last minutes of the Season 2 finale. After an operation gone wrong in Rome, Sandra Oh's Eve and Jodie Comer's Villanelle found themselves each at a crossroads in their lives. Eve felt betrayed by the MI6 Russian operation led by Carolyn Martens and Villanelle had pissed off the Twelve to the point of a hit being placed on her own head.
While wandering in the ruins of Rome, Villanelle suggested they go off and live in Alaska together with the car and money Konstantin had given her. When Eve refused, Villanelle shot her. It's unclear just where the bullet went…but it's safe to assume Eve will be okay (I mean the show's named after her right?) But just how will she come back from this?
Eve Was Coerced Into Murder By Villanelle
Right before Eve was shot by Villanelle, the Russian assassin found herself in front of her handler Raymond, who planned to hack at her with a very large axe. But for some reason, he dropped the large weapon and resorted to attempting to choke her death before Eve came to the scene. Villanelle convinced Eve to grab the axe and she picketed it into his back.
In the heat of the moment, Villanelle told Eve she needed to swing that axe right at his head and kill him, otherwise he'd have kept coming after them. Eve did it, thus committing her first murder (and a crazy bloody one at that). Oh's character thought she did it out of necessity until she found out Villanelle had a gun at her disposal the entire time. How will Eve cope with that first taste of murder? The honeymoon phase between her and Villanelle has to be over, that's for sure.
Konstantin Knows Something About Villanelle's Family
Villanelle turned on not just Eve at the end of Season 2, as the assassin also seemed to cut ties with her old friend Konstantin (Kim Bodnia). Once again, he helped her get out of a sticky situation by stalling the Twelve from killing her until she took out Aaron Peel. He offered her a car and money to run away from it all, but she didn't want to leave Eve. Angered at Konstantin's pleas for her to forget Eve and go on her own again, as well as the manipulation in play involving Peel, she promised to come after him and his family in spite.
But during their last exchange, Konstantin's briefly mentioned that some of Villanelle's family may still be alive. This could serve as leverage down the line for Konstantin to keep Villanelle close. Plus, she certainly has a soft spot for finding somewhere to belong. Remember, she's attracted to Eve because they are "the same."
The Twelve Are Still In Play
The action at the underbelly of Killing Eve has to do with the group of assassins called The Twelve, which Villanelle was a part of without her explicit knowledge. Both Raymond and Konstantin were her handlers for The Twelve, but she keeps running away from them. When Raymond was killed by Eve, he vowed to both Villanelle and Eve that they would come after not only them, but their families and friends.
While Villanelle remained without enough ties for that to matter much to her, Eve certainly has a few more loved ones The Twelve could target in order to taunt and haunt her. Maybe this shared threat from the organization will be what ultimately pulls the pair together again?
Villanelle Killed Niko's New Girlfriend
Another boiling plot line to keep in mind as we head into Killing Eve Season 3 is the torn relationship between Eve and Niko. The couple's lives were really broken apart last season, with Villanelle having a ton to do with that. As the season pulled to an end, Niko had left Eve and moved in with a colleague from his school, which went down after Villanelle confronted Niko to tell him that Eve had stabbed her in Paris.
At the end of Season 2, Villanelle also paid Niko and his new girlfriend a visit to provoke him, and killed her in front of his eyes. It will be interesting to see how Niko's role continues from there. Will he and Eve band together in shared trauma over Villanelle's actions, or will the two become completely estranged?
Hugo Could Still Be Alive
Eve made a lot of rash decisions during the final stretch of Season 2 and if we are to assume she lives through it (and the Season 3 trailer offers a hint) she will be grappling with the aftermaths. Such as the moment when she left her partner Hugo (Edward Bluemel) in the Roman hotel bleeding to save Villanelle. Hugo looked like he was in pretty bad shape when she walked away from him, but it's unclear if he actually died or made it out alive.
When Eve returned to the hotel after getting to Villanelle, the whole bloody scene had been cleaned up and Carolyn alluded to a crew that had taken care of the situation. We'll have to watch and find out if Hugo comes back into the picture or not.
No One Is Happy With Carolyn
Arguably the last point to remember is all of Carolyn Martens' shadiness. The way things left off, we learned that Carolyn actually wanted Villanelle to kill Aaron Peel the whole time without anyone being the wiser. Carolyn's son Kenny tried to warn Eve not to go on the mission in Rome, likely because he knew what was about to go down.
Carolyn paid off Konstantin to manipulate Eve as well and stall the Twelve. Overall, there's a lot of hate being passed around MI6's Head of Russia. And she's certainly proved that she cannot be trusted, so what's to come in Season 3?
Now you're all ready to dive into Killing Eve Season 3 this Sunday, April 12, at 9:00 p.m. ET! The upcoming season certainly puts all the characters in different situations that is sure to shake up the series in new ways. Stay tuned here on CinemaBlend for more TV coverage.
Your Daily Blend of Entertainment News
YA genre tribute. Horror May Queen. Word webslinger. All her writing should be read in Sarah Connor's Terminator 2 voice over.