Daredevil's Vincent D'Onofrio And Jon Bernthal Speak Out After Co-Star's Emotional Confession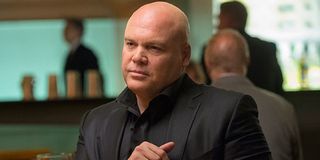 It's been nearly two years since Netflix cancelled Marvel's Daredevil, but Deborah Ann Woll, who played journalist Karen Page, is still struggling to find work as an actress. Her last official acting gig was co-starring in Daredevil spinoff The Punisher, and there have been slim pickings since. Ever the noble co-stars, both Vincent D'Onofrio and Jon Bernthal spoke out after Woll's emotional confession regarding being out of work.
In recent days, Deborah Ann Woll opened up about the struggles she's been facing after being out of a job for so long and how that's impacted her confidence and sense of identity. She's "not sure who I am" if she's not acting, Woll admitted. It was a rather emotional confession and one that didn't go unheard by her Daredevil co-star Vincent D'Onofrio, who played the series' big bad, Wilson Fisk. Taking to Twitter, D'Onofrio reacted to Woll's reveal. Here's what he had to say:
Vincent D'Onofrio just proved himself to be an incredibly supportive co-star. There's no doubt that Deborah Ann Woll is a talented actress and, per D'Onofrio, one of his "favorite scene partners" ever, which is a big deal. Woll made a big enough impression in the world of Marvel that she even appeared in a handful of episodes of The Punisher, which starred Jon Bernthal in the titular role. Having worked so closely with Woll on his spinoff and Daredevil, Bernthal replied to D'Onofrio's original tweet with his own words of support. In his words:
These cast members clearly enjoyed working with each other and have Deborah Ann Woll's back. Their collective message seems clear and, while everything's in limbo right now due to all the production shutdowns, it's high time that casting agents hired Woll for another project when it's finally safe to do so. Check out Vincent D'Onofrio's tweet below!
Not only has Deborah Ann Woll appeared throughout Netflix's Marvel shows, but she played a key role in the acclaimed HBO series True Blood, further proving her impressive resume. That said, it's hard to imagine that there's nothing out there for her, so hopefully a new acting gig arises for her very soon.
It's officially been five years since the Season 1 premiere of Daredevil and you can still catch Deborah Ann Woll on the show by streaming all three seasons on Netflix. For more on what to watch, be sure to check out our complete list of all the big TV finales coming up in the spring and summer.
Your Daily Blend of Entertainment News