God Friended Me Star Violett Beane Responds To CBS Cancellation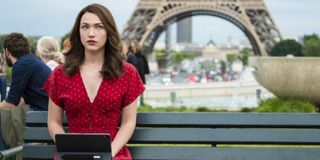 It's that time of year when viewers find out if their favorite series will live to see another season or get the ax. Unfortunately for God Friended Me, CBS and Warner Bros. execs made the final call to cancel the drama after just two seasons, pulling the plug on a heartwarming show that was generally well-received by viewers and critics alike. Where does that leave the cast? Well, God Friended Me star Violett Beane took to social media to respond to the cancellation after recently finding out about the bad news.
God Friended Me was a unique show in that it combined social media with religion, and explored faith from various perspectives. The series even impacted the way the show's stars viewed their own faith and upbringing. After learning the news that the CBS drama is coming to an end, The Flash alum Violett Beane took to Instagram to share a few pictures of herself with the cast. Accompanying the photos was a lovely farewell message that noted the effect God Friended Me has had on viewers. Here's what Beane wrote:
The message is incredibly thoughtful. Violett Beane goes on to thank the God Friended Me cast, the showrunner, and the producers for believing in the show and being with her on this two-year journey. Beane is clearly saddened by the news of cancellation, and I'm hoping that she and the rest of the talented cast are able to jump quickly into new projects when it's safe to do so. Check out her full post below, and don't forget to flip through the pics!
The good news is that God Friended Me is going out with a two-hour series finale that will air later this month. There's still one more "friend suggestion" the writing team has up their sleeve before they close the doors on Miles' journey to find the mysterious God Account. I honestly wonder how they'll wrap things up considering that the show halted production and wasn't able to return to finish filming Season 2.
God Friended Me's two-hour series finale is set to air on Sunday, April 26 at 8 p.m. ET on CBS. For more on which shows are wrapping up soon, be sure to check out our list of all the big TV finales coming up this spring and summer.
Your Daily Blend of Entertainment News