Grey's Anatomy Showrunner Finally Responds To Backlash Over Alex Karev's Ending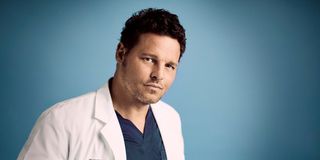 Earlier this year, Justin Chambers officially announced his departure from Grey's Anatomy as Alex Karev. It's safe to say that, not only was the news surprising, but viewers were blindsided to learn that the actor's last onscreen appearance had already happened earlier in Season 16. Following Alex's goodbye episode, fans were livid over the way he was written off the show. Recently, Grey's Anatomy showrunner Krista Vernoff finally responded to the backlash over Alex Karev's ending.
Justin Chambers' abrupt exit left a big hole in his character's storyline. Onscreen, Alex's absence was explained by him visiting his mom. Then, his wife Jo began worrying because he wouldn't respond to her messages after a while. In an episode filled with flashbacks, Alex said goodbye via letters to Jo and Meredith, explaining that he'd reconnected with ex-wife Izzie Stevens and their children, and that he was leaving Grey Sloan behind for good. While Ellen Pompeo thought it was "the best send off" for the character, many fans were not pleased. In an interview with Deadline, Krista Vernoff revealed her thoughts about the angry fan response. In her words:
It sure sounds like she was in a bit of a bind. In hindsight, it seems there was only so much Krista Vernoff and the writing team could do, considering that Justin Chambers left before his storyline could be wrapped up. Former Grey's Anatomy showrunner Tony Phelan also conceded that character goodbyes were "never easy or entirely satisfying to the audience."
It was hard for fans to see a character like Alex — one of the last few original cast members left — go out the way he did, abandoning Jo and his life in Seattle to go and be with Izzie on a farm. Still, his goodbye episode did have some heartwarming moments and Krista Vernoff admits that the farewell episode was an emotional one for her. Here's what she had to say:
Grey's Anatomy wrapped Season 16 early due to the Hollywood shutdowns, and Episode 17 ended up being the season finale. Thankfully, the ABC series was already renewed for Season 17, but stay tuned to CinemaBlend for updates on production starts and more.
Your Daily Blend of Entertainment News