Grey's Anatomy Promises Some 'Crazy Stuff' Is On The Way After Teddy's Bombshell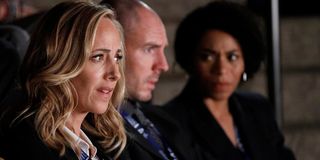 Spoilers ahead for the Grey's Anatomy episode called "Love of My Life."
Dr. Teddy Altman surprised Grey's Anatomy viewers after she cheated on Owen not once, but twice, in Season 16, believing that he would be revealed as the father of Amelia's baby. This week's episode delivered another shocking twist that revealed a part of Teddy's past that no one had known about before. Now, Kim Raver promises some "crazy stuff" is on the way after Teddy's bombshell.
To recap, the heart surgeon joined some of her Grey Sloan colleagues at a medical conference in Los Angeles. While there, Teddy ran into Clarie, her old roommate and girlfriend from New York City. As it turns out, they were also both in love with a woman named Allison, who died in the September 11 attacks. What Teddy never told Claire, however, was that she was having an affair with Allison. What's more, Teddy named her and Owen's daughter after her deceased lover. So, how does that factor into Teddy's current issues with Owen and Tom? Here's what Kim Raver told TVLine:
"Love of My Life" introduced a lot of new and game-changing storylines, but none were arguably quite as interesting as Teddy confronting her past. However, learning that she had cheated on Claire with Allison sheds some light on her current situation with Owen and Tom, while also making it a bit more complicated.
This look into Teddy's past puts things into perspective, though knowing she can love two people at once is information she's going to have to grapple with moving forward. Will she carry on cheating on Owen? Personally, I can't begin to imagine how she might break the news to him and the "crazy stuff" Kim Raver alludes to makes it sound like things may get worse before they get better for Teddy.
Grey's Anatomy airs Thursday nights at 10 p.m. ET on ABC. However, production on Season 16 halted due to coronavirus fears. Stay tuned to CinemaBlend for updates. For more on what to watch, be sure to check out our midseason schedule.
Your Daily Blend of Entertainment News
Thank you for signing up to CinemaBlend. You will receive a verification email shortly.
There was a problem. Please refresh the page and try again.