What S.W.A.T.'s Season 3 Finale Was Supposed To Be About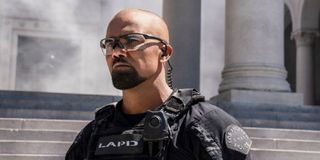 S.W.A.T. Season 3 was nearly finished when it shut down production, having completed filming on 21 of its 22-episode order. Though it won't be the intended conclusion, the CBS drama is still airing a season finale. Showrunner Shawn Ryan recently revealed what the original finale was supposed to be about.
When the season began, the original airdate for S.W.A.T.'s Season 3 finale landed on April 29. In fact, the planned finale was meant to correspond with the 28th anniversary of the 1992 Los Angeles riots, an historic event that the episode was going to cover from the perspective of one of its characters. According to Shawn Ryan, the finale would have also acknowledged the real-life anniversary within the episode. Here's what he told TVLine about the original Season 3 finale storyline:
Honestly, it sounds incredibly intense, but I know that Shemar Moore would have absolutely nailed the emotional portrayal. While it's unfortunate that the episode won't air anytime soon, Shawn Ryan is grateful that S.W.A.T. only missed one episode in Season 3, whereas other network shows lost out on several more.
Still, viewers are probably wondering whether the L.A. riots episode will ever make it to air. Thankfully, there's good news. Shawn Ryan assures that it will make it to CBS eventually. In his words:
The S.W.A.T. showrunner also revealed that the episode in question will likely air as next season's premiere or an "early episode of Season 4." All that said, the unintended Season 3 finale, called "Diablo," will include plenty of "big emotions," capping the season off with a cliffhanger that would've led right into the L.A. riots episode. And sure, viewers won't get to see the season end as planned, but Shawn Ryan is "not unhappy" that "Diablo" is the final episode to air this season.
S.W.A.T. returns with new episodes on April 22 and April 29 at 10 p.m. ET on CBS. The Season 3 finale will air on May 20. For more on what to watch in the coming weeks, be sure to check out our guide to all the big TV finales airing this spring and summer. If you're still looking for some new seasons or new series coming to the small screen, be sure to check out our 2020 spring premiere schedule for the options coming sooner rather than later and our 2020 summer premiere guide to plan ahead.
Your Daily Blend of Entertainment News