S.W.A.T. Star Confirms Jessica Actually Is Leaving The Show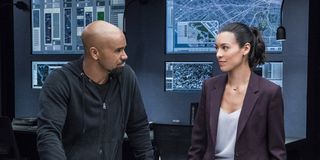 Jessica Cortez's time on S.W.A.T. has come to an end as actress Stephanie Sigman confirmed her exit from the CBS drama. The series just entered into its third season and Sigman's Captain Cortez was notably absent from the Season 3 premiere on Wednesday. Fans wondered why the series regular and original cast member was gone from the show, but the actress didn't let fans speculate for long before taking to social media to confirm she was leaving S.W.A.T. for good.
Stephanie Sigman's departure seems abrupt, especially since there had been no indication that she was gearing up to leave to leave the show. Sigman's exit seems amicable enough, though, and she posted a heartfelt goodbye to her character on Twitter.
The S.W.A.T. actress is expected to give birth to her first child soon, so that could be a reason for her leave, but that's just speculation. After all, maternity leave wouldn't warrant a permanent absence from the show.
Executive producer and S.W.A.T. co-creator Shawn Ryan responded to Stephanie Sigman's post in kind.
The reason behind her departure is unclear, though. Neither of the posts gave an explanation for the actress' exit, though it doesn't seem like there was any ill will between Stephanie Sigman and S.W.A.T.'s cast and creative team.
Back in May, the series, which also stars Shemar Moore as Daniel "Hondo" Harrelson, hadn't yet been renewed by CBS for Season 3. Ratings might've been an issue for the network. Fans were obviously concerned that it meant the end of S.W.A.T. for good. However, CBS did eventually announce that the show would be back for a third season.
Still, the triumph no longer seems that great considering that Season 3 will be down one cast member. Now that Season 3 is in full swing and Captain Cortez is officially gone, it'll be interesting to see how the show handles her absence.
S.W.A.T. airs every Wednesday at 10 p.m. ET on CBS. Want to know when your favorite fall shows are returning? Be sure to check out our complete list for premiere dates and times.
Your Daily Blend of Entertainment News
Thank you for signing up to CinemaBlend. You will receive a verification email shortly.
There was a problem. Please refresh the page and try again.