How Westworld's Ed Harris Broke Co-Star Jimmi Simpson's Finger Without Realizing It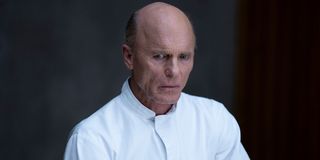 Spoilers ahead for the latest episode of Westworld Season 3.
Season 3 of Westworld has been slightly less confusing than Season 2 and Ed Harris has promised that viewers will get answers as to the true state of William, a.k.a. The Man in Black. Formerly a Delos boss, the most recent Westworld episode saw William forced to confront the various versions of himself via a simulation. It was an intense onscreen situation, but one that had some unexpected real-life repercussions. A new behind-the-scenes story revealed how Harris broke co-star Jimmi Simpson's finger without even realizing it.
At long last, William began his therapy in the Westworld Season 3 episode "Decoherence." Naturally, it didn't turn out the way he probably expected and the simulation brought him face-to-face with himself as a child, as a young man at the height of his leadership at Delos, and, finally, as The Man in Black. The episode ultimately led to a confrontation that saw present day William beating Jimmi Simpson's version of the character with a chair. As it so happened, Ed Harris ended up breaking one of Simpson's fingers without knowing. Here's what Simpson told ET about how it all went down:
Ouch! That sounds rough, but it doesn't seem like Jimmi Simpson is too mad about it. Still, breaking a finger is a painful experience and the actor recalls hearing a distinct snap. However, he figured it was just bruised. Simpson admits to seeing a medic, but was initially only given some ice for the swelling. It wasn't until later that Simpson visited a doctor and found out that, yup, Ed Harris had broken his pinky finger.
Jimmi Simpson also revealed that he didn't tell Ed Harris about the snap while still filming because Simpson "didn't want to throw him off and make him frightened to come at me hard again." Well, damn. Thankfully, Simpson sounds like he's doing okay, all things considered.
New episodes of Westworld Season 3 air Sunday nights at 9 p.m. ET on HBO. For more on what to watch in the coming weeks, be sure to check out our list of all the TV finales airing soon.
Your Daily Blend of Entertainment News