How The Will And Grace Series Finale Ended For Each Major Character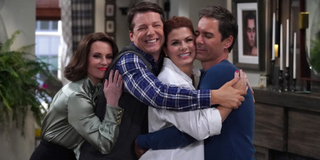 (Image credit: Chris Haston / NBC)
Spoilers ahead for the April 23 series finale of Will & Grace on NBC.
It is the end of an era…again. Will & Grace has signed off for the second time with a series finale that brought a definitive end for each major character. Will, Grace, Jack, and Karen each found their lifetime dreams realized in a half-hour farewell that tied their tales together.
Will & Grace's second series finale came almost fourteen years after its first back in 2006. Fast-forward to 2020, and the sendoff arrived a little over three years after the series returned for its revival and accordingly set a ratings record. In "It's Time," Will & Grace poignantly said goodbye with quite a few laughs to spare.
When the series finale began, Will and Grace were preparing for their big move into the house they would raise their respective children in. Meanwhile, Jack and Karen each found themselves on the verge of their own life-changing moments. Without further ado, this is how Will & Grace ended for each major character.
Will
The series finale started with Will packing up the apartment for his and Grace's big move as the duo respectively awaited parenthood. It was a great look for both of the best friends. Will was clearly contented with his life, but what about on the romantic front? It seemed like Will & Grace might end without Will having a happily-ever-after with the man of his dreams.
Thankfully, the series finale left fans (and Will) off on a hopeful romantic note. Will's former fiancé McCoy, who was introduced back in Season 2 of the revival, came through at the last minute. The couple had broken up when they both did not see eye-to-eye on becoming parents. Will wanted to become a father, but McCoy had some doubts.
After some not-so-gentle prodding from Grace in the series finale, Will went after McCoy, only to miss him. All was not lost, though! McCoy turned up outside of Will and Grace's soon-to-be-former domicile. McCoy wanted to reunite with Will, and it seemed like the two might work things out. Will & Grace seemed to sort of leave it up to the fans to decide. Will did say "we'll see" to Grace, so hope.
Grace
The series finale started with Grace falsely thinking she was going into labor. From there, Grace worked to start her labor while pleasantly supporting her friends throughout the episode. Grace was focused on her friends and impending motherhood, which meant no romantic endgame. During Will & Grace's revival run, Grace dated David Schwimmer's Noah Boarder.
However, there was no last-minute reunion for the two. Will & Grace ended with Grace in a positive emotional place. She worked through some significant things during the revival run, including a tragic part of her past. The series finale literally ended with Grace going into actual labor as a jubilant Will, Jack, and Karen celebrated with a group huge that Grace later joined.
Fans did not get to see Grace hold her new baby or Will his. Fans were treated to Will imagining his kid and Grace's playing together in their new house during the penultimate episode, so that was something. Will & Grace's series finale certainly ended a chapter in Will and Grace's life by starting a new one.
Jack
Jack's big moment finally arrived due to a bittersweet twist. At the top of the series finale, Jack learned from Estéfan that the stage manager from his show had called, and he could potentially take a bow on Broadway. It would just require something terrible to happen to several people to make it happen. As fate would have it, it did.
Will & Grace's series finale saw Will and Grace witness Jack take his big bow on Broadway. Sadly, his bow was more like a terrible fall after his trip up the Statue of Liberty had left him barely able to stand. Nothing could keep Jack down, though, and Estéfan proudly called out "that seaman on the floor is my husband!"
Jack and Estéfan should live happily ever after together. The couple married during the revival. Will & Grace left Jack in the wake of his lifelong dream being realized and the hope that more could follow. Will Jack's acting career take off after this? Whatever happens, Jack will have the love of his husband and the support of his friends to help him celebrate.
Karen
Karen may have missed a few episodes earlier in Will & Grace's last season, but she was front and center for the series finale. In true Karen style, she attempted to make everything that happened about herself. Of course, there was a considerable development for her to do so. Stan wanted her to meet him at the top of the Statue of Liberty at 5 o'clock.
Karen struggled with what to do before Will, Grace, and Jack helped her realize she has always loved Stan. With that, she waited on top of the Statue of Liberty for Stan to arrive and announce she wanted to get back together with him. Stan was late but made up for it with an elaborate helicopter arrival, and a gift from Tiffany's.
It said, "Let's start over. Marry me again." Karen said that she "loved it" before tossing it over the edge of Lady Liberty's torch. After one final slap-off with Jack, he and Karen went in to disrupt Will and Grace. Grace asked if Karen was happy to be back with Stan and Karen said that she was due to the 7.3 billion reasons they should be together.
There you have it. That is how Will & Grace ended its revival run after welcoming back a guest star and recasting another one. The series is one of the many to enjoy the nostalgic wave that has swept television as viewers yearned to return to some of the worlds it has had to leave behind.
I cannot help but think that Will & Grace left the door wide open to pick up with the eponymous duo as well as Jack and Karen in the future. Did Jack's Broadway debut lead to him getting an even brighter spotlight? Did things really work out between Karen and Stan? How is parenthood treating Will and Grace?
Lots to think about! For Will and Grace's part, I see a beautiful future for the duo. When the series finale leaves them, Grace is readying to welcome her son, and Will is preparing for his daughter, whom they plan to raise together. The happily-ever-after hints at their lives continuing to revolve around each other well after that Will & Grace fade to black.
Will & Grace's original run is currently streaming on Hulu. To help fill the void left by Will, Grace, Jack, and Karen, you check out this spring's premieres in an attempt to stay entertained. Did you like the revival's ending more than the original series'? Vote in the poll below!
This poll is no longer available.
Your Daily Blend of Entertainment News
Like a contented Hallmark movie character, Britt happily lives in the same city she grew up in. Along with movies and television, she is passionate about competitive figure skating. She has been writing about entertainment for 5 years, and as you may suspect, still finds it as entertaining to do as when she began.