The 'Three-Boobed Lady' Marks A TV First For E!'s Botched Doctors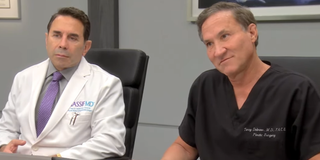 Drs.Terry Dubrow and Paul Nassif have seen some horribly mishandled cosmetic surgery during their time fixing patients up on E!'s Botched. Because of that, and the popularity of breast augmentation and other such procedures, they've already had quite a few people come in to get their boob jobs done correctly after recovering from their original surgery with all their hopes for increased confidence dashed. But, one particular patient has just showed the doctors something they've never seen before, and she even calls herself the "three-boobed lady" because of just how badly her previous procedures went.
The damage done to the patient, Sandra, was so odd that Dr. Nassif originally wondered if the photos he saw of her were actually real. When the doctors meet with Sandra and her boyfriend, though, and hear her story, it becomes clear that the physician she went to for her first surgery simply screwed up big time, and now Dr. Nassif and Dr. Dubrow will take on the huge challenge required to fix it.
About four years ago, Sandra tells the doctors, she decided to finally go through with what she thought would be a simple breast augmentation. While some people who go in for plastic surgery (especially of the ones we tend to see on Botched) want to do something radical to their bodies, Sandra had just wanted to go up in size to a low C cup. While her doctor seems to have honored that request, he was clearly unable to fulfill another requirement of his job: putting both of those implants in the correct, pre-boobed spot.
As you can see from the above picture, Sandra doesn't look at all deformed, but that was exactly the result of her surgery. She told the doctors that when she awoke from that first procedure, she knew things had gone wrong immediately, because her right implant was way above her actual breast and off near her upper arm pit. She, of course, spoke to her doctor about this error, who then admitted "I must've done something wrong." Oh, really, Sherlock!? Do you think you did something wrong?! I'm guessing that Sandra being too sore and woozy from surgery is the only thing that kept that man alive in that moment.
At any rate, Sandra agreed to let her doctor correct his massive mistake. And, what happened? He fucked it up, again, you guys! This time, her implant appeared under her breast and toward the center. I swear, I really hope this doctor had his license taken away. Obviously, this is what finally led Sandra to Botched, after several years of hiding her first doctor's mistake to the point where her poor boyfriend hasn't even seen her naked.
I really feel bad for Sandra. She didn't want to do anything extreme with her body or make a major change; she was just looking for a little umph. It's not like the doctor messed up adding a horn to her head so she could look like a unicorn, or added one of her Spock ears upside down, or something. This should have been a very (for major surgery) simple procedure. I can't help but wonder if he had actually ever done a breast augmentation before, considering that he got it very wrong twice.
Well Dr. Nassir and Dr. Dubrow of Botched are on the case now, and you can tune in to E! tonight, at 9 p.m. EST, to see how things turn out for Sandra and her boobs. To see what else is coming to television, check out our Netflix premiere guide and see what's new this summer!
Your Daily Blend of Entertainment News
Yennefer's apprentice, Gilmore Girl; will Vulcan nerve pinch pretty much anyone if prompted with cheese...Yes, even Jamie Fraser.
Your Daily Blend of Entertainment News
Thank you for signing up to CinemaBlend. You will receive a verification email shortly.
There was a problem. Please refresh the page and try again.