What NCIS: Los Angeles Fans Can Expect After The Season 11 Finale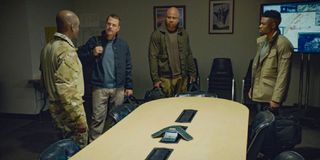 Spoilers ahead for the Season 11 finale of NCIS: Los Angeles.
Like many other TV shows, NCIS: Los Angeles shut down production early in the 2019-2020 TV season. The series was two episodes shy of completing its entire episode order when the Season 11 finale aired. While NCIS: LA got an unintended season finale, the episode still managed to up the ante. Upon leaving viewers with a pretty decent cliffhanger, showrunner R. Scott Gemmill revealed what fans can expect from the drama after the Season 11 finale.
NCIS: Los Angeles' Season11 finale, called "Code of Conduct," saw the team go up against a new kind of antagonist following Sam and Callen's briefing on Special Warfare Chief Petty Officer Thomas Argento. Basically, their chief was being accused of international war crimes after allegations suggested he murdered an unarmed and unconscious prisoner. However, Argento believed himself to be above the law due to personal connections to a senator. Sam and Callen were able to arrest Argento, but there was still a lot of unfinished business between them.
Could the storyline finish playing out in a potential Season 12? Here's what R. Scott Gemmill told TVLine about the planned storyline:
As it turns out, Argento has "no intentions of going down without a fight," according to R. Scott Gemmill. That makes a lot of sense considering how confident he is despite his trial. Having those D.C. connections is a huge advantage for him and I have no doubt that he'll be using it in his favor.
That said, it doesn't seem like Sam and Callen will rest until they dole out some justice, though Argento won't be making it easy for the team. Here's what R. Scott Gemmill says of Argento's nefarious plans:
Fans of NCIS: LA can expect the unfilmed episodes of Season 11 to be absorbed into Season 12, meaning that Argento will definitely be facing Sam and Callen again at some point in the future. Executive producer Frank Military confirmed to TV Insider that Argento's "morality battle with Sam" and trial will play out, but that it won't happen in the first episode of next season should the series return.
NCIS: Los Angeles has not officially been renewed for Season 12, but stay tuned to CinemaBlend for updates. In the meantime, be sure to check out our list of all the big TV finales coming soon, as well as our 2020 summer premiere schedule.
Your Daily Blend of Entertainment News
Thank you for signing up to CinemaBlend. You will receive a verification email shortly.
There was a problem. Please refresh the page and try again.