James Corden Tells Fans The Late Late Show Now On Hiatus Due To Recent Surgery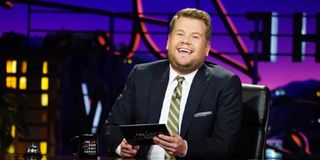 The production shutdowns in March changed the way that late night talk shows handled themselves, leaving behind studio audiences in order for hosts like Stephen Colbert and Jimmy Fallon to film episodes from the comfort of their homes. The Late Late Show's James Corden is no exception, though he won't be attending to his hosting duties for a while for a different reason. The host has alerted fans that The Late Late Show is on hiatus from CBS now due to Corden having recently had surgery.
Following in the footsteps of all other late night hosts, James Corden began conducting his interviews from home, having set up a pretty decent office space from inside his garage. With his desk, signature mug, and those cabinets behind him, fans could almost believe that everything was business as usual. However, the variety show will be taking a break for a bit. Corden updated fans on Twitter, explaining why The Late Late Show would be off the air. Here's what he wrote:
James Corden didn't offer any further details about why he needed to have the eye surgery, nor when The Late Late Show would be back on CBS. I imagine that the operation being "minor" in nature means that Corden won't need an incredibly lengthy recovery period. His post confirms that he isn't up for working for a "few nights" at the most, but there's still no concrete return date set.
Many viewers are finding solace in watching late night and traditional scripted television in these unprecedented times, which is being reflected in the higher-than-usual ratings. However, James Corden's break offers him some much-needed healing time, so if it means having a few nights of The Late Late Show repeats, then it's all good.
Below is one of many responses from James Corden's fans that also worked in images/GIFs of the K-pop group BTS, who showed up on Carpool Karaoke some weeks back.
James Corden most recently starred in the film adaptation of the musical Cats, which was a critical failure and received a 21% aggregated score on Rotten Tomatoes. The special effects were a mess and were updated even after the film's initial release in theaters. To his credit, Corden says he doesn't regret being in the film because he "had a really great time" making the movie.
We here at CinemaBlend hope that James Corden has a full recovery. Stay tuned for updates. In the meantime, be sure to check out our 2020 summer premiere guide.
Your Daily Blend of Entertainment News