Why Young Sheldon Creator Is Willing To Break Big Bang Theory Continuity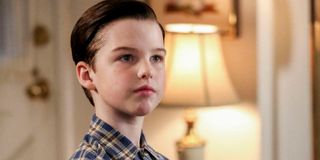 Spoilers ahead for Young Sheldon's Season 3 finale.
As a prequel spin-off of The Big Bang Theory, CBS' Young Sheldon had a lot of big shoes to fill. Set years in advance of the events of its parent show, Young Sheldon had a lot of freedom exploring certain storylines without cutting ties with The Big Bang Theory. However, series co-creator Steve Molaro recently revealed why he is willing to break away from The Big Bang Theory continuity in certain instances.
In the Season 3 finale of Young Sheldon, the titular character discovered that several prestigious universities were interested in him attending. However, Mary kept the news a secret from Sheldon and her husband George. So, the young man and his father concocted a plan in hopes to change Mary's mind about Sheldon attending college. Now, The Big Bang Theory previously revealed that Sheldon started undergrad at 11-years-old, so Young Sheldon stuck to that timeline. However, that may not have been the case if the established continuity had worked against Young Sheldon's creative pace. Here's what Steve Molaro told TVLine:
What worked in favor of the show was that The Big Bang Theory never established where Sheldon went to undergrad, only that he attended Caltech for grad school. So, the Young Sheldon writers had the opportunity to finally make that creative leap without shaking up continuity. That said, it's possible a future creative decision might stir the pot a bit with regards to maintaining continuity, but we'll have to wait and see how it all plays out.
The Season 3 finale wasn't the first time Young Sheldon directly referenced the character's future on The Big Bang Theory. While Sheldon made a compromise with his mother and decided to attend a local university for undergrad, he did attend a lecture at his future alma mater of Caltech in another Season 3 episode. Sheldon and his dad even stopped by the school's cafeteria — which was a staple on The Big Bang Theory — and wondered what "stimulating conversations" happened at its tables. Well played, Young Sheldon writers. Well played.
Young Sheldon Season 3 is over and there's no word yet on when production will begin for Season 4. Stay tuned to CinemaBlend for updates. In the meantime, be sure to check out our 2020 summer premiere guide for more on what to watch in the coming months.
Your Daily Blend of Entertainment News
Your Daily Blend of Entertainment News
Thank you for signing up to CinemaBlend. You will receive a verification email shortly.
There was a problem. Please refresh the page and try again.