Chuck Lorre Pokes Fun At CBS' Ratings Drop After The Big Bang Theory's End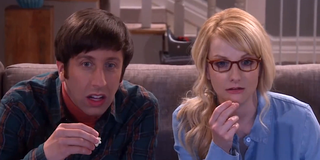 After The Big Bang Theory ended its 12-season run on CBS, the network's Thursday night comedy line-up took a ratings hit without the vet show as a lead-in. It turns out that The Big Bang Theory creator Chuck Lorre is definitely not above poking fun of CBS' recent ratings drop, and he asked an unexpected source for some help with improving viewership.
Chuck Lorre, who admitted The Big Bang Theory's original pilot was a "mess," knows how popular that series was and still will be for a long time. Now that it's gone from the CBS lineup, Lorre felt that the network's other Thursday night shows needed a ratings boost. That's when the successful executive producer, who also has Young Sheldon and Mom in that lineup, decided to step in and work his own magic, using his post-episode vanity card to call on another country for an uptick in ratings.
Chuck Lorre's latest vanity card popped up for CBS audiences on Thursday, November 14, and strangely enough, the ratings actually did get a boost that night, giving both Young Sheldon and Mom their highest demographic ratings so far this season. The Kominsky Method creator was at once acknowledging that CBS needs help post-The Big Bang Theory, while also helping out his own pair of shows.
Per TVLine, CBS' Thursday nights have suffered a 34% drop in the ratings from last season, which means The Big Bang Theory was keeping both Young Sheldon and Mom afloat. The gang's absence is definitely being felt and reflected by the audience turnout.
Still, Young Sheldon isn't doing too bad in the ratings on its own, all things considered, and it recently hired Craig T. Nelson in a recurring role. Early on in Season 3, the sitcom brought in roughly 8 million viewers, which is certainly a big enough drop from Season 2's 10.5 to 11 million viewers, but the spinoff has already been renewed for a fourth season, so no worries for fans. Mom has also been renewed for an eighth season as part of a multi-year renewal from CBS.
Besides facing a slump in ratings, Young Sheldon also has a character problem that The Big Bang Theory didn't have, so here's hoping things turn around in the future. Additionally, the spinoff obviously won't be able to cleverly parallel its parent show any longer, something it was able to do in the Season 2 finale when Sheldon won his Nobel Prize.
It'll still be interesting to see whether both sitcoms' ratings will slowly improve or continue to drop in the wake of The Big Bang Theory's absence. Chuck Lorre might have to continue working his ratings magic otherwise. Perhaps a call to some other headline-making country.
Young Sheldon and Mom air on Thursdays at 8:00 p.m. and 8:30 p.m. ET on CBS, respectively. With the winter finales right around the corner, prepare for what to watch in 2020 with our complete guide to every show premiering in the midseason.
Your Daily Blend of Entertainment News
Your Daily Blend of Entertainment News
Thank you for signing up to CinemaBlend. You will receive a verification email shortly.
There was a problem. Please refresh the page and try again.