Why The Bachelor: Listen To Your Heart's Rudi Doesn't Regret Her Super Awkward Confession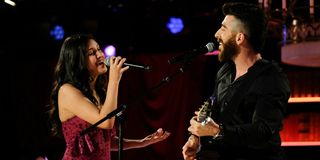 Love was definitely in the air in the latest episode of The Bachelor: Listen to Your Heart. However, not everyone got a fairy tale ending when it got to the point of admitting their feelings. Such was the case for Rudi and Matt, who seemed to really enjoy playing music together, but weren't on the same page romantically. Things then took a strange turn thanks to an awkward romantic confession, but Listen to Your Heart's Rudi doesn't regret putting it out there.
Here's how it all went down: Rudi finally got up the courage to tell Matt that she was falling in love with him and his response wasn't exactly the one she expected to hear. Matt told her that she was "very courageous for speaking" her truth, but that he just didn't feel the same way for her at the time. It was hard to watch and was more than a little embarrassing for Rudi, who got up and cried afterward. However, she was glad she went through with the confession. Here's what Rudi told ET about the moment:
Go Rudi! She put herself out there even if Matt didn't reciprocate her feelings, and was all the better for it after dealing with the response. Rudi did admit that her love confession was "one of the most awkward things of my life," which is totally understandable and complicated, that's for sure.
Rudi went on to say that Matt's response was like a "jab" in her stomach. She really did think they had a connection. At the end of the day, Rudi expected a little more from him than what he gave. Here's how she put it:
Rudi didn't think Matt was a "bad guy," but she conceded that he could've clued her into the fact that he wasn't on the same page as her much earlier. Maybe they both could've avoided that very awkward confession during Listen to Your Heart. Watching how they end up moving past that moment will be interesting, and I'm sure viewers will tune in to see exactly what goes down between them.
The Bachelor: Listen to Your Heart finale airs on Monday, May 18 at 8:00 p.m. ET. For more on what to watch, be sure to check out our 2020 summer TV premiere guide.
Your Daily Blend of Entertainment News