The Bachelor: Listen To Your Heart Is Already Messy AF, And I Love It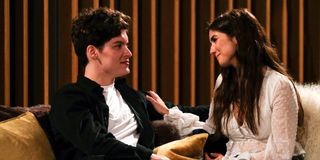 Warning: BIG FAT SPOILERS below for the season premiere of The Bachelor: Listen To Your Heart! Be sure to come back once you've caught up!
Well, Bachelor Nation, the time has finally come for us to dive into yet another season of the romantic trials, tribulations and triumphs (we hope) of a group of super sexy singles! We may all be lamenting how Peter Weber's insane season of The Bachelor turned out and hoping that the delay of Clare Crawley's 2020 season of The Bachelorette will be over soon, but at least we have The Bachelor: Listen To Your Heart to keep the love party going for a few more weeks. And, please believe me when I say the show is already messy as fuck, and I'm completely in love with it.
Now, this is our introduction to The Bachelor: Listen To Your Heart, so let me explain this slightly different premise, just so we all know what we're in for with this match-making series. At the beginning, we're introduced to 12 women and eight men, all of whom have a passion for music and are also looking for love. They're all living in the Bachelor Mansion, and have to pair up to stay on the show. Each couple will have to perform musical challenges, and will be judged by Bachelor Nation favorites and music industry professionals to determine just how well they show their love for one another through song.
But, this is the premiere, you guys, we know what this is for: getting to know all the players (who you can check out again in one handy YouTube video) and seeing what kind of messy relationships develop! Listen to Your Heart didn't disappoint on that front, either. We got several love triangles, one of which was briefly a love quadrangle, and there was already some heavy drama to be had in week one.
Let's start with the sorta couple who had the show's first fight, shall we? Rudi and Matt had what seemed to be a pretty instant connection as soon as they met. They spent some time alone talking, and when Rudi got cold, Matt quickly offered her his jacket, which gave her the impression that he was just the kind of man she was looking for. But, things took a turn when they hit the hot tub and Matt asked for a kiss. Rudi wasn't ready yet, and when Matt got a date card later in the week, he opted to ask Mel out instead.
Well, Rudi wasn't happy about this at all, especially since, according to her recollection, Matt spoke to her before talking to Mel and said he was taking Rudi on his date. Big mistake, Matt. HUGE. After he and Mel were done with their date, and Matt had determined that there was actually no spark with her, he decided to chat up Rudi again, and she agreed...only so she could let. Him. Have. It!
No, we didn't actually see Matt tell Rudi he was definitely taking her on his date, but I can already understand how what we did see Matt say to Rudi (I replayed the scene a couple of times, OK?) could have been turned into such a confirmation in her mind. This is a classic Jessica / Barnett situation from Love Is Blind, if you ask me, but either way, Rudi got real heated during that conversation and let Matt know, in no uncertain terms, that she would not be his runner-up.
Love triangle number two involved Jamie, who was the first to arrive, Ryan, who got to the mansion right after her, and much later arrival Trevor. Naturally, since they were the first two people on site, Jamie and Ryan did quite a bit of chatting and were already seeming like a solid potential couple by the time T-Dog showed up. But, man alive, y'all...Trevor is pretty cute, and you could absolutely see the heads turn when he showed his pretty man-face in the mansion.
So, while Ryan is playing piano for a sing-along in the other room, Jamie and Trevor have a chat that makes her already very pink cheeks even brighter and then head for the hot tub. Doh! As you might imagine, they both did a pretty good job of showing off their assets during this watery jaunt, and it doesn't seem to take long for them to start a makeout session that leads to Jamie floating into Trevor's eager, well-muscled arms. I replayed this part, too, and it looks like he was actually lifting her legs up under water. Smooth, Trevor. I see ya, bro.
I know things now seem set between Jamie and Trevor, but it's not over yet. Ryan actually got the first date card of the show, and who does he choose? Why, Jamie, of course! And, she goes and finds herself even more attracted to and close with Ryan after recording a song together at Capitol Records. Uh, oh!
Meanwhile, Sheridan found himself immediately taken with Julia, and while she was certainly into him, she was also into Trevor (who was feeling her along with Jamie) and then Josh. To Julia's credit, she macked on a lot of dudes before making her final decision at the first rose ceremony, even kissing Brandon on night one. At the pre-rose cocktail party, Julia got kissy with Josh, which Sheridan saw and made a bold move by stealing her and singing her a short song he wrote for her.
Sheridan's gambit paid off, because Julia gave him her rose (Not a euphemism!) at the ceremony, and they are coupled up by the end of the premiere. Matt was obviously out of luck with Rudi, but he did get a surprise rose from Cheyenne, so he's still around to (potentially) trouble Rudi with visions of what might have been. And, shock of shocks, Rudi found someone she "could see herself falling for" by the end and gave...Ryan her rose! Meaning that he's also still around so that Jamie can see what she missed out on, because she gave Trevor her rose.
And, from what we see of next week's episode, it looks like Jamie will really be regretting her decision to let Ryan go, because a new player will show up, Bachelor in Paradise-style, who has some bad, fuckboy-centric news about Trevor. Say it ain't so! (No, really...say it ain't so. That way maybe I can understand how someone thought a hot musician didn't have doggish tendencies.)
With all the romantic entanglements The Bachelor: Listen To Your Heart has already displayed, I think we're going to continue to be in for a pretty solid season filled with all the dramatic mess that we tune in to see. And, that beautiful mess will continue, Mondays at 8 p.m. EST on ABC, so be sure to stay tuned to CinemaBlend for the latest (even if you're already looking to be spoiled on the finale)!
Your Daily Blend of Entertainment News
Yennefer's apprentice, Gilmore Girl; will Vulcan nerve pinch pretty much anyone if prompted with cheese...Yes, even Jamie Fraser.