5 Reasons The Bachelor: Listen To Your Heart Isn't Working For Bachelor Nation Fans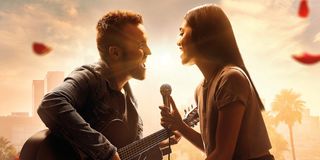 Well, well, well, Bachelor Nation. I don't know about you, but when I heard about the producers of The Bachelor coming up with yet another franchise show, I figured it would be a shoo-in for immediate popularity. The Bachelor, The Bachelorette and Bachelor in Paradise have been on the air for a combined 45 seasons, so while some experiments in Bachelor-fied dating shows haven't gone quite as well (Hello, Bachelor Pad!), it's pretty clear that the producers know what the people want to see when looking for reality dating shows. Unfortunately, that doesn't seem to be the case with The Bachelor: Listen To Your Heart.
Sure, some fans are watching this musical new entry in the franchise, but those that are are actually a bit surprised that it got their attention at all. And, everyone else in Bachelor Nation is staying away in droves. Not even the fact that appearances will be made by Bachelor Nation favorite couples like Jason Tartick and Kaitlyn Bristowe, and JoJo Fletcher and Jordan Rodgers, has been enough to attract Bachelor fans to the show and keep them watching to see who gets a rose and who rides that big tour bus off into the sunset alone.
I think there are some things that are definitely rubbing the fans of Bachelor Nation the wrong way with The Bachelor: Listen To Your Heart, and at least some of these potential issues can lead to some tweaks in the format, should the show be granted another chance to shine in a coming year. So, here for you now are the five things that I think are keeping fans away from The Bachelor: Listen To Your Heart.
Everyone Wants Fame On The Bachelor: Listen To Your Heart
OK, every Bachelor fan worth their rose-giving abilities knows that the biggest question on every season (whether it be The Bachelor or The Bachelorette) is whether or not those vying for the heart of the lead is really there for "the right reasons." Obviously, what this means is, are they there to find love, or are they simply looking for fame? Going into Listen To Your Heart, we know that everyone there is at least looking to further their career in music, if not to actually become famous.
Half of the point of the show is to have those involved in the music business pair up and them compete in musical challenges that are supposed to show how much they care about each other. So, if we know right off the bat that everyone is, indeed, interested in some career fulfillment, doesn't that take some of the fun out of finding out that there was an ambitious wolf hiding in a lovelorn man / woman's clothing all along? And yet, we still don't know if the participants really want love along with fame, but now, the journey to find out isn't as exciting, is it?
The Bachelor: Listen To Your Heart Has So. Much. Singing.
The competition aspect of LTYH is no joke, and the singles we follow are singing and playing instruments all over each episode of the show. To be fair, the promos for the series did make it clear that this was going to be a major focus, but that might be part of the problem. Does Bachelor Nation really want their dramatic searches for love peppered with so much musical energy? What we want is people falling for each other and all the drama that comes with it, and, hopefully, at the end, to see a couple that at least appears to really be into one another. But, the focus on music is taking the edge off of all that drama.
Also? Whenever you have a show that focuses on singing this much there's one very important factor to consider: will those watching the show want to root for anyone's talent? If you tuned in to LTYH and loved someone's voice, but hated their overall vibe as a love interest (or, you know, just as a person) it's going to be hard to root for them if you're not all-in on them as both a singer and someone looking for love. A result like that will make it hard to stick around the show week after week.
The Bachelor: Listen To Your Heart Doesn't Have Enough Drama
Alright, sure. We've already gotten a good fuckboy story with Trevor / Jamie / Natascha and had a few surprise saves during that first week rose ceremony that kept some love interests in the path of their former almost mates, but, really, this season hasn't been as shockingly dramatic as a typical Bachelor / Bachelorette season normally would have been by now. Again, I'm going to blame all the singing for that, but I think there's something else to it, as well.
These people had to hook up and find a potential song partner right quick, lest they be booted from the show before they even got started. While it's always necessary to catch the eye and interest of the lead on a typical Bachelor show so you can stick around, this format (where finding someone you vibe with musically is also very important) has added a layer of get-together-and-stay-together non-action to Listen To Your Heart that means the show hasn't featured the rotating partners of say, Bachelor in Paradise. And, in turn, there's less drama than usual.
The Bachelor: Listen To Your Heart Is Moving Very Fast
Yup, this is another issue with the format of the show, I think, which adds to the problem of each cast member needing to find their perfect musical partner just as much as the potential love of their life. Remember, all of these people would really like to win the chance at recording some original music, make a music video for it and then go on a small tour. If they think they've found a musical match in their current partner, why risk things by hopping to someone else when a new person arrives, even if you are feeling a romantic spark with them?
So, let's say that you and New Singer X really are hot in the pants for each other. What if you toss aside the other person you were with only to then find out that you and NSX have less musical chemistry than you thought you would? Or, maybe your musical styles are too different to mesh well? You've thrown away an opportunity to continue having your music heard, and I have a feeling many of these folks don't want that to happen unless absolutely necessary.
The Bachelor: Listen To Your Heart Has No Previous Bachelor Nation Cast Members
Now, here's what I think might be the biggest issue. It was thought that LTYH would be the perfect thing to tide folks over until The Bachelorette began airing, and then that hope really rang true when Clare Crawley's 2020 season was put on hold for some very unfortunate reasons. The problem is that, to my knowledge anyway, all previous franchise shows have had one thing in common: they recycle cast members from previous seasons. See those two attractive people right above this paragraph? Neither of them have been on a Bachelor show before, and neither has any other cast member on Season 1 of Listen To Your Heart.
Bachelor Nation loves to catch up with old friends, weirdos, leads and villains. The franchise has literally been built on that for many, many seasons now. The Bachelorette comes from the most recent Bachelor season and vice versa. Bachelor in Paradise fills the palapas with hotties who couldn't nab the lead on previous seasons of either other show. The Bachelor: Listen To Your Heart is asking fans to get invested in a totally new batch of people, and on top of that, we have to hear them sing all the time. It was just...too much.
Now, I know that after that initial episode of The Bachelor: Listen To Your Heart I said the show was "messy as fuck" and declared that I love it, but I'm allowed to change my mind. It's not a complete disaster, but I do think the show could use some serious tweaking if they plan to do another season.
If you want to check out The Bachelor: Listen To Your Heart, it airs tonight and every Monday on ABC, at 8 p.m. EST. But, to investigate other viewing options, take a look at our Netflix premiere guide and see what's coming this summer!
Your Daily Blend of Entertainment News
Yennefer's apprentice, Gilmore Girl; will Vulcan nerve pinch pretty much anyone if prompted with cheese...Yes, even Jamie Fraser.
Your Daily Blend of Entertainment News
Thank you for signing up to CinemaBlend. You will receive a verification email shortly.
There was a problem. Please refresh the page and try again.