Mayim Bialik: 8 Fascinating Things To Know About The Big Bang Theory Star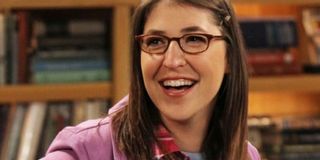 Though she's best known for her sitcom work, from NBC's Blossom to CBS' The Big Bang Theory, Mayim Bialik is an incredibly accomplished person. People who only recognize her from TV are getting a narrow window of her professional accomplishments. The actress has expanded her horizons and proven her talents in a variety of different professions. In this article, we'll explore a number of fascinating facts about the sitcom star, from her PhD in neuroscience to her decades-spanning connection to one particular Big Bang Theory co-star. Here are eight things worth knowing about Mayim Bialik.
Mayim Bialik Has a Ph.D. in Neuroscience (And Got Accepted Into Harvard And Yale)
There's no pretending when it comes to Mayim Bialik's neuroscience expertise. Much like Amy Fowler, her former Big Bang Theory character, Bialik is an actual neuroscientist. And she has the doctorate to prove it. That's right, during a period between Blossom and The Big Bang Theory, Bialik went to school to study the scientific field, and she got her PhD in 2007 from the University of California, Los Angeles, which is also where she got her Bachelor of Science degree in the same field back in 2000. But Bialik had to make a tough choice when it came to college. The actress was accepted into both Harvard and Yale at 17, which makes it apparent that she's a very smart women who certainly had a big, bright future ahead.
Mayim Bialik Is The Founder Of Grok Nation And A Jewish Organization For Animal Rights
In 2015, a few years after becoming a mainstay on The Big Bang Theory, Mayim Bialik founded Grok Nation, a site where people of various ages and backgrounds could have conversations on contemporary topics. As she explained in her August 2015 address, Bialik believes "there is a meaningful way to approach every issue" and she said there's also a "way to 'grok it," thus allowing site users to "look at every issue and find the underlying importance and meaning in it." Bialik wanted to dive into how everything has a "deeper significance" and "can be a place to learn and grow from." To "grok" essentially meant to understand something in a more profound way. But in 2018. Bialik relaunched Grok Nation as a women's lifestyle site.
In addition to founding Grok Nation, Mayim Bialik is also a founding member of Shamayim V'Aretz Institute, a Jewish organization that advocates for the peaceful and ethical treatment of animals. It also provides opportunities to teach the Jewish community about animal advocacy and veganism, as the website notes.
Johnny Galecki Was Mayim Bialik's First Kiss On Blossom
One's first kiss is usually a private, intimate event. But that wasn't the case for Mayim Bialik. Her first kiss took place in front of the cameras, then later broadcast in front of televisions everywhere, and the man she locked lips with is someone who'd continue to have a presence in her life. To be more specific, Mayim Bialik shared her first kiss with Johnny Galecki on her NBC sitcom Blossom, who eventually became her co-star on The Big Bang Theory. Is that fate or just plain awkward? Depends on who you ask. Evidently, though, Hollywood is a small town. Later, Bialik and Galecki recounted their televised smooch — then shared another kiss — during a 2016 appearance on Conan to promote a new season of The Big Bang Theory.
Mayim Bialik Is A Devoted Vegan And Wrote A Vegan Cookbook
In her personal life, Mayim Bialik is open about her vegan lifestyle. She even provided her own recipes by writing a vegan cookbook, titled Mayim's Vegan Table: More Than 100 Great-Tasting And Healthy Recipes From My Family To Yours, which was published in 2014. The book hopes to provide both convenient and manageable vegan recipes for you and your family, while also informing them about this alternative lifestyle choice. In addition to this cookbook, Bialik is also the author of three other texts: 2012's Beyond the Sling: A Real-Life Guide To Raising Confident, Loving Children The Attachment Parent Way, 2017's Girling Up: How to Be Strong, Smart and Spectacular, and 2018's Boying Up: How To Be Brave, Bold, And Brilliant.
Mayim Bialik Plays Multiple Instruments And Learned How To Play The Harp For The Big Bang Theory
Mayim Bialik is a fast learner, as we've noted throughout this article. It should come to no surprise to know that Bialik has also learned how to play several musical instruments, including the trumpet, the piano, and the harp. The latter is one she learned specifically for The Big Bang Theory. Her character knows how to play the harp, and rather than fake it, Bialik went out of her way to learn it herself.
Mayim Bialik Returned To Acting To Have More Time With Her Kids
As a former child star, Mayim Bialik was ready to step away from the acting world as she earned her doctorate in neuroscience. But as she started raising her children, BIalik's hours in her new field didn't meet her plans as a parent. Therefore, she found herself back in her former profession, which, in an odd way, was actually more accommodating to the schedule she wanted splitting her time between work and family life. As the actress explained in a 2012 interview (via Yahoo!), her life as a research professor didn't afford her the flexibility she wanted as a mother, which is something she found with acting. As she joked in the interview, "I figured actors never work, so it's the perfect job to have." Here's how Bialik explained her return to the world of acting:
Mayim Bialik Is A Certified Lactation Counselor
In addition to the many other credits to her name, Mayim Bialik is also a certified lactation counselor — meaning that the actress assists other women in breastfeeding their infant children both nearby and abroad. In an op-ed she penned for Mothering.com, Bialik explained the process of becoming a certified lactation counselor, reflecting back on the difficulties she faced while breastfeeding her own two children and how lactation counselors were vital in helping her along the way. She wanted to give back to other women by being like the women who aided her during her early days of parenting. It's a process that's been very uplifting, motivating, and inspiring for Bialik, as she details in her article. Here's what she wrote in her personal piece:
Mayim Bialik Made Her Screenwriting/Directing Debut With A New Movie Starring Dustin Hoffman and Candice Bergen
With over thirty years of professional acting experience and four Emmy nominations to her name, Mayim Bialik has stepped behind-the-camera for the first time with her upcoming directorial debut, As Sick As They Made Us. A drama about a divorced mom making peace with her dysfunctional family while looking for her second chance at love, it serves as an intimate, likely personal project for the accomplished actress, and it showcases only her latest attempt to branch off into new professional and creative endeavors. In addition to directing the forthcoming film, Bialik also made her screenwriting debut. And while she stays strictly behind-the-camera here, the first-time filmmaker has a great cast, including Dustin Hoffman, Candice Bergen, and Bialik's former Big Bang Theory co-star Simon Helberg. This film is expected to come out later this year.
What are some other fascinating facts you know about Mayim Bialik? Let us know in the comment section below!
Your Daily Blend of Entertainment News
Will is an entertainment writer based in Pittsburgh, PA. His writing can also be found in The Playlist, Cut Print Film, We Got This Covered, The Young Folks, Slate and other outlets. He also co-hosts the weekly film/TV podcast Cinemaholics with Jon Negroni and he likes to think he's a professional Garfield enthusiast.