How DC's Stargirl Will Be More Like Theatrical Movies Than The Arrowverse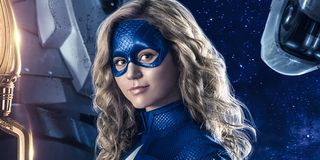 The world of television is about to be introduced to its next superhero. DC's Stargirl — not to be confused with the Disney+ movie of the same name — is slated to join The CW's line-up. However, the show won't be set in the shared Arrowverse, which includes The Flash and Supergirl. Created by DC Comics writer Geoff Johns, the showrunner recently explained how Stargirl will be more like theatrical movies than the Arrowverse.
Set in Blue Valley, Nebraska, Stargirl follows Brec Bassinger's Courtney Whitmore, a 15-year-old who joins the ranks of the Justice Society of America, an elite team of superheroes. Her relationship with her stepdad, Luke Wilson's Pat Dugan, is less than ideal, and Courtney struggles to adjust after moving to the small town. What makes the show different from other TV superheroes? In a recent interview with EW, Geoff Johns discussed how Stargirl employs the use of a pre-production process typically used to map out movie visuals. In his words:
Just the fact that Stargirl utilized some movie techniques definitely sets it apart from its televised superhero predecessors and gives it more of a theatrical feel. Geoff Johns goes on to say that he wanted Stargirl's staff to "have a personality and be alive" when she uses it to fight villains and that led to the hiring of Captain Marvel's stunt coordinator, Walter Garcia. Wanting to use practical effects for Pat Dugan's robot suit, the folks at WB hired Legacy Effects, the studio that created Iron Man's movie armor.
What's more, Stargirl's origin story is also much different than any of the Arrowverse shows. For starters, Courtney Whitmore is much younger than The Flash, Supergirl, and Green Arrow when she sets off on her superhero journey. Being a teenager means there's a lot more uncertainty in her life and Geoff Johns, for one, loves that Courtney is a teen looking to follow in the footsteps of previous heroes. Here's how he puts it:
Stargirl is also in the unique position of airing on both DC Universe and The CW. Although Geoff Johns admits that the episodes will have to be cut down to make room for The CW's commercial breaks, the series will air uninterrupted on the DC Universe streaming service. It's the best of both worlds.
Stargirl Season 1 premieres on Monday, May 18 on DC Universe and on Tuesday, May 19 at 8:00 p.m. ET on The CW. For more on what to watch in the coming months, be sure to check out our 2020 summer TV premiere schedule.
Your Daily Blend of Entertainment News