DC's Stargirl: 7 Big Questions We Have About The Series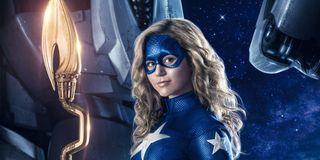 Between The CW's Arrowverse and DC Universe's slate of shows, DC TV is far from lacking when it comes to heroes on the small screen. This spring, Courtney Whitmore will begin her superhero journey in DC's Stargirl. Most probably know by now that Courtney's adventure will begin when she finds a cosmic staff that belonged to the late Starman. And with the help of stepfather Pat Dugan – Starman's former sidekick – she'll seek to rebuild the Justice Society of America with a new generation of heroes.
Stargirl's premiere is rapidly approaching and, so far, we have a solid idea of what the series is about. Yet there are still plenty of details that DC Comics fans are dying to find out. So let's dive in and examine the elements of the show that are still being shrouded in mystery.
What Role Will The Original Justice Society Play?
The trailers have made it abundantly clear that the JSA is going to play a major role in the series. Not only did the seasoned team of heroes serve as Earth's protectors, but they also inspire Courtney Whitmore and her allies to form a new iteration. In addition, Starman, Wildcat, Doctor Mid-Nite and Hourman have all been cast and have successors. Stargirl creator Geoff Johns has even teased the existence of the Flash (Jay Garrick) and Green Lantern (Alan Scott), but won't confirm if they'll actually appear. But how big of a role can they play if they're deceased at this point?
The obvious answer would be flashbacks, which would make sense, as each of the four aforementioned heroes are billed as recurring characters. Still, on top of this, will we also see other members? DC Comics fans are undoubtedly aware that the Justice Society included a wide range of heroes like Hawkman, Mr. Terrific, Sandman and Doctor Fate (who was name-dropped in a trailer). If the confirmed heroes were only billed as guest stars, this wouldn't be much of a question but, because they'll recur, it's possible they could be around much more than we think.
What Exactly Led To The Original Justice Society's Sacrifice?
The JSA's influence on the show is, of course, only overshadowed by their apparent absence in the present, which begs the question: what really happened to them? In the trailers, Pat Dugan explains that the team died saving the world and were killed by the Injustice Society. Still, the footage we've seen of the attack so far is somewhat unclear. It does appear to show the heroes getting picked off, yet the Injustice Society aren't actually shown as the attackers. The only thing we do see is what may be a stray icicle shard that impales Starman, implying that, at least, Icicle was involved.
And even if the group is responsible for the JSA's demise, how did they manage to get the upper hand and take out some of the world's greatest heroes? I don't think Johns and his team are telling us everything, here. The Injustice Society may indeed have been the ones who did it, but why not show them doing the deed? All in all, the Justice Society's final stand may not be as cut and dry as we've been led to believe.
How Big A Role Will Solomon Grundy Play?
Like the Justice Society, the Injustice Society also features a formidable assortment of characters like Brainwave, Tigress and Dragon King. One of its biggest members -- both figuratively and literally -- is Solomon Grundy, who fans are sure to be excited about. Over the years, the undead socialite has had bad blood with the JSA, and this paired with his star power (no pun intended) could give him a bigger role than his teammates.
Grundy had a particularly bitter relationship with Green Lantern, who foiled his crimes on multiple occasions. The two were also linked by the fact that Alan Scott's power ring was weakened by the swamp residue that permeated Grundy's body. Comic lore like this would allow Stargirl to flesh out the fan-favorite villain and give him more shine than he's ever had on the small screen. Plus, the show's weekly timeslot will ensure that this iteration of the character is, in fact, "born on a Monday."
Does Sportmaster Have A Daughter Named Artemis?
Another member of the Injustice Society that fans may recognize is Lawrence "Crusher" Crock – aka Sportmaster. Crock is a longtime foe of the JSA and appears set to take on Courtney's new team as well. He's also known for having a daughter by the name of Artemis and, depending on the era of comics, her story plays out in one of two ways. Veteran JSA readers know that she eventually follows in her father's criminal footsteps and takes on the mantle of Tigress herself. But Young Justice fans know her as the team's skilled and faithful archer, who does later become a heroic Tigress.
At this point, it's unclear if Artemis will make an appearance on the show but, if I'm being honest, she's so perfect for it. As a teen, she could easily be depicted as a peer of Courtney and her friends. The writers could utilize either or both her hero and villain statuses. Who's to say her father wouldn't have her infiltrate the new JSA in her hero persona only to betray them and later take on the mantle of Tigress? If Artemis does appear, it likely wouldn't be right away, but I think we can all agree that her history is too rich for her not to be used at all.
Will Courtney Whitmore's Father Appear As A Criminal?
Speaking of fathers and daughters, there's also the matter of Courtney's own paternal lineage. In the comics, Courtney's father is Sam Kurtis, and he's not exactly in the running for any Father of the Year awards. Kurtis and Barbara Dugan divorced when Courtney was young, and he would quickly drift out of her life. He also just happened to be a low-ranking member of the infamous Royal Flush Gang.
It would honestly be surprising if Kurtis isn't at least mentioned on Stargirl, but having him appear would greatly add to the drama within the series. Although the idea of a superhero with a wayward parent isn't groundbreaking, it could be compelling if executed correctly. And let's not forget that Kurtis could open the door to a new small-screen version of the Royal Flush Gang. Let's hope that dear old dad does decide to pay a visit to Blue Valley, Nebraska.
Will Stargirl Feature Alternate Versions Of Established Live-Action Heroes?
The JSA's history includes a number of DC Comics heroes, some of which have been featured on other TV shows within the past few years. Years ago, Smallville introduced a version of the team that featured the likes of Hawkman, Doctor Fate and Stargirl. Legends of Tomorrow also brought the team to the Arrowverse and used heroes like Hourman, Doctor Mid-Nite and, again, Stargirl. So with the significant overlap in the use of characters, is it possible that this new series will take a page out of their book and create new versions of heroes?
The idea definitely isn't out of the question. It's a known fact that Justice Society veteran Wildcat was a mentor to Black Canary, and there have already been numerous versions of that character in the Arrowverse alone. She could find her way in as a mentor-type figure for the new JSA. Jay Garrick has also been an Arrowverse fixture through The Flash and while he's far from a sure thing for Stargirl, he could always pop up in some way. Geoff Johns and his team may not be eager to quickly rehash characters for their continuity. However, if we've learned anything over the past few years, it's that anything is possible in this vast DC multiverse.
Will Stargirl Ever Crossover With The Arrowverse?
On that note, it's time to address what may be the biggest question surrounding Stargirl: will the show ever link up with the Arrowverse? During its closing moments, the Crisis on Infinite Earths crossover event made it a point to show that Courtney Whitmore lives on Earth-2 and not the newly created Earth-Prime. Stargirl is in a unique spot, however, because while it is technically a DC Universe production, it will also air weekly on The CW and has been marketed like the channel's other programs. As a result, the series is, at the very least, Arrowverse-adjacent.
DC Universe's other shows (Titans, Doom Patrol, etc.) are self-contained and would likely have minimal ties (if any) to Courtney Whitmore's world. But given Stargirl's position and the crossover-heavy nature of the Arrowverse, having her and the new JSA meet the heroes of Earth-Prime isn't out of the question. It would all just be a matter of timing and coming up with a story in which it can logically occur. It honestly may never happen but, still, there is a strong possibility that Courtney could eventually rub shoulders with Barry Allen or Kara Danvers.
Stargirl is set to make its DC Universe debut on Monday, May 18, and then premiere on The CW on Tuesday, May 19 at 8 p.m. ET. But what questions do you still have about Stargirl? Be sure to let us know in the comment section and keep it here at CinemaBlend for more news from the world of TV and movies!
Covering superheroes, sci-fi, comedy, and almost anything else in film and TV. I eat more pizza than the Teenage Mutant Ninja Turtles.
Your Daily Blend of Entertainment News
Thank you for signing up to CinemaBlend. You will receive a verification email shortly.
There was a problem. Please refresh the page and try again.