One Star Wars Rebels Star Wants To Reprise His Role For A Live-Action Project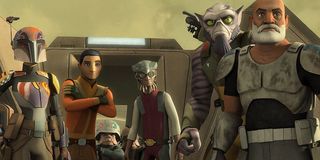 The Star Wars films tend to do an effective job of adding characters to the ever-expanding franchise, but one could argue that the animated projects do it just as well (if not better). Star Wars Rebels, for instance, effectively introduced several characters who have now become fan-favorites. With this, many are hoping that some of them will make the jump to live-action at sometime in the future. While it's uncertain if such a thing will happen it, it looks like one Rebels actor is game to return should the opportunity present itself.
Scoob! star Jason Isaacs was recently asked to choose an animated role that he would love reprise for the live-action medium. After mulling over a few characters, he declared the Grand Inquisitor to be the role he would love to play. He also admitted that this is mostly due to the character's unique lightsaber:
I don't know about all of you, but this writer would absolutely be down to see Jason Isaacs wield a lightsaber. The veteran actor, who recently spoke with Collider about the role, is more than capable of playing sinister characters and would likely have no problem making the transition. Admittedly, the Inquisitor does have a very distinct look, yet some makeup and digital effects could help smooth it out.
The Grand Inquisitor was the primary antagonist of Star Wars Rebels Season 1. An operative of the Galactic Empire, the Inquistor was one of the many agents sent out to eliminate any Jedi who survived the Great Jedi Purge. In this position, he reported directly to Sith Lord Darth Vader. In the season finale, he's ultimately defeated by Jedi Kanan Jarrus and committed suicide by allowing himself to fall into an exploding reactor core.
Despite his death, the character did manage to achieve some level of redemption in Season 2. While exploring a Jedi temple on Lothal, Kanan encounters the Inquisitor's spirit and learns that he was formerly part of the Jedi Temple Guard and a fallen Jedi Knight. And after testing Kanan, he grants him the title of Jedi Knight.
Nothing appears to be planned for the Star Wars Rebels characters, as producer Dave Filoni has shot down the idea of another season. However, he does believe that there is still potential for some of those characters to come back into the fold down the line. And if Ahsoka Tano's reported inclusion in The Mandalorian Season 2 is any indication, then hope is not lost for the cast of Rebels.
There's a firm chance we won't see Jason Issacs bring the Grand Inquisitor to life, but it's nice to know he's open to the possibility. You can check out Isaacs' performance by streaming Star Wars Rebels on Disney+.
Covering superheroes, sci-fi, comedy, and almost anything else in film and TV. I eat more pizza than the Teenage Mutant Ninja Turtles.
Your Daily Blend of Entertainment News
Thank you for signing up to CinemaBlend. You will receive a verification email shortly.
There was a problem. Please refresh the page and try again.