4 Things The Community Movie Needs To Do, Or It Shouldn't Be Made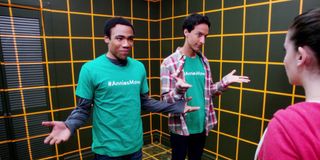 Within the world of Community, the idea of #SixSeasonsAndAMovie started as a joke, but it developed into a mission statement. It was originally used in Season 2's "Paradigms of Human Memory" to make fun of the quickly cancelled drama series The Cape (remember The Cape?), but it was quickly adopted by the show's passionate fanbase as the dream fate for the always-on-the-bubble sitcom. Eventually part of that vision was accomplished, as six seasons were produced between 2009 and 2015, airing on NBC and the shot-lived Yahoo! Screen, but fans are still waiting for Dan Harmon's creation to return with a Community movie.
With a new audience discovering the series now that it is streaming on both Netflix and Hulu, there has been a resurgence in chatter about the show, and hopes are starting to be raised about a feature – but it would be smart for us fans to temper expectations. Not only has optimism been dashed many times before, but in thinking about what the Community movie could be, there are a few conditions that the project should seriously consider and satisfy before moving forward:
Bring Back The Entire Community Cast (Well, Except Chevy Chase)
One of the sadder elements of Community's legacy is the fact that by the time the sixth season happened, the cast looked a lot different compared to Season 1. While Joel McHale, Allison Brie, Gillian Jacobs, Danny Pudi, and Jim Rash continued to do amazing work in the last two years, the absence of Chevy Chase (who left after Season 4), Donald Glover (who left in the middle of Season 5), and Yvette Nicole Brown (who left after Season 5) was definitely felt. The Study Group/Save Greendale Committee had a phenomenal camaraderie and energy as a complete unit, and not having that in the final run had an impact.
This in mind, the Community movie shouldn't happen unless it can bring back the whole cast – or at least the whole cast as it existed in the first few episodes of Season 5 (given what happened behind the scenes of the show with Chevy Chase, nobody is expecting his return). To be blunt, if Donald Glover's insane schedule means that he can't be a part of the feature, and therefore it wouldn't include a Troy and Abed reunion, what's the point? The recent table read featuring the entire cast perfectly demonstrated the magic that comes from everyone being together, and a finale film would be incomplete without it.
Be A Real Movie Narratively, And Not Just A Series Of Community Episodes Strung Together
By nature of the industry, sitcom writing is its own beast – particularly when it comes to network show rolling out 20-25 episodes per year. Episodes are approximately 22 minutes including credits, and advertisement rollouts mid-show dictate a particular structure in the storytelling. While occasionally pointing directly at it, Community found a great rhythm in this mode, ultimately producing over 100 excellently paced narratives… but that's something that should really be thrown out the window when it comes to sculpting a potential movie.
It's not necessarily an easy feat, as the change up would have the project deviate from the formula of every other narrative that has been put together featuring these characters, but it feels necessary in the grand scheme. Whatever plot is put into action, it should be significant to warrant a full 90 minutes-plus of exploration, rather than give way to a new idea after half an hour. Given their experience and success in both the big and small screen mediums, Joe and Anthony Russo could be tremendous assets in guiding the project to find that more expansive story.
Scrape Together A Halfway Decent Budget
Because of its consistent low ratings, Community was never afforded any kind of big budget – instead forced to make due season after season with limited resources. That being said, some of the show's finest moments arrived because Dan Harmon & Co. said "fuck it" and opted to make episodes that lived beyond their means, so to speak. The side effect of this was that bottle stories became a regular thing, but there isn't a fan in the world who would complain in retrospect given how amazing those contained narratives are.
This creates a strange question when it comes to the Community movie. If the project does start to get up on its feet, the only option it may be faced with is working cheap – but if that's the case, it might not be a worthy endeavor. The film wouldn't need to be a blockbuster adventure, but it would be nice if the feature had the money required to get creative and think bigger. In support of this idea, it is noteworthy that there is an impressive number of popular pop culture figures on the show who have gone on to do some big and exciting things, and their involvement could possibly inspire a bigger studio investment.
Generate An Idea That Gets Dan Harmon Legitimately Excited
This one should probably go without saying, but we're just going to say it anyway. If a Community movie is going to happen, it shouldn't be because Dan Harmon, the writers, the producers, and the stars feel like it's something that fans were promised. It would be cute and super meta to see the beloved property achieve the goal of #SixSeasonsAndAMovie, but if there isn't a story to be told, or at least one that inspires real excitement among the cast and crew, there shouldn't be an obligation to go through with it anyway.
Listening to Dan Harmon talk about Community, there is no questioning that he has a genuine love for the content he made and the people he made it with – but if he's satisfied with what exists, he shouldn't feel pressure to force something. At this point, enough time has passed where an attitude of "If it happens, it happens" has taken over, and that should only change if the show's creator is sparked to an idea that he is passionate about.
With five years having passed since the end of Community, where do you stand when it comes to the making of a movie? Do you think that it remains a viable prospect, or do you think it's time for fans to move on and enjoy all of the amazing content that the veterans of the show have produced since "graduation?" Hit the comments section with your thoughts, feelings, and opinions on the matter, and stay tuned here on CinemaBlend for future updates about the project's potential development.
Your Daily Blend of Entertainment News
Assistant Managing Editor
NJ native who calls LA home and lives in a Dreamatorium. A decade-plus CinemaBlend veteran who is endlessly enthusiastic about the career he's dreamt of since seventh grade.
Your Daily Blend of Entertainment News
Thank you for signing up to CinemaBlend. You will receive a verification email shortly.
There was a problem. Please refresh the page and try again.