9 Great Community Stories We Learned From The Cast's Reunion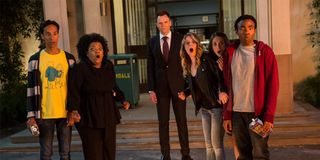 It is currently a great time to be a Community fan. Not only has the show recently arrived on Netflix, allowing even more people to discover its brilliance, but the cast recently reunited with showrunner Dan Harmon for a special table read that will be arriving online later this month. And as if all that weren't enough, the making of said table read was also followed by the cast staying together for a special episode of the Ken Jeong and Joel McHale-hosted podcast The Darkest Timeline, and in it there are many great never-before-shared stories about the making of the show and the relationships within the group.
We highly recommend checking out the whole episode, as a big part of its greatness is just watching Dan Harmon and the cast banter, but we also wanted to take the time to highlight it by recognizing some of our favorite moments:
Danny Pudi Distinctly Remembers When He Knew Donald Glover Was Eventually Going To Leave The Show
In the years since his time on Community, Donald Glover has become one of the biggest stars in the world, not only earning awards for his FX series Atlanta, but also his music career. His albums have won him great acclaim and five Grammys – and it was actually because of the star's Childish Gambino persona that Danny Pudi knew that it was only a matter of time before Glover left the show to pursue other endeavors.
The recent table read for the cast unlocked a lot of memories in the mind of the actor who starred as Abed on Community, and including a moment he shared with Donald Glover off-set. The duo was hanging out at the Blue Sky Tank on the Paramount Pictures lot (which is a parking lot when not in use), and Glover gave Pudi the chance to listen to his song "Heartbeat." His immediate reaction?
Given that "Heartbeat" was released in late 2011, it's likely that Danny Pudi first heard the song while they were filming Season 3 of Community – and he would prove to be right a few years later, and Donald Glover amicably left the show in the middle of Season 5.
Donald Glover Had An Extremely Weird Character He Played Behind The Scenes
As discussed throughout the reunion, a lot of the magic in Community was found because of the freedom that the cast was given to improvise – and evidently the comedic improvisation and role playing didn't end when the cameras stopped rolling. As revealed in rather blunt terms during the recording, Donald Glover had a character he slipped into during breaks who was a homeless man obsessed with trying to perform fellatio on Joel McHale.
Rather than be anything physical, the game was that Glover's character would try and trick McHale into putting his penis into his mouth. The two stars provided some examples for context:
Ken Jeong Got Blackout Drunk And Started Ranting At Donald Glover At A Cast Reunion Dinner
The entire Community reunion podcast special is a testament to how much all of these people legitimately enjoy each other's company, but that sentiment apparently went a touch overboard last fall when the cast and Dan Harmon got together for a dinner. For an unexplained reason, Ken Jeong had been drinking a few beers throughout the day before the event, and so by the time he finished drinking his way through the evening he was blackout drunk.
As described by Jim Rash, who says he has a lot of video from the night, Ken Jeong wound up spending the night screaming in the faces of Danny Pudi and Donald Glover as though they were a mile apart instead of just a few feet, and his rantings to Glover specifically included lauding him for his work on something called Alien Bralien – a project that doesn't exist.
Ken Jeong Would Not Stop Improvising His Breakdance Exit In One Episode
Continuing the discussion from earlier, improvisation was definitely a major asset on the set of Community given the impressive talent of the cast, but one thing revealed during the reunion was that it was also occasionally a way that the schedule got strained. A first act scene in the second season episode "Accounting For Lawyers" is a prime example, as Ken Jeong spent take after take expanding on a bit even when he was told to simplify what he was doing.
The end of a scene where Chang talks to the study group about the school's upcoming Pop 'n' Lock-a-thon, Ken Jeong was told to perform breakdance moves while heading out the door, and they kept being more elaborate take after take. Given that the subject came up when Alison Brie talked about it as a scene that was hard to get through because of breaking, Ken Jeong surely felt egged on by his co-stars, and as a result ignored Dan Harmon's pleas for something faster. Said the showrunner,
Gillian Jacobs Caught Ken Jeong Mid-Rant On The Set Of Dr. Ken, And Started Cracking Up
Following the discussion of his unstoppable improv, Ken Jeong delivered a blanket apology to everyone, and explained that he has a better perspective on it all now because of his time making Dr. Ken – which he co-created, produced, and starred in following the end of Community. Having been in the position that Dan Harmon was in, he now has a better understanding of the stress involved in making a network series… and that revelation led Gillian Jacobs to share a funny anecdote.
Weird as it sounds, Ken Jeong added to Gillian Jacobs story by saying that he was ultimately grateful for her presence:
Community's Budget Was So Small That The Art Department Decorated The Wrap Party
Community was never a big ratings hit, and thus never a big money-earner for the studio, and a natural extension of that was the series having a thin budget to work with year after year. This wasn't just in the later seasons either, as the reunion podcast episode reveals serious penny pinching was happening from the beginning. For example, the art department wasn't able to fully enjoy the Season 1 wrap party because the event was held on set, and they were given the task of both decorating it, and deconstructing it.
Said Dan Harmon,
Rough.
Community's Line Producer Straight-Up Lied To Dan Harmon About The Show's Budget
The budget of Community was a popular topic of conversation during the reunion, and through the back and forth a kind of paradox was discovered. While the cast and crew was repeatedly told how little money the show had, there were also some major expenditures – with two examples being Professor Hickey's desk machine and Shirley Island in the Season 5 episode "Geothermal Escapism." So how did that happen? The answer was provided by Ken Jeong later in the episode, with the actor/filmmaker revealing a secret that producer Patrick Kienlen shared when the two worked together on Dr. Ken:
Some say that limitations breed creativity, so I guess we should thank him?
There Was A Possum Living In Community's Prop Room
One of the weird details featured in "Documentary Filmmaking: Redux" is a bit that finds Dean Pelton in possession of a strange new pet: a possum that lives in his office. It's strange and funny, perfectly matching the tone of Community – but what makes it even better is the fact that it seems like it was inspired by a funny behind-the-scenes incident. Specifically, at one point during the show's production there was a possum that took up residence in the prop room.
It was a memory that Gillian Jacobs brought into the conversation about Community's limited budget, and Donald Glover added that it provided him a funny revelation:
During A Scene In "Introduction To Statistics" Gillian Jacobs And Yvette Nicole Brown Were Basically Blind
It would be a struggle to find any actor that really loves to do night shoots, as there's simply not a lot that's enjoy able about being up at 3am waiting around while you get to perform the same scene over and over again from multiple angles. In the context of Community, making the Season 1 Halloween episode "Introduction To Statistics" was rough because it required the stars to be on call for some late nights – but it was a particularly difficult experience for Gillian Jacobs and Yvette Nicole-Brown, because there was one scene where they were both basically blind.
Jacobs described the night, saying,
It was only then that Yvette Nicole-Brown revealed to Gillian Jacobs for the first time that she too was dealing with the same contact lenses issue that night, creating a literal circumstance of the blind leading the blind.
These are just some of the highlights from the Darkest Timeline episode, so if you like what you've read here, go and give it a listen yourself.
Your Daily Blend of Entertainment News
Assistant Managing Editor
NJ native who calls LA home and lives in a Dreamatorium. A decade-plus CinemaBlend veteran who is endlessly enthusiastic about the career he's dreamt of since seventh grade.
Your Daily Blend of Entertainment News
Thank you for signing up to CinemaBlend. You will receive a verification email shortly.
There was a problem. Please refresh the page and try again.