13 Reasons Why: Major Questions The Last Season Needs To Answer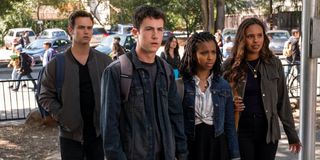 (Image credit: (Netflix))
In the bittersweet spirit of high school, the teens of 13 Reasons Why will say goodbye to Liberty High School after four years. There are just ten episodes left of Netflix's controversial drama once the final season drops this Friday, June 5. It's a shortened last season compared to the traditional 13-parts per season, but we're intrigued nonetheless to see how Clay, Jessica, Justin, Alex and the rest of the series' characters will be left. Heading into 13 Reasons Why Season 4 there's a ton of major questions we hope the show will wrap up for fans. Let's talk them out:
How Does Bryce Walker's Murder Cover Up Shake Out?
The most central element to the third season of 13 Reasons Why was the murder of Bryce Walker. It has been revealed that Alex Standall lashed out on the high school jock and serial rapist, but there's an extensive cover up going on around Crestmont even with Alex's sheriff father wrapped in it as well. If there was a main "villain" throughout the run of 13 Reasons Why, Bryce Walker has been public enemy No. 1. Can Alex Standall actually get away with murder? For the time being, Monty has been framed and the case is theoretically closed. The trailer for Season 4 heavily implies this will be challenged as the words "Monty was framed" become tagged across Liberty High's halls.
Will Justin Foley Get To The Other Side Of His Drug Addiction?
The story arc of Justin Foley has been well fleshed out throughout 13 Reasons Why's run and its use of the character to highlight heroin addiction is an important topic for the series. Justin has been trying to get clean for the past two seasons, but he has faced his share of relapses and brushes with death. One key moment in Season 3 had Justin admitting his struggle to stay off the drug and he admitted to needing more help. But as 13 Reasons Why aims to close out its story, we can't help but wonder about Justin's fate. The character has earned a good payoff, give him a positive ending please.
Does Tony Reunite With His Deported Family?
Tony Padilla has remained a fan-favorite in 13 Reasons Why, but last season really hit his character hard when he was torn apart from his family when Bryce Walker's father reported the undocumented family to ICE. Here's one of many instances in the Netflix drama where the show has created a platform for itself to comment on a political topic and educate audiences on a prevailing issue. We're curious to see how the show will address this plot line moving forward – last we saw Tony, he was sending money to his family via a drug cartel member, so things could get more complicated before they get better. Plus, this is 13 Reasons Why.
How Does Ani Fit Into The Conclusion Of 13 Reasons Why?
The heavy focus on the "new girl" to school Ani Achola in 13 Reasons Why Season 3 was an unpopular choice for the Netflix series to make. It pulled the shift away from the main characters audiences came back around for and her character by definition is just straight-up frustrating. It felt like she existed mainly to suddenly offer up sympathy to serial rapist Bryce Walker amidst her personal investigation of his murder. Going into Season 4, Ani is a weak point to the series that is more plot-devicey than three-dimensional character. Does the show have a substantial direction to take Ani as the series comes to a close? We'll have to see.
Will 13 Reasons Why Ever Address Season 2's Problematic School Shooting Scene?
A pivotal moment in 13 Reasons Why came during the 2018 Season 2 finale when Tyler made plans to use his firearms at the Spring Fling. It was built up all season long as the Liberty High student continued to be bullied and witness injustice at the school. Thanks to a text message warning from Tyler, Clay confronted him in front of the dance and stopped him from bringing about another tragedy on campus. The scene turned out to be another particularly controversial moment in the show because the high schoolers do not call the police or send for help. Everything relied on Clay talking Tyler down with a gun in hand. The show should bring closure to this storyline, but it might just breeze past it.
Is Monty Secretly Still Alive In The Final Season?
As unveiled in Season 3, Monty was having sex with Winston on the night of Bryce Walker's murder – therefore he has an alibi, despite being framed. Monty is later arrested for the sexual assault of Tyler and is said to have been killed in his jail cell. The information was revealed by Ani, who heard it from someone else and it was not detailed how and why he was killed. Since Monty's death on the show, many fans have theorized that the character is actually alive. And it is rather convenient that he "dies" and becomes the scapegoat for Alex's crime.
Will Katherine Langford's Hannah Baker Get Some Final Screen Time?
The last season of 13 Reasons Why completely shifted the focus away from Hannah Baker as Katherine Langford moved away from the role to pursue a place in Rian Johnson's Knives Out, a cut Avengers: Endgame scene and Netflix's upcoming series Cursed. But everything started with Hannah Baker: she was the heart of the series and main character in Jay Asher's 13 Reasons Why book. Our last question is whether 13 Reasons Why will remind fans of the key character with another scene from Langford? She has to show up for a cameo at least, right?
13 Reasons Why is coming to Netflix on Friday, June 5. Are you excited to see how the series will close out the stories of the students of Liberty High? Vote in our poll below and stay tuned here on CinemaBlend for more on your favorite TV shows.
This poll is no longer available.
YA genre tribute. Horror May Queen. Word webslinger. All her writing should be read in Sarah Connor's Terminator 2 voice over.
Your Daily Blend of Entertainment News
Thank you for signing up to CinemaBlend. You will receive a verification email shortly.
There was a problem. Please refresh the page and try again.