All Of Evan Peters' American Horror Story Characters, Ranked By Heroic To Villainous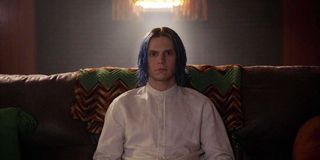 American Horror Story has been very cryptic (per usual) about the upcoming season. It may be a month or two before we learn about the new theme for the 10th season, but what we do know is that Sarah Paulson makes her much anticipated return to the world of American Horror Story. Along with Paulson, series favorites Lily Rabe, Billie Lourd, Kathy Bates, and Finn Wittrock are included among the returning cast. American Horror Story's newest season will also feature the introduction of Macaulay Culkin to this world. Also another major fan favorite will be returning: Evan Peters.
Like Sarah Paulson, Peters has appeared in nearly every season of the series. It'll be entertaining to see what new character Evan Peters brings to life in the upcoming season. Throughout the years, he has played a variety of characters, really embodying these heroes and villains. Let's take a look at some of his characters and rank them, starting with the top heroes and ending with the top villains.
For this list, I specifically focused on characters that Evan Peters played for several episodes, not just ones that he played for an episode (so characters like Charles Manson and Jesus won't be on this list).
9. Kit Walker - American Horror Story: Asylum
Kit was one of the very few characters on the series with good intentions and a pure heart. He just wanted to be a good husband, clear his name, and raise his children. However, forces beyond his control put him in a terrible situation. He made the best of it by trying to free himself and others.
Kit is one of Peters' characters that is more of a victim to the horrors that exist. He stays true to his good nature throughout the series, despite the devious and extraterrestrial forces working against him. Even after everything he undergoes, he still shows kindness and generosity towards others, and is even a good father: a rarity in the American Horror Story world.
8. Jimmy Darling - American Horror Story: Freak Show
Like most of the Freaks, Jimmy is a victim to society as well as his family. Of all the circus performers, he is one that can almost pass among the normal people. However, when people see his hands, he's still treated with the same disdain and fear as the others. Jimmy has good intentions and a strong desire to be normal, but he also protects and leads the Freaks.
By the end of Freak Show, Jimmy Darling played a major part in taking Dandy Mott (Finn Wittrock) down. Therefore allowing Jimmy to have his truly heroic moment.
7. Rory Monahan - American Horror Story: Roanoke
Rory was one of the actors participating in the Roanoke series. He was married to fellow actor Audrey (Sarah Paulson). He's a laid back, young character who doesn't take life too seriously, which is good, because he doesn't live very long. Rory wasn't particularly heroic, because he doesn't have enough screen time to really make some waves. He was just a mild character, and compared to Evan Peters' other characters, that's good enough to rank low on the villain meter and high on the hero chain.
6. Mr. Gallant - American Horror Story: Apocalypse
Mr. Gallant is an eccentric hairstylist who has an overbearing grandmother Evie (Joan Collins). He's good at his job, but quite self-centered and selfish. He ends up in Outpost 3, which doesn't end well for him. Mr. Gallant is used to a lavish lifestyle, so he finds it hard to adjust to the new restrictions of Outpost 3. Mr. Gallant isn't particularly evil, but he does have a hand in his grandmother's demise, so that's pretty bad. Mr. Gallant is another character that doesn't last long enough to be extremely good or extremely bad.
5. Kyle Spencer - American Horror Story: Coven
Kyle begins Coven, as a sweet frat boy, who actually helps charities and supports his single mom. Kyle, unfortunately, gets murdered pretty early in this season, but due to his resurrection, he becomes a Frankenstein type creature.
Kyle loses his sweet demeanor and becomes more primitive as this new creation. He has a lot of rage and violence. He ends up killing many people because of his new strength and violence streak, including his abusive mother (Mare Winningham). Kyle isn't evil by choice, but instead kind of a monster as a result of coming back from the dead. Most of his actions are in response to fear.
4. Jeff Pfister - American Horror Story: Apocalypse
Jeff sold his soul to the Devil for wealth, so pretty high up there on the evil scale. He is part of satanic groups and helps Michael Langdon bring the end of the world. He also makes really bad haircut decisions, so that has to be as a result of his evil soul. Jeff, along with his best buddy Mutt (Billy Eichner), live and breathe for this upcoming apocalypse. If your main goal in life is to help bring the end of the world, then I think it's safe to say you're a terrible person.
3. Tate Langdon - American Horror Story: Murder House
It's really hard to pick which of the following three of Evan Peters' American Horror Story characters are the most evil. The only reason Tate doesn't rank one or two is because the series tried to sort-of redeem him with his brief appearance in Apocalypse. However, Tate was pretty much the worst on Murder House. He massacred his entire school, he wears a latex suit, sexually assaults people, and helps bring the antichrist to earth. But the devil made him do it, so I guess all is forgiven... right?
2. Kai Anderson - American Horror Story: Cult
Kai led an entire cult of people that murdered without a second thought or care. He did it for his own sense of importance and narcissism. Kai is full of toxic masculinity, and knows how to manipulate and get what he wants. He pretends to care about people in order to get their help in his quest for power. Like many villains, Kai has a sense of grandiose and believes he is superior to most. Also like many evil doers, this warped sense of self helps lead to his eventual demise.
1. James March - American Horror Story: Hotel
It's bad enough that March was a horrifying serial killer before his death, but it's worse that he helped tutor many of the most infamous serial killers in the world. Then he allowed his demonic hotel to claim more victims. March is a man who kills for pleasure, and completely embraces his distorted, addictive deadly desires. Not only is this one of Evan Peters most evil characters, but also one of his most fully formed and best ones. He's pure evil, but that's part of his charm.
It might be awhile before the tenth season of American Horror Story airs, but we can't wait to see what evil or good character Evan Peters creates next. The first nine seasons of American Horror Story are available to stream on Hulu.
This poll is no longer available.
Your Daily Blend of Entertainment News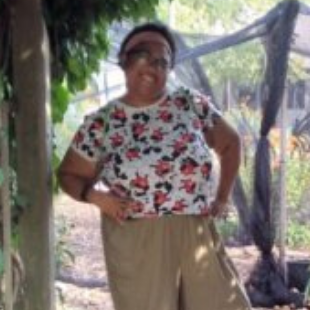 Spent most of my life in various parts of Illinois, including attending college in Evanston. I have been a life long lover of pop culture, especially television, turned that passion into writing about all things entertainment related. When I'm not writing about pop culture, I can be found channeling Gordon Ramsay by kicking people out the kitchen.