Ryan Murphy Signed The Big Bang Theory's Jim Parsons To Netflix's Hollywood So He Could Leave Sheldon Behind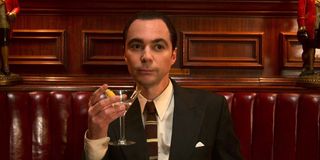 Jim Parsons played Sheldon Cooper on CBS' The Big Bang Theory for 12 seasons. In May, it was revealed that Parsons had spoken to series creator Chuck Lorre about leaving the long-running series behind. At the time, it sounded like Parsons was simply looking to move on. However, mega producer Ryan Murphy recently revealed that he signed Parsons on to appear in Netflix's Hollywood specifically so he could leave Sheldon behind.
As the morally bankrupt talent agent Henry Willson, Jim Parsons shed the persona of Sheldon Cooper for a darker, sleazier character. In fact, Hollywood itself was very much the opposite of The Big Bang Theory, a comedy that followed four geeky scientists. It was a different role than fans were used to seeing Parsons play. But, Ryan Murphy thought it was the perfect way for the actor to say goodbye to Sheldon for good and set him on a new path. Here's what he told USA Today (opens in new tab):
I'm no expert, but I think Sheldon may have gasped after learning of Henry's salacious actions and rampant abuse of his clients. If anyone thought to typecast Jim Parsons for future roles, it seems Hollywood proved that he could slip into any role and knock it out of the park. What's more, Jim Parsons agreed with Ryan Murphy's assessment about how "liberating" it was to play Hollywood's Henry Willson. In his words:
Perhaps playing Henry Willson will open the doors for Jim Parsons to play more dramatic roles in the future. Parsons went on to say that, while he doesn't really miss filming the show, he does feel the "hollow part" of not being able to see his former Big Bang co-stars anymore. Speaking of former co-stars, Parsons will serve as executive producer on Fox's upcoming series Call Me Kat, which will star The Big Bang Theory's Mayim Bialik.
Fans can currently binge-watch both of Jim Parsons' shows. The Big Bang Theory is now streaming on HBO Max, while Hollywood is available on Netflix. For more on what to watch in the coming months, be sure to check out our 2020 summer TV premiere guide.
Your Daily Blend of Entertainment News
Thank you for signing up to CinemaBlend. You will receive a verification email shortly.
There was a problem. Please refresh the page and try again.