Mayim Bialik's New TV Show Has Landed Another Excellent Co-Star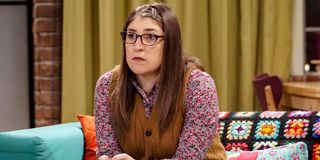 It's been nearly a year since The Big Bang Theory ended after a 12-season run. The actors started landing new projects, as Kaley Cuoco went on to voice Harley Quinn for DC Universe, while Johnny Galecki joined the cast of the eSports series The Squad. Meanwhile, Mayim Bialik and Jim Parsons teamed up again for Fox's upcoming series, Call Me Kat, which will star Bialik in the titular role. Bialik's new TV show has been steadily adding to its core cast of characters, most recently landing another excellent co-star.
The cast list for Call Me Kat keeps getting better and better. The series follows Kat, a 39-year-old woman struggling through life who goes against the norms of society and her parents' expectations and opens up a cat café in Louisville, Kentucky. Per TVLine, Leslie Jordan has been cast to play Phil, an employee at Kat's café. He's responsible for making all of the pastries in the shop and Kat is helping Phil get through a breakup with his longtime partner.
Leslie Jordan is joining an already fantastic cast, including The Proud Family's Kyla Pratt as Randi, Mike and Molly's Swoosie Kurtz as Kat's mom Sheila, and American Horror Story alum Cheyenne Jackson as Kat's high school crush Max.
Leslie Jordan is no stranger to television. His acting credits range from drama, horror and comedy. He appeared in a variety of series, including American Horror Story, The Cool Kids, Con Man, Ally McBeal, and Desperate Housewives, among several others. During Will and Grace's original NBC run, Jordan played Beverley Leslie, a socialite and friend of Megan Mullaly's Karen Walker, though the two often exchanged insults. Jordan won an Emmy Award for playing Beverley, a role he later reprised in a few episodes of the Will and Grace revival.
When Call Me Kat was officially announced back in September, the series was initially titled Carla, but the name was changed in February, with the show being given a straight-to-series order in March by Fox. The series is a remake of the BBC comedy Miranda, which starred creator Miranda Hart in the title role. Hart is set to serve as executive producer alongside Mayim Bialik and her The Big Bang Theory co-star Jim Parsons. While there's no word on whether Parsons will ever make a guest appearance on the comedy series, it's hard to imagine that the writers won't find a way to work him into the show at some point. We can only hope!
With the production stalling on many shows, there's no word on when Call Me Kat will begin filming, but stay tuned to CinemaBlend for updates. In the meantime, check in on the status of your favorite shows with our updated TV list.
Your Daily Blend of Entertainment News