Phil Robertson's Newfound Daughter Reveals How She Learned She Was Part Of The Duck Dynasty Clan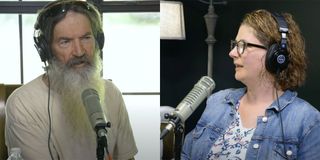 It's been a few days since we learned the Duck Dynasty clan had welcomed another member into the family. We aren't talking about a newborn, however; instead the family introduced us to Phyllis, Phil Robertson's child from an affair he embarked upon more than 40 years ago. Now, Phyllis is telling her story and explaining how she found out about her origins and her newfound roots.
Speaking on an episode of BlazeTV's Unashamed, Phyllis, now 45 years of age, explained that she really only found out her father was not her father recently and it all happened because of a DNA kit. Basically, her son took a test and then the background of the test did not match what she had been told about her family's genealogy, which led her on a journey to finding out she was a Robertson.
Phyllis went on to reveal that growing up she had a brother and a sister and they'd been privy to the occasional comment that Phyllis may not fully be their sibling. However, her parents had never come out and directly told her that the man she perceived as her father was not her biological parent.
When the DNA test came out she "wasn't shocked," but what her son's DNA test did was lead her down a path to uncovering the truth: Her real father was actually Phil Robertson. So, how did she do it? First, she and her sister and brother all took DNA tests to see if they matched. Furthermore, Phyllis revealed:
A lot of times when family members come out of the wood work when a famous person or persons is involved, things can turn sour quickly. Regardless, the Duck Dynasty/ Robertson clan have all seemed to be making an effort to welcome Phyllis into the family. On her side of things, the newcomer says she really wasn't aware of what Duck Dynasty was before meeting the family.
She mentioned having been doing mission work during five of the years Duck Dynasty was a huge presence on cable TV and said she really wasn't aware of the A&E series or who starred in it, though she had heard the name before. So, I suppose the newfound fame not a particularly important component to this story. Meanwhile, she seems to be adjusting to life as a personality comfortably, as she did a good job explaining her side of the tell on Unashamed.
Amazing Race & Top Chef superfan with a pinch of Disney fairy dust thrown in. If you've created a rom-com I've probably watched it.
Your Daily Blend of Entertainment News
Thank you for signing up to CinemaBlend. You will receive a verification email shortly.
There was a problem. Please refresh the page and try again.