10 Game Shows To Watch Or Stream If You Love Jeopardy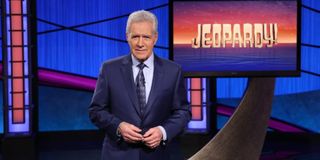 When it comes to game shows, only a few have the prestigious legacy of NBC's Jeopardy. Started back in 1964, it's likely more well-known thanks to its revival, which premiered in 1984 with Alex Trebek as the host. The brainy series, which fields a series of historical, literary, and pop culture references to its contestants and requires them to answer in the form of a question, is both smart and accessible, intellectual and broadly-appealing. It's hard to find too many games shows with that crossover appeal. But Jeopardy has done it, and it gained a massive audience thanks to that celebrated mixture.
When it comes to other shows in the same vein as Jeopardy, it can be hard to find many that compete. But if you're looking for a game show with similar concepts that are currently available to watch on TV or to stream from the comfort of your home, we have some recommendations. Or should we say, "What are some shows you can stream if you love Jeopardy?" Here are some game shows you can watch and/or stream if you love Jeopardy.
Jeopardy: The Greatest Of All-Time (Hulu)
If you're a Jeopardy super-fan, then you'll definitely want to check out Jeopardy: The Greatest Of All-Time. In this spin-off game show, which is also hosted by Alex Trebek, three of the long-winning Jeopardy contestants — Ken Jennings, James Holzhauer, and Brad Rutter — compete against one another with a top prize of a million dollars, as well as the claim that they're the GOAT (Great of All-Time) of Jeopardy. The show ran for four episodes back in January of this year, which means that it's a pretty quick binge if you want to check it out. All four episodes, which aired on primetime on ABC, can be found on Hulu. Check it out to find out for yourself who is truly the greatest Jeopardy player of all-time — though there's a chance you already know the answer to that one.
Stream It On Hulu.
Who Wants To Be A Millionaire (Hulu)
There's a good chance you know about Who Wants To Be A Millionaire — especially if you are a game show lover. The popular British import has been a mainstay on ABC, even though the show has seen several hosts, most notably including Regis Philbin, Meredith Vieira, and Terry Crews, and the quiz show features contestants as they attempt to win a million dollars (naturally) by answering a series of multiple-choice questions with increasing difficulty as the prize value gets higher. Contestants can grow more confident as they guess correctly, but if they guess wrong, they can lose it all. It's a simple, yet effective, game show premise, which makes its success very understandable. Although it hasn't been as popular as it once was, the revival, hosted by Jimmy Kimmel, attempts to bring more celebrity personalities into the familiar mix.
Stream It On Hulu.
Brain Games (Disney+)
If you love Jeopardy for being a brainy game that allows you to think about the big picture, you'll probably enjoy Brain Games. The National Geographic game show is an interactive series that allows participants and viewers alike to engage in visual, auditory, and various other cognitive experiments, a.k.a. "Brain Games," that help to emphasize the focus of each episode. Originally hosted by Neil Patrick Harris, the show now sees Keegan-Michael Key in the main role, with newer episodes having more celebrity personalities and a new format which allows it to have a little bit more of a traditional game show structure. While this might be seen as a slight departure from what it was originally envisioned to be, the newly-envisioned format provides more game show-friendly antics, which might give it more accessibility to a wider audience. You can check it out on Disney+.
Stream It On Disney+.
Idiotest (Netflix)
If you're a fan of brain teasers and like puzzling questions, you'll find something to enjoy in Idiotest. The Game Show Network series finds two competing teams answering brain-teaser questions in the form of a visual puzzle. But the questions can be intentionally misleading, so it requires the team of players to think critically and openly, providing an astute perspective and an eye for details that can help them advance into the next round. Hosted by Ben Gleib, the game show first premiered in 2014 and wrapped in 2017. However, in 2018, Idiotest became available to stream on Netflix. Though the critical response was occasionally mixed, it did find a consistent audience who enjoyed its cheeky sense of humor and enjoyably off-kilter presentation. If you like a game show that requires critical thinking in an inventive way, you'll probably enjoy watching Idiotest, now on Netflix.
Stream It On Netflix.
Master Minds
If you're a big fan of Jeopardy, there's a good chance that you know Ken Jennings. The expert Jeopardy player impressed audiences everywhere with his fortitude in the popular game show series, which has paved the way for a healthy career as an author and television personality. Notably, Jennings is at the forefront of a new Game Show Network series called Master Minds. Hosted by Brooke Burns, the trivia-and-strategy-based game show follows three contestants as they square off in multiple rounds of intense trivia competition. The show sees if contestants can beat trivia experts, most notably including Jennings. As you can expect, that's not an easy challenge. Nevertheless, in this new game show series, several contestants test their brains and push their luck to see if they have what it takes to be Master Minds and win the $10,000 prize on cable television.
Watch It On Game Show Network.
Mental Samurai (Hulu)
What if you could combine the mental with the physical? Allow yourself to cross the mental dexterity of Who Wants To Be A Millionaire with the challenging athleticism of Wipeout? That's the core foundation for Mental Samurai, a mental obstacle course that sees contestants testing their knowledge of puzzles and memory while being physically transported at high speeds and rotating in 360 degree obstacles. The Fox game show, hosted by Rob Lowe, premiered just last year and it has an intriguing premise, one that challenges the minds and wills of its contestants. Certainly, it's not easy to be challenged in these extreme circumstances. But with a lot of money on the line, there are some folks willing to put themselves through the test. It doesn't sound like an easy game to win, as it certainly requires a lot of mental strength and physical endurance.
Stream It On Hulu.
Cash Cab (Hulu)
You're in New York City, trying to hail a cab. It's midday. The city is electric, as always. You finally get one. But as soon as you step inside, something's off. There's a camera and a host, and you found yourself on a game show called Cash Cab, which requires the cab riders to answer a number of trivia questions on their way to their destination. You have a lot on your mind, but you have an opportunity to get a lot of cash — and in a limited amount of time. It's an unconventional but insanely popular premise, resulting in an unlikely hit for Discovery Channel during its extensive run. While Cash Cab recently came to a close, finally reaching its own destination, you can stream the game show on Hulu, where the Ben Bailey-hosted series is available in full. Call a cab!
Stream It On Hulu.
25 Words Or Less
If you enjoy Jeopardy's fun mix of word play in the game show proceedings, you might get a kick out of 25 Words Or Less. Hosted by Meredith Vieira, the former host of Who Wants to Be A Millionaire, this new game show, which premiered just last year, sees two three-member teams – consisting of a contestant and two celebrities — competing to see who can guess the secret words and phrases with only a limited amount of clues and times. It's a little bit like Pyramid, in that you have to guess the name with only a limited amount of words at your capacity, but this game show ultimately tests the fortitude of its players — famous or otherwise — to see if they can come up with clever, quick, creative ways to make their teammates guess correctly.
Watch It On Fox.
America Says
How well do you know your fellow Americans? That's a question that's more-or-less at the root of America Says, a new game show that sees two four-team players trying to fill in the top answers to fill-in-the-blank survey questions. So, basically, a patriotic spin on Family Feud? In a sense, yes. Though it should be noted that this game does require the players to not merely guess what they believe the right answer to be, but how other Americans might respond, which requires getting in the headspace of people you don't know and try to figure out what the average American might think about the topic at hand. It's an interesting premise that might ultimately have limited international appeal but it does paint an intriguing picture for what people think of their fellow countrymen and countrywomen, particularly when money is on the line.
Watch It On Game Show Network.
Common Knowledge
While its not as intellectual as Jeopardy, Common Knowledge is another brain-testing game show which questions what you know... even things that should seem like, you know, common knowledge. Hosted by Joey Fatone, the Game Show Network original series premiered just last year and the freshman program has been picked up for a second season. While it might be more broad-reaching in its focus than your typical Jeopardy episode, the series does capture the thrill and intensity of trying to figure out what you know and what you don't. It's still in its early days, but if it finds its stride and figures out a way to branch off from other game shows in a similar vein and lands its footing, it could be the station's next big hit. As it stands, it's still one Jeopardy fans should keep an eye on.
Watch It on Game Show Network.
What game shows would you recommend to anyone who loves Jeopardy? Let us know in the comment section below!
Your Daily Blend of Entertainment News
Will is an entertainment writer based in Pittsburgh, PA. His writing can also be found in The Playlist, Cut Print Film, We Got This Covered, The Young Folks, Slate and other outlets. He also co-hosts the weekly film/TV podcast Cinemaholics with Jon Negroni and he likes to think he's a professional Garfield enthusiast.