Star Trek: Discovery's Jason Isaacs Has Promising News For Fans Who Want More Lorca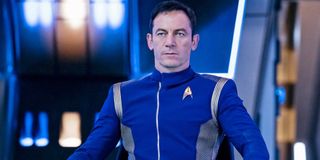 When it comes to the Star Trek universe, the possibilities are always endless. Playing Captain Lorca on Star Trek: Discovery for two seasons, Jason Isaacs' character took a villainous turn near the end of Season 1, revealing himself to be none other than the Mirror Universe version of Lorca. Although Lorca was killed off in Season 2, Isaacs has some promising news for fans who want to see more of his character.
In light of the news that Star Trek: Discovery was getting a spinoff centering on Anson Mount's Captain Pike, Jason Isaacs was recently asked if he would ever return to play Lorca in a spinoff series. Impossible, you might say, because Lorca disintegrated completely. How could he come back? Well, that was Mirror Lorca. Prime Lorca has to be out there somewhere, right? Here's what Isaacs told The Empire Film Podcast about his potential return, courtesy of TrekMovie:
It's true, fans don't really know who Prime Lorca is as a character at all. That said, it does sound like Jason Isaacs is up for playing this original version of Lorca so long as he's "ballsy." Of course, the right story has to come along, but if the writers could figure out a way to spin off other characters, such as with the Section 31 spinoff focusing on Michelle Yeoh's Philippa Georgiou, then it's quite possible to bring Isaacs back as Lorca.
What's more, Jason Isaacs specifically said that "we talk." Is it possible Isaacs is already in talks with CBS All Access execs about a potential Lorca spinoff? The actor has spoken to the producers before about the possibility of returning as Lorca. While nothing has been confirmed, Isaac's response sounds promising.
Star Trek: Strange New Worlds and the Section 31 spinoff don't have announced premiere dates yet, but stay tuned to CinemaBlend for updates. In the meantime, Star Trek fans can check out Picard and Discovery, both of which are currently streaming on CBS All Access.
Your Daily Blend of Entertainment News
Thank you for signing up to CinemaBlend. You will receive a verification email shortly.
There was a problem. Please refresh the page and try again.