Fuller House: 6 Other TGIF Shows That Deserve Continuations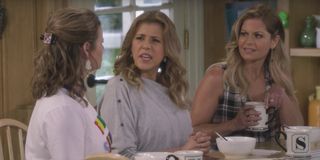 It seems like it was only yesterday that the Internet was abuzz with excitement after streaming giant Netflix revealed it'd be producing a revival of the classic ABC sitcom Full House. The follow-up sitcom, which was aptly named Fuller House, was a continuation of the iconic comedy whose reruns used to seemingly play in perpetuity on any given channel at any given time. With the series drawing to a close with its fifth and final season, it got us thinking - with other TV shows from ABC's TGIF programming block could suitably follow in the footsteps of the Tanner family?
Classics like Boy Meets World and Sabrina, The Tennage Witch have already received revivals and reboots of their own with Girl Meets World and Chilling Adventures Of Sabrina, respectively. There are still quite a few TGIF staples that haven't received a continuation, spinoff, or facelift, however. And with some true classics to choose from, finding a beloved '90s sitcom to resurrect wouldn't be that difficult. It's deciding which ones would make the absolute most sense that makes it a challenge.
Here are the six TGIF series that we think deserve a continuation.
Perfect Strangers
To properly start this list we have to go back to where it all began. Though it first premiered in the spring of 1986, Perfect Strangers went on to become one of the four TGIF cornerstones when ABC debuted the special Friday night format in the fall of 1989. The series followed the lives of two distant cousins, the American Larry Appleton (Mark Linn-Baker) and the European Balki Bartokomous (Bronson Pinchot) as they learned to live together and coexist in Chicago despite cultural differences.
The eighth and final season of Perfect Strangers centered around Larry, Balki, and their wives, with the females both giving birth to baby boys by the time the show wrapped up in the summer of 1993. That angle could serve as a great jumping-off point if ABC tried to bring the series back for modern audiences. Mark-Linn Baker and Bronson Pinchot could take on smaller roles and let their TV sons, Tucker and Robespierre, continue in their fathers' antic-filled footsteps. They could even have the series take place in Europe to flip the "fish out of water" premise of the original series.
Family Matters
Technically a spinoff of Perfect Strangers, Family Matters went on to have a life of its own by surpassing its predecessor in terms of cultural significance throughout the 1990s. It's hard to find anyone who doesn't remember this classic sitcom that started off being about Chicago cop Carl Winslow (Reginald VelJohnson) and his loving family, but turned into a show wholly fascinated with Steve Urkel (Jaleel White), the nerdy neighbor who would go on to become the most memorable character.
Family Matters was a fixture of TGIF for eight years before moving over to CBS for the show's ninth and final season. After years of chasing Laura Winslow and unsuccessfully trying to win over her heart, Urkel was finally successful in proposing to his longtime love near the end of the final season. Following an accident in space (yeah, space), Urkel returned home to fame and the heart of his true love. If ABC or another network or streaming service were to bring back Family Matters, the new show could follow Urkel, Laura, and their own family as they go through similarly ridiculous situations that made the original series so popular. Those kids would have so many robots.
Step By Step
Step By Step was a long-running sitcom about two single parents, Frank Lambert (Patrick Duffy) and Carol Foster (Suzanne Somers) whose children are forced to live with one another after their parents randomly get married in Jamaica on a whim. This classic blended family premise featured a large ensemble cast as they learn what it's like to have your family double in size seemingly overnight, while eschewing the sanitized approach that The Brady Bunch adhered to.
After switching from ABC to CBS ahead of its seventh and final season, the show was cancelled with several episodes left to air, which resulted in the final five episodes not being shown until months later, in the summer of 1998. This cancellation resulted in Step By Step not receiving a true sendoff, so bringing the cast back for movie or a miniseries could be a way to concisely wrap up a fan favorite that last aired nearly 22 years ago. At least that way we'd get some long overdue closure, even if it was only Patrick Duffy and Suzanne Somers that returned.
Dinosaurs
It's almost hard to believe that Dinosaurs, a sitcom about a family of anthropomorphic dinosaurs, aired for four seasons during the height of ABC's TGIF format, which seems like either way too few or way too many. This unlikely hit centers around Earl Sneed Sinclair, a megalosaurus who works as a tree-pusher at the WESAYSO Development Corporation, and his family as they work through the banality of life in prehistoric Pangaea. Despite having the look and feel of a children's show, Dinosaurs had a satirical bent and touched upon topics like censorship, civil rights, drug use, the rights of indigenous peoples, and even environmentalism, which played a huge role in the series finale.
The final episode followed Earl as he inadvertently brought on an extinction-level event after making an ill-timed decision to fix an issue caused by his company. In their final moments, Earl's family members hold one another as they wait for the end of the world, which is admittedly pretty bleak for a Friday night sitcom. Nevertheless, ABC could always continue the premise with a new show centered around Earl's youngest child, Baby Sinclair, in the years following the "end of the world." This would keep the messages from the original series intact while also putting a new spin on the format.
Two Guys, A Girl, And A Pizza Place
Long before Ryan Reynolds was cutting down baddies as Deadpool, he was on the sitcom Two Guys, a Girl and a Pizza Place, which showed up on TGIF during the final years of the original run. The show costarred Richard Ruccolo as Peter Dunville and Traylor Howard as Sharon Carter-Donnelly, as well as Reynolds' character, Michael "Berg" Bergen, a slacker who works at a pizza joint. The series would go through numerous alterations in its four-season run, including a name change that simplified to title to Two Guys And A Girl ahead of the third season.
The Season 4 finale, which also served as the series finale, was titled the "Internet Show" and allowed fans to vote on the episode's outcome. A total of four endings were filmed before the vote went live, which means there are three different endings that didn't air. If the comedy were to ever return, producers could simply use one or more of those three unaired endings as a jumping off point for either temporary or extended TV runs. I mean, who doesn't want more Ryan Reynolds? And let's not forget that Nathan Fillion was also a big part of the show in later seasons, too.
Sister, Sister
Although much of the run of the sitcom Sister, Sister aired on The WB, the first season was a fixture of ABC's TGIF lineup for its debut season in the spring of 1994. This family comedy starred real life identical twin sisters Tia and Tamera Mowry as Tia Landry and Tamera Campbell, two long-lost twins who met during a chance encounter as teenagers. Despite their similar appearances, the twins could not be any more opposite as they begin to spend more and more time with one another.
Sister, Sister remained on the air until the conclusion of its sixth and final season in May 1999, which followed Tia and Tamara during their freshman year of college. One of the highlights of the finale is the scene where Tia and Tamara go back to the store where they first met years earlier. With so much time between the Season 6 finale and now, there are plenty of options for where to take a revival series. The revival could follow the sisters as they meet up later in life or it could even pick up with their own children later on in life; maybe one of them finds fame on an HGTV show as the mother of octuplets.
Will any of these shows receive a new life like fellow TGIF hallmarks Full House, Boy Meets World, and Sabrina, The Teenage Witch, or will they be lost to the ages? Only time will tell. Until we find out more, be sure to tune into Fuller House's final batch of episodes when they premiere on Netflix later this year.
Philip grew up in Louisiana (not New Orleans) before moving to St. Louis after graduating from Louisiana State University-Shreveport. When he's not writing about movies or television, Philip can be found being chased by his three kids, telling his dogs to stop yelling at the mailman, or yelling about professional wrestling to his wife. If the stars properly align, he will talk about For Love Of The Game being the best baseball movie of all time.
Your Daily Blend of Entertainment News
Thank you for signing up to CinemaBlend. You will receive a verification email shortly.
There was a problem. Please refresh the page and try again.